Institute of Banking Personnel Selection IBPS Exam is conducted for the candidates who want a job in Public Sector Corporation, authorized Banks, Insurance Firms, etc.
The competition for getting selection in IBPS Banking Exam is getting tougher day by day. All the Aspirants who want to become a Part of Indian Banks, have to work harder.
Every year, approx. 10 lakh candidates appear for IBPS PO exams. So You all can imagine the hard level of competition.
To Select the Best Candidate, Recruitment Selection Process is conducted in the Following Stages.
IBPS PO Prelims Exam
IBPS PO Mains Exam
IBPS PO Personal Interview
IBPS PO Prelims Preparation
IBPS PO Prelims Exam is the first step towards your dreams. Firstly, understand the Pattern of the exam. There will be 3 sections to be solved in 1 hour.
IBPS PO Prelims English
You should start the exam with this section, as this is the easiest section So you can save more time for other sections.
The important topics for IBPS PO Prelims English Preparation are Reading Comprehension, Cloze Test, Sentence Correction, Spot the error, Fill in the blanks, Para jumbles.
Read News Papers & Articles to improve your English Knowledge. Improving vocabulary is very important part of preparation.
Give 15 Minutes time to solve this section. But Don't forget about the accuracy of your answer.
IBPS PO Prelims Reasoning
This section has so many topics but you can prepare easily just practice ibps po previous year question papers for better results.
For this section Solve Questions in 20 – 25 Minutes.
Don't try to attempt all questions. Try to focus on clearing the sectional & overall cut-off.
The important topics for IBPS PO Prelims Reasoning are Seating arrangement, Coding-Decoding, Mathematical Inequalities, Blood relations, Syllogism, Arrangement and Pattern, Direction Sense.
Solve questions with short tricks.
IBPS PO Prelims Quantitative Aptitude
Quantitative aptitude is the most difficult part in all the sections.
You have 20 – 25 minutes' time to solve questions.
The most important topics of this section are Data Interpretation, Data Sufficiency, Simplification, Mensuration, Profit and Loss, Time and Work, Ratio and Proportion, Percentage.
Attempt easy questions first & then step forward to the difficult ones.
You can solve questions easily only when your basics are strong & you have practiced previous year papers well.
IBPS PO Mains Preparation
After qualifying the prelims exam successfully, you have to prepare for IBPS PO Main exam
IBPS PO Mains General Awareness
There will be 40 question of this section, in which if you can solve 27 – 30 questions then it will be good attempt.
This section can be solved in very less time (20 minutes), as you need to solve any questions Just mark the right answer & save time for other questions.
The syllabus of General Awareness is very lengthy So try to prepare for the sections you are more interested in like Current affairs, banking Terms etc.
Reading News Papers & knowledge of Latest current affairs can help you to get good marks in this section.
IBPS PO Mains Computer Knowledge
Very basic questions are asked from this section, if you are good at computer basics, you can solve this section very easily in 10 minutes.
Try to score high in computer knowledge.
IBPS PO Mains English
English Section contains 40 questions in which 25 – 30 questions is the safe score in 30 minutes' time.
Reading Comprehension is the topic with highest weight-age of 25-30% So practice a lot.
Learn at least 10 New Words & its antonyms-synonyms to improve vocabulary.
IBPS PO Mains Reasoning
Attempt more questions in this section. At least 35+ in 40 minutes.
Reasoning is all about the tricks & timings.
Pay extra attention to Seating arrangements, Puzzles, Assumptions, Input-Output, Inequalities, Coding-decoding.
IBPS PO Mains Quantitative Aptitude
Try to attempt at least 35 questions out of 50 for the safe score.
Complete understanding of basics & Learning of Formulas, Concepts, Short tricks can help you to get better marks.
Data Interpretation & Basic calculations / Approximations can help you to score 60 – 80%.
Solve this section in the end.
Books for IBPS PO Exam
To get better result of ibps po, selection of good books is really important. Don't go for too many books. Just get the right idea of concepts & solve previous year papers.
General Knowledge: Lucent general knowledge
English: Objective general English by S P Bakshi
Reasoning: R.S. Aggrawal
Quantitative Aptitude: Fast track by Rajesh Verma
Computer Knowledge: Objective Computer Knowledge & Literacy by Kiran Publication
IBPS PO Personal Interview
After qualifying the Prelims & Mains Exam, it's time to prepare yourself for the interview process.
To qualify this selection process successfully, you need to have good knowledge of the Economics and Banking Awareness section.
Mostly questions are asked to Judge your three things: Confidence, General Knowledge & Banking Awareness.
So, have confidence & Get a Probationary Officer Job.
Best of Luck 🙂
Suggested Article : IBPS PO EXAM | IBPS CLERK EXAM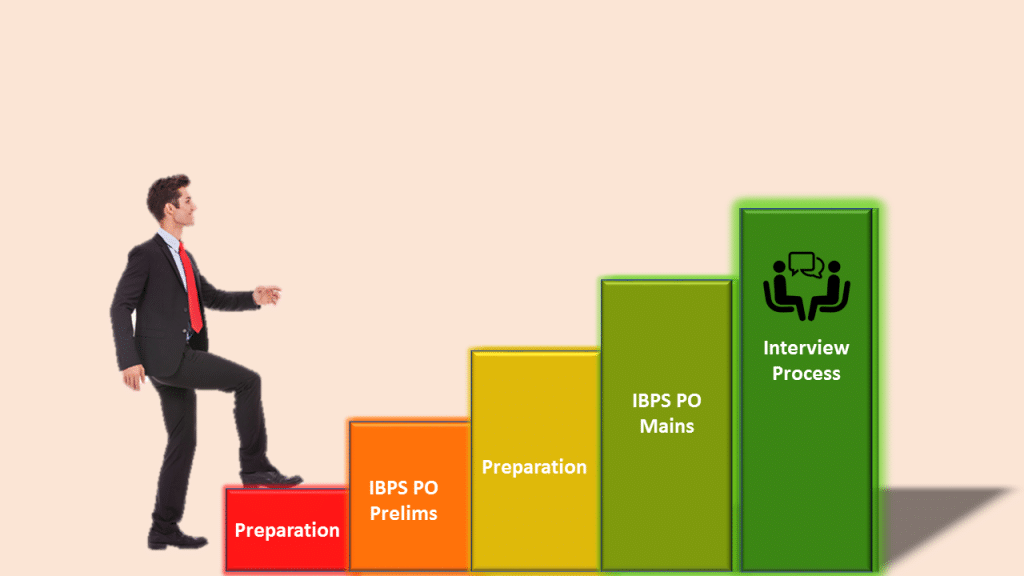 You Might Want To Read:
Mass Communication Career Path, Presentation Skills, Computer, I C S E Board, Vmou Bachelor Journalism Paper 2, Institute Of Actuaries Of India Pensions Other Employee Benefits Mock Test Paper 50, Internet And Web Technology, Vibrant Academy Jee Main And Advanced Fee Structure Admission Procedure And Review, Fx School, Tips And Tricks For A Peaceful Study