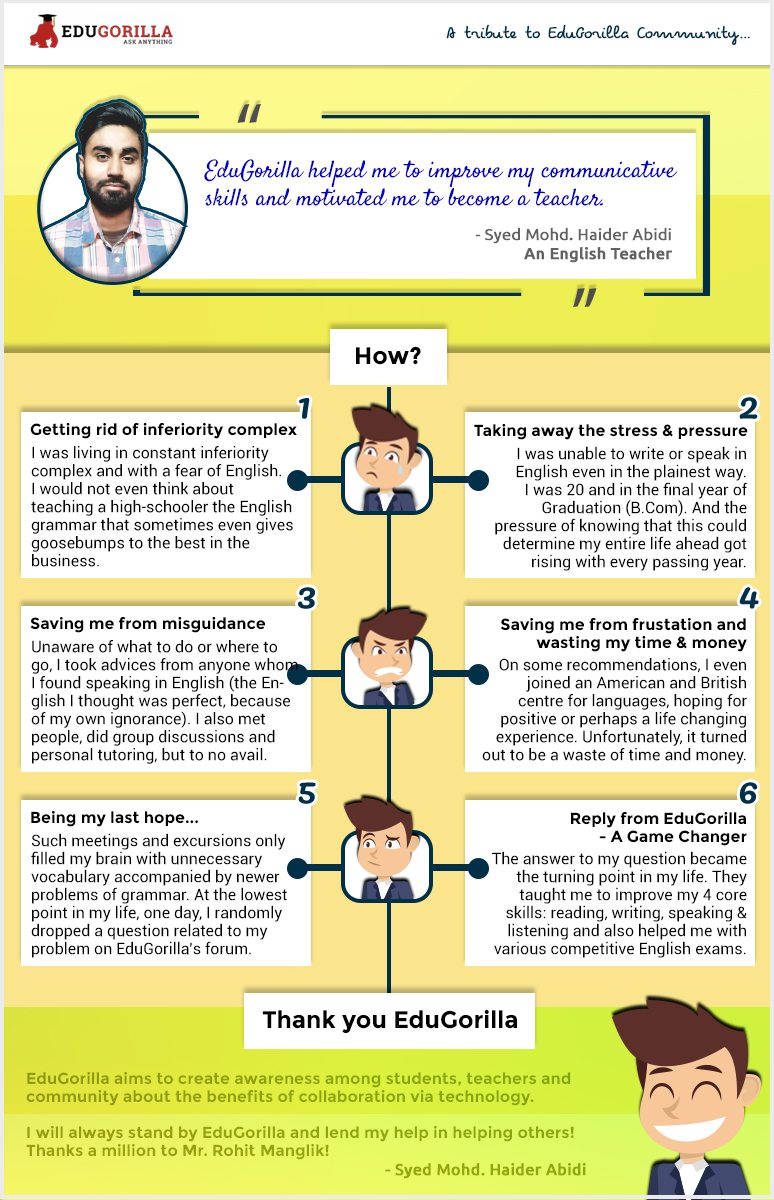 "EduGorilla helped me to improve my communicative skills and motivated me to become a teacher!"
I am a freelancer, an English teacher who tutors students ranging from kindergarten to high-school students. But a few years ago, I would not even think about teaching a high-schooler. And that too, the English grammar that sometimes even gives goosebumps to the best in the business.
The reason is simple, I was unable to write or speak flawlessly in English. There were times when I was living in constant inferiority complex and with a fear of failure. Although I wasn't a bad student, considering my high school marks, but still I lacked good English communication skills.
I was 20 and in the final year of Graduation (B.Com). And the pressure of knowing that this could determine my entire life ahead got rising with every passing year.
On the recommendation of my cousin brother's friend Rahul Yadav, I even joined an American and British center for languages with my friend Rahul, hoping for positive or perhaps life-changing experience. Unfortunately, it didn't work for us.
It was somewhat like the same English class, that we were attending in school. The only difference was that they provided with some English songs and Hollywood movies with English subtitles.
Unaware of what to do or where to go. I took pieces of advice from anyone whom I found speaking in good English (the English I thought was perfect, because of my own ignorance). I also met people who claimed they could assist me out of this dark cobweb, with group discussions and personal tutoring, but to no avail.
Although these meetings and excursions only filled my brain with mostly unnecessary vocabulary accompanied by newer problems of grammar. As now, grammar became the highest priority to me while speaking in English.
At the absolute lowest point in my life, one day, I randomly dropped a question related to my problem on EduGorilla's forum.
The answer to my question became the turning point in my life. Not only did I get, a lot of helpful tips to improve my English based on the 4 core skills: reading, writing, speaking and listening, but also advised me to take up completive English exams along with special emphasis on the 'listen and repeat method.'
It also asked me to read at least one or two articles a day, without fail, on EduGorilla's amazing Article corner which is filled with informational articles, all in the English language I was so yearning for.
In the beginning, I thought it's just another marketing skills, but when I followed their bits of advice and our closeness increased I found the services undoubtedly amazing and helpful. It keeps me up to date with the latest development in the education industry, to further build my career and help my students in the best possible manner. It facilitated me too in numerous ways.
It was the reason why I recommended it to my friends, who too found it helpful. Two of my friends Shivam Verma and Prashant Singh, regularly use it for its accuracy of information on latest exams, Coaching Institutes, and even provided them with the cheapest and the best Study Material, which is often for free.
Now they keep track of the latest updates and that kick-start their competitive exam preparation and allows an easy access to learning resources like reference materials, question papers and much more.
I recommend EduGorilla every student who is confused about choosing the right School, College, or Coaching Institute.
From what I've discovered, it is the best platform in India having a long list of Institute in every locality with curated content from thousands of websites.
And that how, I think I can pay it back by genuinely helping other students, who are looking for generous help regarding their studies and career.
The EduGorilla Effect!
Now, after gaining a valuable learning experience via EduGorilla, my classroom has gone beyond the traditional classroom.
EduGorilla aims to create awareness among students, teachers, and the community about the benefits of collaboration via technology. It encourages widespread adoption of easy-to-use EdTech by students and teachers alike, which will help them in transforming the classroom interaction. It lay special emphasis on digital communication for better collaboration among them at international level.
I recommend EduGorilla to all the students!
Thanks a million, to Mr. Rohit Manglik!
You Might Want To Read:
Bits Computer Network Question Paper 1 2011, Interference, Appliction Of Derivatives, Tnteu B Ed Degree Exam 2008 2009 Batch Environmental Education Mock Test Paper 3, Net Russian Paper Ii Sample Paper 5 2014, Fiitjee Kochi Cochin, Gseb Class 8 Mathematics And Science Animated Video Lectures In Gujarati Medium, Amiete Et Old Scheme Engineering Graphics Mock Test Paper, Vijeta Defense Academy, Gujrat Technological Universityb E Computer Programming Utilization Mock Test Paper 5