Civil Services Examination 2018 is just around the corner & all the aspirants aiming for Civil Services this year must be busy with rigorous preparations. Being an IAS/IPS aspirant, you should now be well-versed with UPSC syllabus and even more with the importance of covering all Important Current Affairs topics to excel in all 3 stages of Civil Services Exam. And for late risers, who have recently started preparing for India's most prestigious Civil Services, better late than never!
Those who have Prepared for Prelims and are looking for final revision are advised to solve the Test Series
Civil Services Aspirants have always had some common questions, while preparing for the most competitive Civil Services examination, especially regarding Current Affairs preparation, because there is no static information to be studied. There are multiple information sources, vast topics to keep updated with & a whole year's current affairs to be aware of, and in-fact serious candidates will have more reasons as to why this part of the Civil Services Examination preparation is crucial. Questions like what to prepare for current affairs for IAS Exam, how many months' current affairs are required for Civil Services Examination, from which month should we pick the current affairs and start preparing are some of the common queries which almost every IAS aspirant has.
Also read, UPSC Preparation: How much time you should give to each subject.
If you are also looking for the answers to similar questions, then your problem has been solved!
In this article, we will try to cover some of the most important current affairs topics from the month of May 2017 – March 2018. But don't just stop over these few, rather look for more such topics of Local, National & International importance and try to prepare brief & crisp notes for your reference & revision.
Before we look at the topics that need to be covered for the Civil Services Preliminary Examination 2018, let us first help you understand how you will be questioned, or in what manner UPSC will frame its question related to current affairs and what is the best way to deal with answering the same.
For an instance, if we take the news 'India ranks 78th on WEF Energy Transition Index', the question could be framed like:
Ques. The World Economic Forum's (WEF) has released the report titled 'Fostering Effective Energy Transition' ranking. Consider the following statements regarding this:
India has ranked 78th position in Energy Transition Index while Sweden topped in the list of 114 countries. Among India's emerging market peers, Brazil stood at the 38th place, Russia at 70th and China at 76th place.
India has improved its performance score by 5.6% in the period of 2013 – 2018, especially with reduced subsidies, improved energy access, and reduction in the cost of Imports.
Which of the above statements is/are correct?
a) 1 only
b) 1 and 2
c) 2 and 3
d) 1, 2 and 3
Answer: d
If asked subjectively, you may explain the answer like this:
A report titled 'Fostering Effective Energy Transition' was released by The World Economic Forum (WEF) on March 15, 2018. In this report, 114 countries were ranked based on how well they can balance energy security and access to environmental sustainability and affordability. India was ranked at the 78th position in the report's Energy Transition Index, where in Sweden topped the Index.
Key points of the report: 
The Energy Transition Index was topped by Sweden, followed by Norway at the second position and Switzerland at the third.
Rounding out the Top 10 were Finland (4th), Denmark (5th), the Netherlands (6th), the United Kingdom (7th), Austria (8th), France (9th) and Iceland (10th).
Among India's emerging market peers, Brazil stood at the 38th place, Russia at 70th and China at 76th place.
This is how you must include all the major highlights of the topic & make this answer even better, depending on your understanding & effective explanation skills.
Let's now see some important current affairs topics (month-wise) to cover & be exam ready for UPSC Civil Services Preliminary Examination 2018.
Important Current Affairs Topics for May 2017:
India and Germany Ink 12 Pacts
Pakistan army force crosses Indian borders & behead 2 Indian soldiers
The Indian Supreme Court's take on 2012 Delhi Gang Rape
ISRO successfully launches GSAT – 9 from Satish Dhawan Space Centre, India
Supreme Court of India begins hearings on Triple Talaaq in India
Wanna Cry ransomware attack
MoU Signed between Indian Navy and Space Application
The Launch of Swachh Bharat App
'Darwaza Band Campaign' Launched to promote toilet use and freedom from open defecation across the villages of the country
India and Fiji Inks Agreement on Defense Cooperation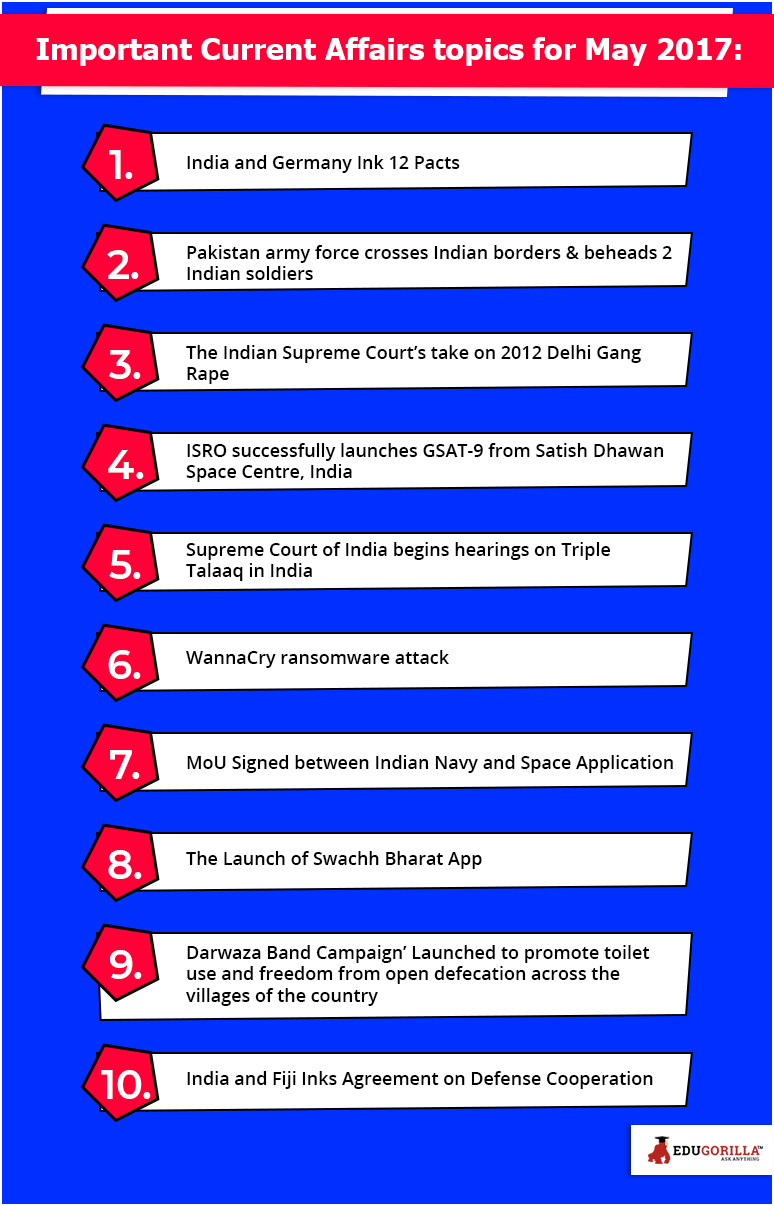 Important Current Affairs topics for June 2017:
 ISRO successfully launches GSAT-17 & GSAT 19 Satellite
India and Netherlands sign 3 Agreements
World Bank clears $250-million loan for Skill India Mission
India and Portugal Sign 11 Pacts
Linking of Aadhaar with PAN and for Opening Bank Accounts, made mandatory.
Habibganj Railway Station to become India's First Private Railway Station
2017 Qatar diplomatic crisis
India, Russia sign pact for 2 nuclear power units in Kudankulam
Reliance Defense Inks Pact with Serbia's Yugoimport to Manufacture Ammunition in India
International Yoga Day
Important Current Affairs topics for July 2017:
Indian Farm Sector and Loan Waivers
SOHUM
National Strategic Plan for Malaria Elimination (2017-22)
Record Low Inflation-Issues and Causes
The Indian Presidential Election 2017 – Ramnath Kovind elected as 14th President of India
Maharashtra's New Social Boycott Law
Scheme for IPR Awareness-Creative India; Innovative India
The abuse of dowry harassment law (Section 498A of IPC)
Taxation in India – India replaces its federal and state taxes with the Goods and Services Tax (GST), the most extensive tax reform since its independence.
2017 Doklam crisis
Important Current Affairs topics for August 2017:
Indian vice-presidential election, 2017 – Venkaiah Naidu elected as India's 13th Vice-President of India.
Urban Flooding
India gets exclusive rights to explore Polymetallic Nodules
The Issue of NOTA in Rajya Sabha Elections
Controversy over Article 35A
Pradhan Mantri Kisaan Sampada Yojana
Law Commission recommends compulsory registration of marriages
2016–17 Rohingya persecution in Myanmar – India announces that it is to deport an estimated 40,000 Rohingya refugees
2017 China–India border standoff
Triple Talaaq in India is declared unconstitutional by the Supreme Court of India.
Important Current Affairs topics for September 2017:
Pradhan Mantri Sahaj Bijli Har Ghar Yojana – Saubhagya scheme
Key Highlights of the Economic Survey 2016-17
Police Reforms in India
Embryo transfer technology (ETT)
BRICS Summit, 2017 (read more about BRICS Summit 2017 highlights)
PM Modi's Myanmar Visit and India-Myanmar Relations
Chakma-Hajong Citizenship issue
WEF's Global Human Capital Index
India–Japan relations – Japan agrees to help with the construction of an Indian bullet train
Hurricane Irma
Important Current Affairs topics for October 2017:
Secure Himalaya Project
India Water Week 2017 inaugurated
SC bans usage of Coal alternative
India tops the list of pollution-linked deaths
2 October: International Day of Non-violence
World Habitat Day
Core sector growth rises to 4.9% in August 2017
India, Ethiopia sign agreements on trade, communication
Aadhaar mandatory for PPF, KVP schemes
Government launches Sampoorna Bima Gram Yojana
Important Current Affairs topics for November 2017:
2017 NTPC power plant explosion
Air quality in Delhi – A blanket of thick grey smog covers the Indian capital, Delhi, with some areas 30 times more polluted than the World Health Organization's recommended limit
India's stand on Fumigation agent
UN report on Greenhouse gas emissions
CRI 2017
India, World Bank ink pact for clean energy
Two Indians honored with Ozone Award
Global Carbon Project finding
CRI 2017
WHO Issues guidance for treating with Child Sexual Abuse
Important Current Affairs topics for December 2017:
Economic globalization & India's take on it
Cyclone Ockhi
Lok Sabha on Triple Talaaq Bill
UP inks MoU with South Korea in the field of tourism, skill development, culture and farming
India-Switzerland ink agreement automatic sharing of tax-related information
World AIDS Day
International Day of Persons with Disabilities
Looming soil crisis
The new Financial Resolution and Deposit Insurance Bill
National Energy Conservation Day
Important Current Affairs topics for January 2018:
Kashmir conflict
The Indian Space Research Organisation(ISRO) successfully launches PSLV-C40, India's 100th satellite and 30 other satellites from the Satish Dhawan Space Centre in Sriharikota, Andhra Pradesh.
India stands third in crude steel production
Zero Budget Natural Farming project launched in Himachal Pradesh
India, Cambodia ink 4 pacts
ASEAN-India Commemorative Summit issues Delhi Declaration
India, Vietnam sign two agreements
India ranked 62nd on WEF's Inclusive Development Index 2018
Smart city project & updates
Anandiben Patel appointed as Governor Madhya Pradesh
Important Current Affairs topics for February 2018:
India–Palestine relations: Indian Prime Minister Narendra Modi visits Palestine on February 10th, 2018, marking the first time in the history of India where an Indian Prime Minister has visited Palestine
World Congress on Information Technology 2018 in India
India, Germany inks MoU for Sustainable Urban Development program & Smart Cities in India
Solar cities Scheme
India ranks 81st in Corruption Perception Index 2017
India inks MoU with Canada's International Development Research Centre
World Cancer Day & recent medical advancements
Union Budget 2018
India joins Ashgabat agreement
Atal Bhujal Yojana (ABY)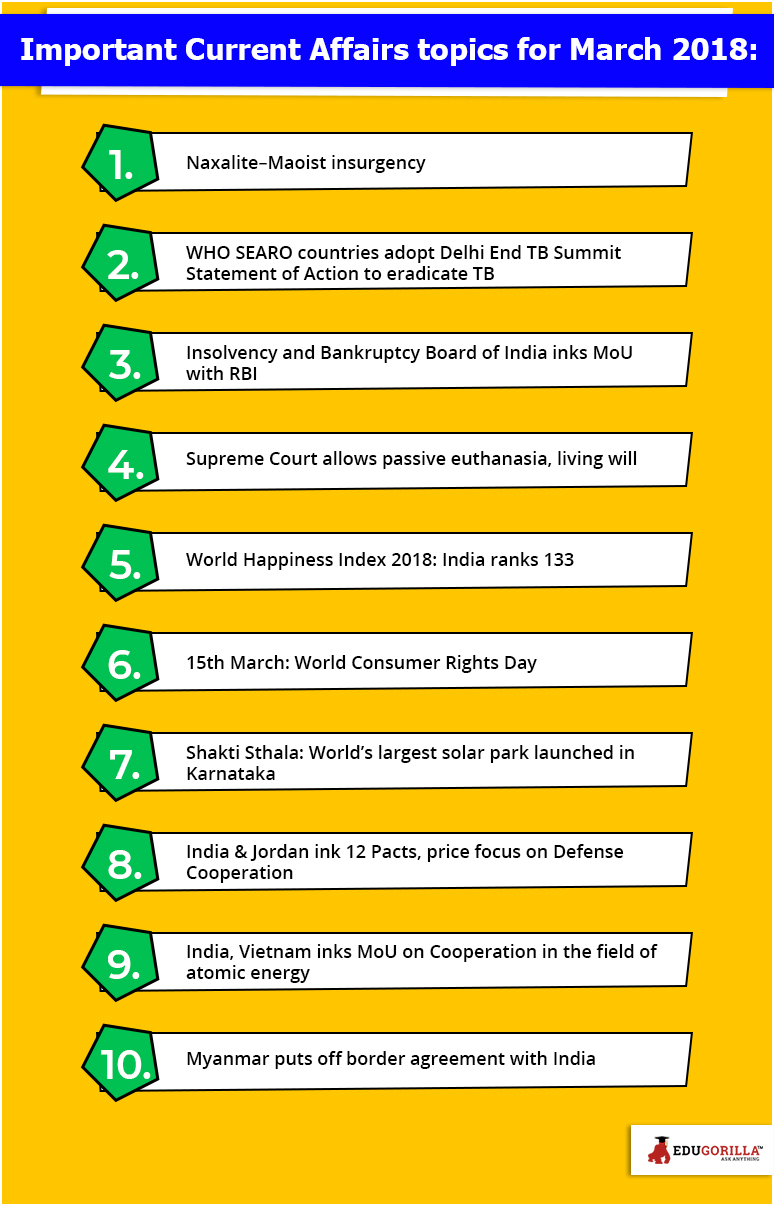 Important Current Affairs topics for March 2018:
Naxalite–Maoist insurgency
WHO SEARO countries adopt Delhi End TB Summit Statement of Action to eradicate TB
Insolvency and Bankruptcy Board of India inks MoU with RBI
Supreme Court allows passive euthanasia, living will
World Happiness Index 2018: India ranks 133
15th March: World Consumer Rights Day
Shakti Sthala: World's largest solar park launched in Karnataka
India & Jordan ink 12 Pacts, price focus on Defense Cooperation
India, Vietnam inks MoU on Cooperation in the field of atomic energy
Myanmar puts off border agreement with India
Now, you have the ultimate success mantra in your hand to crack IAS exam with high ranks. Cover all these topics & more for these months and the coming ones, until you sit for the exam. You may also like to check out the Tricky Questions Asked in IAS Exam and UPSC Interview
Let the world see your charm, with the best version of you! Wishing a very Good Luck to all our future administrators!
You Might Want To Read:
Ugc Net Economics December 2011 Paper Iii Question Paper 9 2011, Ugc Net Urdu Mock Test Paper 12, How Writing Essays Can Help In Studies, Jawaharlal Nehru University Gate Electronic Communication Engineering Question Paper 1 2009, Aakash Institute Vs Narayana Institute, Delhi University History Semester 5 Mock Test Paper 2013 2, Courserrb Citylucknow, Ctet Marathi Question Paper 32, Delhi University L L B 1St Year Mock Test Paper 6 3, Gujarat Board Class 10 Social Studies Question Paper 9
Leave your vote
This post was created with our nice and easy submission form. Create your post!