Engineering has always been the first preference of students and their parents. Being one of the highly technical and updated fields of career growth, engineering sounds perfect for majority of the people. And if we talk about the expansion of engineering and top engineering colleges in India in practical world, well it is immeasurable in today's time. Engineering, being involved in every aspect of the society and the globe at large, is considered as the best option to be followed for passion, income, knowledge and experience.
Surprisingly, the stream of engineering which builds this whole infrastructural framework around us is known as civil engineering. Therefore, it is one of the highly popular lines of engineering education in the top b tech colleges in India. The fun fact is that it is not necessary to pursue a Bachelors or a Master's degree of Civil engineering to reap its benefits, even a diploma of civil engineering provides abundant growth aspects and resources to fulfill one's dreams and acquire success in a short duration of time.
The best possible opportunities available after diploma in civil engineering are further divided on the basis of courses available and the job roles which can be taken and hence are given below:
Pursuing Higher Education
A diploma holder of civil engineering from top engineering colleges in India is open and free enough to go for higher education. Such kind of options are vital for those students who initially found engineering very typical and boring but later on generated an interest in the same line. It is also beneficial for the ones who preferred to do a part time job along with their diploma. Now all of them can pursue further education as per their capability, ability, affordability and feasibility. You may like to read, Best Recruiting Companies of Civil Engineers in India.
The number of courses which can be followed after a diploma in civil engineering are:
Advanced Diploma Courses:
Students who are done with their diploma in civil engineering can further think about pursuing advanced diploma in number of fields such as:
Advance Diploma in Civil Engineering
Advance Diploma in Drafting and Design
Advance Diploma in Surveying
Advance Diploma in Construction Management
Advance Diploma in Structural Design
Certifications Courses:
Civil Engineering diploma holders can improve their lifestyle and earning status by even doing certain certifications such as
Certificate Course in Construction Management
Certificate Course in Building Design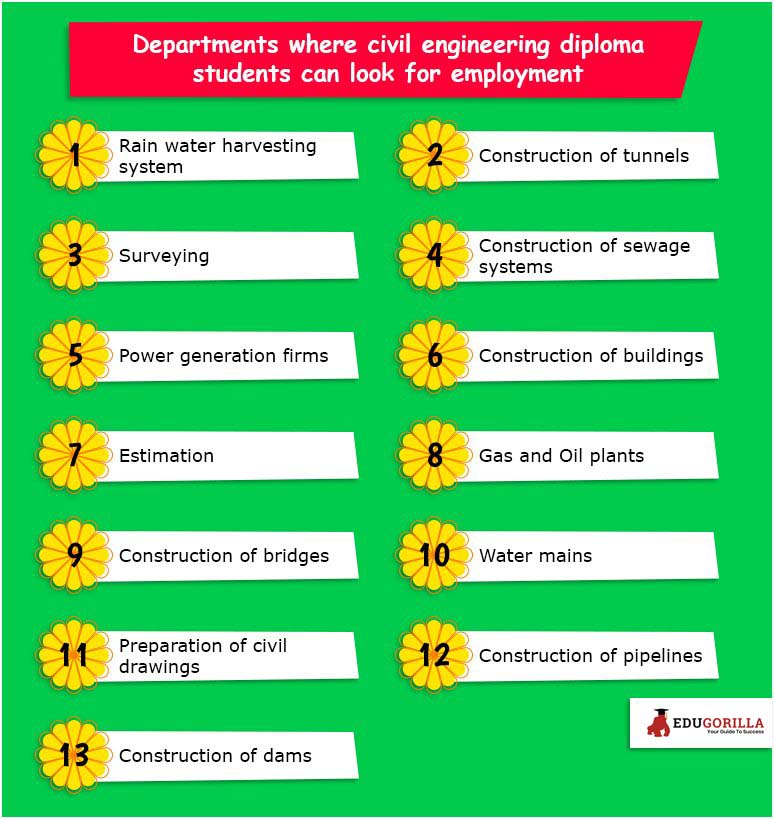 Bachelors & Masters of Technology and Engineering:
Lateral entry is one of the schemes for those students who do a diploma in their career in civil engineering and are allowed to go for B.E. and B. Tech degrees as per their convenience. A number of degrees can be pursued here which are below:
Bachelor of Engineering in Agricultural and Irrigation Engineering
Bachelor of Technology in Civil Engineering & Master of Technology in Structural Engineering
Bachelor of Technology in Civil and Transportation Engineering
Bachelor of Technology in Ceramics and Cement Technology
Bachelor of Technology in Civil Infrastructural Engineering
Bachelor of Technology & Master of Technology in Civil Engineering
Bachelor of Engineering in Civil Engineering
Bachelor of Engineering in Ceramics and Cement Technology
Bachelor of Engineering in Geo Informatics
Bachelor of Technology in Civil Engineering
Bachelor of Engineering in Transportation Engineering
Pursuing Job opportunities
We have often seen that students and public in general fear that a diploma holds less value than a degree. However, as per the top engineering colleges in India and as per the sources offering best civil engineering in Punjab, this seems false when we visualize a glimpse of the job offers related to diploma in civil engineering. It is a fact that a diploma in civil engineering holds technical as well as educational value.
Therefore, a number of career avenues are offered to those students who are from top engineering colleges in India and who have done best civil engineering in Punjab by public sector, government and private organizations which are:
Common areas of work:
Majority of the students who have earned diploma in civil engineering have the options of working in a number of departments in both government as well as private sectors. The departments which often hire civil engineering diploma students are as follows:
Rain water harvesting system
Construction of tunnels
Surveying
Construction of sewage systems
Power generation firms
Construction of buildings
Estimation
Gas and Oil plants
Construction of bridges
Water mains
Preparation of civil drawings
Construction of pipelines
Construction of dams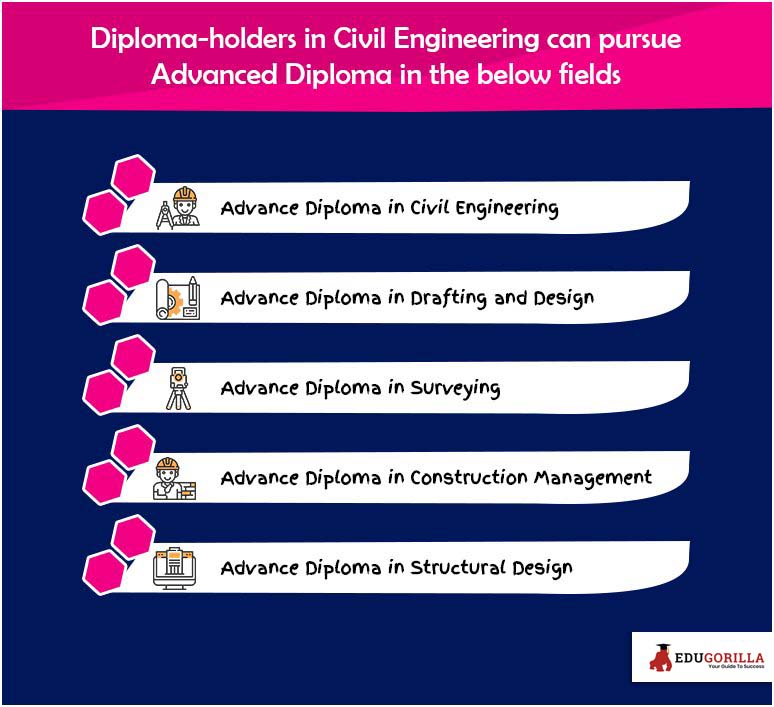 Government Firms:
India is absolutely rich with such companies and undertakings who hire civil engineers even though they are diploma holders. These valuable companies are given below in the form of a list:
Bharat Electronics Limited
Cement Corporation of India
National Thermal Power Corporation
Hindustan Paper Corporation Limited
Hindustan Zinc Limited
National Small Industries Corporation Limited
Bharat Earth Movers Limited
Power Grid Corporation of India Limited
Bharat Heavy Electricals Limited
National Fertilizers Limited
Bharat Sanchar Nigam Limited
MMTC Limited
Private Firms:
Private sector is one of the booming sectors in India in all fields and hence the impact can be seen in Civil engineering too. Therefore, top private firms and organizations who look out for civil engineering diploma holders are shortlisted and are given below:
Sobha Developers Limited
Gammon India
Hindustan Construction Company
Shapoorji Pallonji & Company
Tata Projects
Nagarjuna Construction Company
Punj Lloyd
DLF
Frischmann Prabhu
Larsen & Toubro
Unitech
Hence, Diploma holders in Civil engineering can go out for multiple options. They can pursue advanced diplomas, degrees, certifications and in addition can be hired by public sector, state firms, private companies and even government companies at a good salary bar. And there isn't any doubt that for civil engineering diploma holders sky is the limit and it all depends on their skills and abilities. So, don't miss to check out all the prospects if you are one of the recent civil engineering students.
Also read: SSC JE Exam 2018 Most Expected Question of Civil Engineering.
You Might Want To Read:
Icse Board Previous Year Question Paper 14, Bitsat Physicsmathematicsenglishsolution 2005, Fiitjee Vs Mentors Eduserv, Question Paper Answer, Wankhede Madams Academy Vs Medical Prayojanam Pvt Ltd, Career Launcher Dwarka, Jee Main Advanced 2015 Mathematics Practice Problems 09, R P S C Mechanical Engineering Question Paper 1 2012, Kurukshetra University, Simple Harmonic Motion
Leave your vote
This post was created with our nice and easy submission form. Create your post!