JEE Advanced: Other top institutes that you can get into
As is for JEE Main, JEE Advanced also has universities and colleges that accept the rank that you have obtained for this exam to be used as an admission criteria. Some of these institutes have JEE Advanced as one of the means of admission. For instance, the Indian Institute of Science offers admission through NEET, KVPY or JEE Main and JEE Advanced. Here are the prestigious universities that few go for, not because only a few are interested, but because only those few can make it.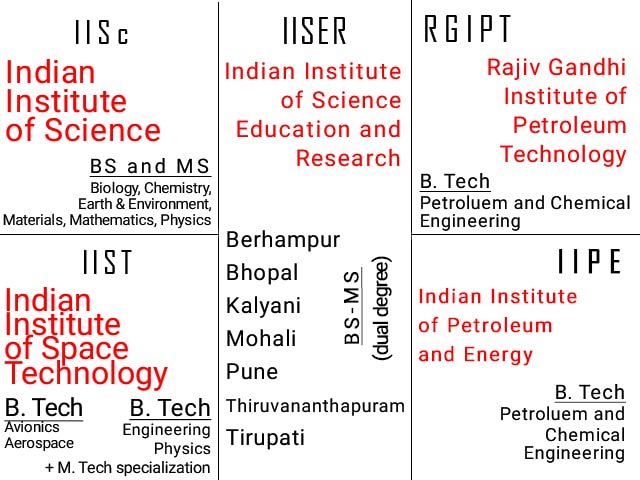 Indian Institute of Science
The Indian Institute of Science, or Tata Institute, as it is popular amongst the locals, was founded in 1909 as a result of the joint efforts of Jamsetji Tata, the Government of India and the Maharaja of Mysore. The institute has risen as one of the most prominent for research across a wide majority of fields in India. It offers admissions to undergraduate courses as Bachelor of Engineering and Master of Science afterward, through JEE Advanced.
Indian Institutes of Science Education and Research
The Indian Institutes of Science Education and Research (IISERs), located at Berhampur, Bhopal, Kalyani, Mohali, Pune, Thiruvananthapuram and Tirupati, are a group of premier science education and research institutes in India. They are institutes of national importance. The institute accepts admissions through KVPY, INSPIRE and JEE Advanced. IISER offer five year BS-MS dual degree courses in which the first two years of the programme consist of core courses in basic sciences, the third and fourth are dedicated to specialization in chosen science subjects, with the fifth year having a focus on a research project.
Indian Institute of Space Science and Technology (IIST) Thiruvananthapuram
The Indian Institute of Space Science and Technology (IIST) is a government-aided institute and deemed university and has the distinction of being the first university in Asia to be solely dedicated to the study and research of outer space. There are courses offered in Aerospace Engineering and Avionics, which are of four-year duration, and a dual degree, B. Tech (Engineering Physics) + M.S. or M. Tech, in the following:
Astronomy and Astrophysics
Earth Systems Science
Solid State Physics
Optical Engineering
There are sixty seats for each of the B. Tech only programmes and twenty seats in the dual degree courses.
Rajiv Gandhi Institute of Petroleum Technology
This institute was set up by the Ministry of Petroleum & Natural Gas through an act of parliament, and has been given the eminence of being an Institute of National Importance. Courses are offered in Chemical and Petroleum engineering, each in the undergraduate category, and the closing ranks in the general categories for these courses are 11138 and 10420 respectively. The institute is located at Ratapur Chowk, Rae Bareli, Uttar Pradesh,
Indian Institute of Petroleum and Energy
Indian Institute of Petroleum and Energy, under the Andhra Pradesh Act 2014 established the Petroleum University in India in the state of Andhra Pradesh. IIPE offers undergraduate courses in Petroleum and Chemical Engineering. Admissions are based solely on JEE Advanced rank list, and there are fifty seats to be filled in both the courses. The cut-offs for last year was 10634 for Chemical Engineering and 10492 for Petroleum Engineering.
Conclusion
There are several institutes that are outside the scope of the Indian Institutes of Technology and Indian School of Mines, Dhanbad that use JEE Advanced ranks as their admission criteria. Students who are not really interested in the various engineering degrees that are provided by the IITs and ISM Dhanbad may opt for the more varied courses offered by these institutes, all of which are prestigious in the fields they have earned repute.
You Might Want To Read:
Govt Exams, Unique Classes Kolkata Calcutta, Ibps Cwe Po Computer Knowledge Question Paper With Answer Key 2011, R K Films Media Academy Delhi, Delhi University Italian Semester 1 2013 Mock Test Paper 5, Baba Farid University Pathology Microbiology Question Paper 2 2007, Homi Bhabha Balvaidnyanik Spardha Hbbvs Practice Paper, Abhinaya Institute Of Dance Mumbai, Education Question Paper 4 2006, Ugc Net Mass Communication Question Paper 4 2009