The architecture programme is available only at the Indian Institutes of Technology located at Kharagpur and Roorkee. Candidates who desire to join the Bachelor of Architecture program at these institutes will have to succeed the Architecture Aptitude Test, which itself can be written only after qualifying JEE Advanced.
Procedure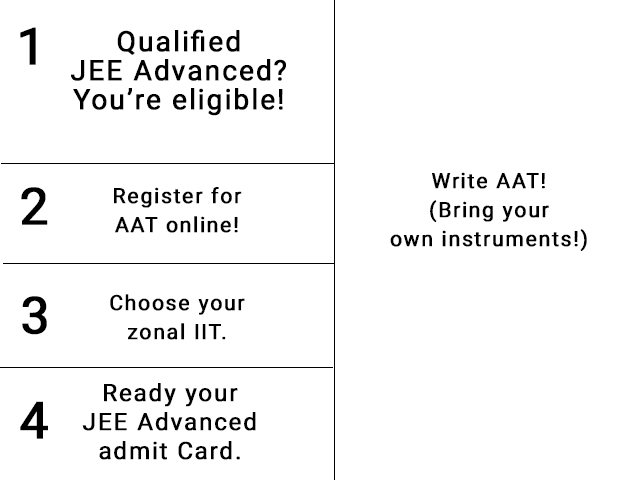 Procedure for registering for Architecture Aptitude Test
Candidates must register for the AAT online at the JEE Advanced 2017 online portal after the results for JEE Advanced 2017 have been announced.
Students who have registered for the AAT can write it only at the seven zonal coordinating IITs, as it will be conducted only there.
There is no separate admit card that will be issued for the AAT. The JEE Advanced 2017 original admit card must be produced in the examination hall for AAT.
Drawing and colouring aids shall not be provided by the institute where the AAT is held, the students shall have to bring them themselves.
Examination Details
The question paper will be of three hours' duration, and available only in English. No other language mode will be available for AAT. The results of JEE Advanced's Architecture Aptitude Test will be declared on the JEE Advanced 2017 online portal. Only students who have secured marks above the cut-off marks will be declared as having passed the AAT. There is no separate ranking in the AAT, and neither is there a separate cut-off for students of any category. The cut-off marks will be decided by the Join Implementation Committee of JEE Advanced 2017.
The allotment of seats will be solely based on the category wise All India Rank in JEE Advanced 2017, and not the marks secured in AAT. The important dates for JEE Advanced's Architecture Aptitude Test are given below:
Portal for AAT (same as that for JEE Advanced 2017)
jeeadv.ac.in
Procedure
Date(s)
Registration for AAT
Sunday, June 11, 2017, 10:00 IST

to Monday, June 12, 2017, 17:00 IST

Architecture Aptitude Test
Wednesday, June 14, 2017

09:00 to 12:00 IST

Declaration of AAT Results
Sunday, June 18, 2017
Cut-Off Ranks
The cut-off ranks for various categories are given below for AAT (2016), based on JEE Advanced 2017 All India Ranks.
Institute
General
OBC-NCL
SC
ST
Indian Institute of Technology Roorkee
4778
10422
2604
3763
1757
2134
867
1072
Indian Institute of Technology Kharagpur
5783
10310
2480
4381
1815
2347
471
471
Syllabus
Freehand drawing
This would comprise of simple drawing depicting the total object in its right form and proportion, surface texture, relative location and details of its component parts in appropriate scale. Common domestic or day-to-day life usable objects like furniture, equipment, etc., from memory.
Geometrical drawing
Exercises in geometrical drawing containing lines, angles, triangles, quadrilaterals, polygons, circles, etc. Study of plan (top view), elevation (front or side views) of simple solid objects like prisms, cones, cylinders, cubes, splayed surface holders, etc.
Three-dimensional perception
Understanding and appreciation of three-dimensional forms with building elements, colour, volume and orientation. Visualization through structuring objects in memory.
Imagination and aesthetic sensitivity
Composition exercise with given elements. Context mapping. Creativity check through innovative uncommon test with familiar objects. Sense of colour grouping or application.
Architectural awareness
General interest and awareness of famous architectural creations – both national and international, places and personalities (architects, designers, etc.) in the related domain.
You Might Want To Read:
International Studies Question Paper 1 2005, Top Engineering Courses In India, Aakash Institute Vs Skd New Standard Coaching Institute, Physics Question Paper 8 2013, Fellowship Examination Marketing And Public Relations Mock Test Paper 35, Bankcoachinginstitute, Sat 2018 19, Lisaa School Of Design New Delhi, Doeacc A Level Programming And Problem Solving Through C Language Mock Test Paper 16, Psychology Question Paper 1 2012