Applying Online and Submission of Application
The application for JEE Advanced 2019 can only be submitted online. A scanned copy of a photograph and signature will be required. The details mentioned in a later section will have to be submitted by the candidate, and after submission of required details, an acknowledgment page with an application number shall be generated. Candidates are required to take a printout of the page and keep it for future reference. This must not be sent to JEE Main Secretariat by post or otherwise. The application fees will have to be paid online, in one of the following ways:
By credit card, debit card, or via Paytm.
By depositing fee in cash in the Syndicate, Canara, ICICI or HDFC bank through e-challan generated during the online filling of the application form.
Once payment is received, the same will be reflected on the JEE Main 2019 website, upon login by the candidate using their credentials.
Information Required for JEE Main 2019 application
The following information will be required for JEE Main 2019:
Aadhaar linking (not compulsory but optional)
Nationality
Indian/OCI/PIO/Foreign
State of eligibility
The state from which the candidate has passed or is appearing for Class XII (or equivalent) examination or the state mentioned in the passport.
State from where the candidate has passed/appearing in class XII or equivalent examination
State mentioned in the Passport
Any valid government ID number
Candidate's Name
As per ID
Date of Birth (DD/MM/YYYY)
As per ID
Gender
As per ID
Examination details
Applying for
(names of the papers)
Mode of examination
Pen & Paper/Computer
Choice of examination center
Refer to list.
Question paper medium
English/Hindi/Gujarati
Personal Details
Mother's name
(46 char. max.)
Father's name
(46 char. max.)
Category
…
PwD
Y/N
If Y, % of disability
..
Whether scribe is required?
Y/N
The only child in case you are a girl?
Y/N
Place of residence
Urban/Rural
Complete mailing address
PIN code of above
Academic details
Place of Class XII schooling
Village/Town/City
Year of passing/appearing in Class XII or equivalent
2017 or 2018. Candidates who are appearing in class XII or taking their equivalent qualifying exam in 2019, can also apply.
School board of above
Roll number of above
Appearing for improvement?
Y/N
If yes for above, roll number of above.
Name of the qualifying examination
Type of institution of Class XII
Private/Government
Mode of preparation?
Name/Address of school/college where passed
…
Contact details
Email
Mobile
Landline
Guardian details
(Father's and Mother's occupations and qualifications, and annual incomes)
(Declaration by the candidate)
Photograph of candidate (JPEG, 4 to 40kB, 3.5cm X 4.5cm)
Signature of candidate (JPEG, 1 to 30kB, 3.5cm X 1.5cm)

The admit card for JEE Main 2019 must be downloaded from the JEE Main 2019 website from December 17, 2018, onwards. Admit card for JEE Main 2019
Here are the certificate formats required for general disabilities (Form I)
Here are the certificate formats for those with amputations or permanent paralysis of limbs, and in case of blindness.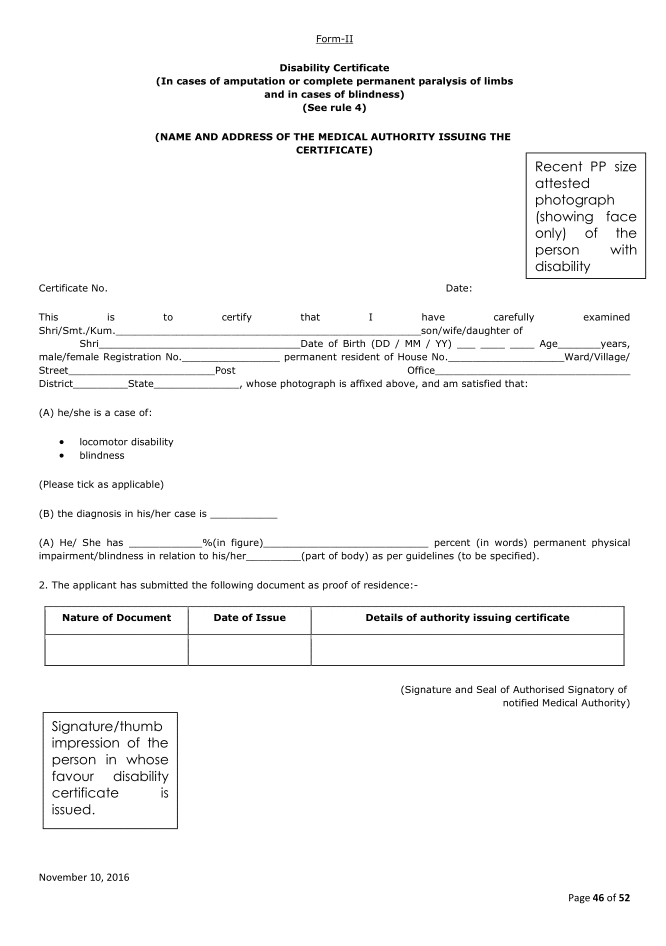 For those with disabilites that are mutiple in number, and not restricted to a single one, here are the certificate formats.
For those with disabilities separate from the ones mentioned above, you will have to submit your documents in the following format(s):
You Might Want To Read:
Ugc Net Kashmiri Mock Test Paper 33, Gate Hand Written Notes Electronics Communication Engineering Digital Electronics 2, Delhi University M A Hindi 1St Year Mock Test Paper 1, Icsi General Commercial Law Question Paper 2 2009, Bachelor Of Computer Sciencebcs Mock Test Paper 8, Cbse Class Xii Humanities Sectional Test, Business Communications, Delhi University Mem Mock Test Paper 29, How Online Tutoring Can Boost Your School Grades, Delhi University B A Honours 2Nd Year Mock Test Paper 1