India is a country of engineers. Almost every second person you know is either pursuing engineering, preparing for it or is already an engineering graduate. There are around 6,500 engineering colleges in our country and every year these colleges produce at least 7,00,000 engineers. Out of which 10,000 graduates are from IITs, 15,000 are from NITs and the rest study at other government and private engineering colleges. Are you Worried for JEE Preparation? When, How, Where to Start? Click and read.
Take the First Step to a Brighter Future by Clearing JEE (Main)
The first step for every promising engineer is clearing JEE (Joint Entrance Exam). As many as 11,48,000 engineering aspirants have registered themselves for JEE (Main) 2018. Ranked 2nd in the world for its toughness, JEE is held annually for entrance into IITs, IIEST, NITs, and CFTIs.  Other than the colleges listed above, there are 1,101 other institutes which accept JEE (Main) scores for admission.
IITs pick the Best of the Best via JEE (Advanced)
Of the 11 lakh students who appeared for the JEE (Main) in 2017, only 2,20,000 candidates managed to score high enough to become eligible to sit for the JEE (Advanced) exam. IIT conducts this exam to handpick the best of the best students for their engineering programs. Not being eligible for JEE (Advanced) however, is not the end of life. Candidates who secure an insufficient all-India rank need not be heartbroken, as they can still secure a seat in one of the many top colleges like the NITs.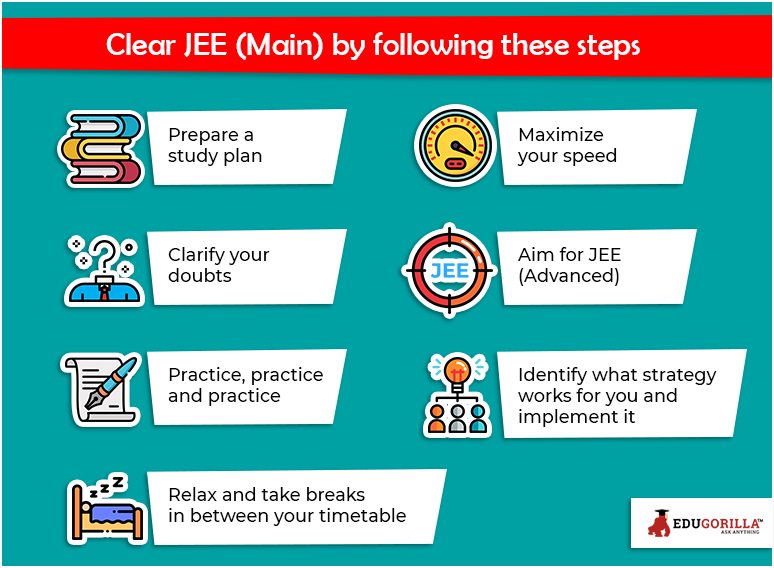 Understanding JEE (Main) and Exam Pattern
There are two JEE (Main) papers, candidates can choose to give either one or both. Engineering aspirants who want to pursue B.E. Or B. Tech programs can opt for JEE Main Paper 1. Whereas, students who are interested in pursuing courses like B. Planning or B. Architecture should opt for Paper 2. Both the papers include multiple choice questions. The marking scheme is simple– each correct answer gets you 4 marks and each incorrect answer fetches you -1 mark. While applying students also need to choose between the two modes of examination– online or offline.
What Does it Take to Clear JEE (Main)
Anyone who manages to pass 10+2 can appear for these exams, but scoring well in the JEE (Main) is another battle altogether. Not only does it test a candidate's knowledge, but it also looks at their patience, problem-solving skills, memory, and stamina. With a colossal syllabus – spread over three major subjects and study material worth almost four years, the unpredictability of the exam pattern and high cutoffs, JEE exam preparation is a monumental task, which requires complete dedication and expert guidance.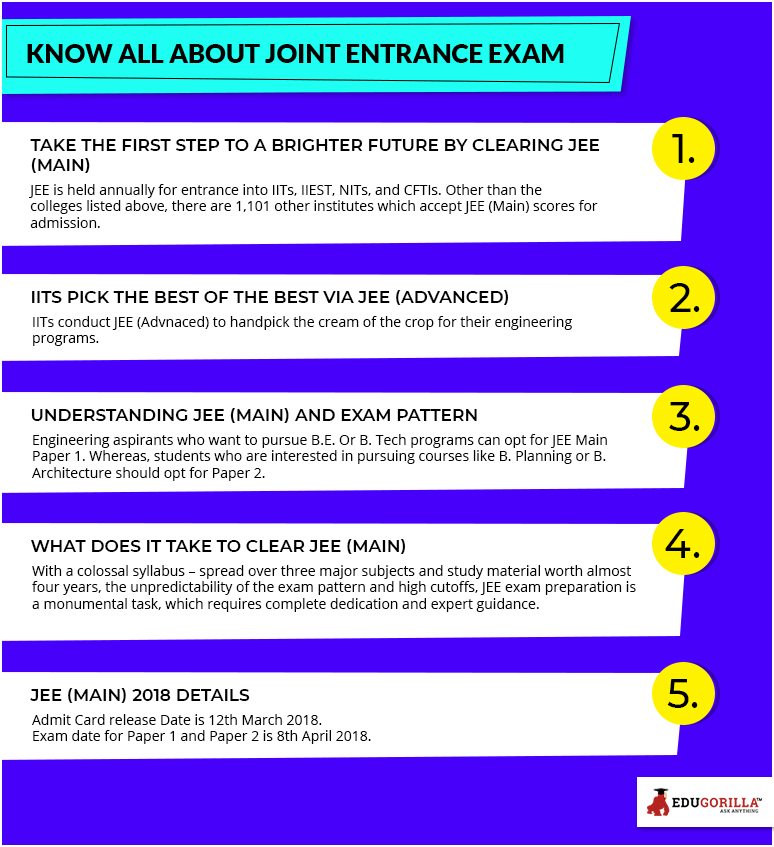 JEE (Main) 2018 Details
Here are some important details related to the exam this year. All aspirants should keep these dates in mind.
Admit Card release Date is 12th March 2018.
Exam date for Paper 1 and Paper 2 is 8th April 2018.
Engineers have always played a vital role in the development of our country. Currently estimated at 27%, India's engineering industry still has a long way to go. Clearly, securing a seat in the coveted engineering colleges is just a start to a promising future with an exciting and high paying job. But all this success and celebrations come only after a tough fight at the JEE (Main).
Must Read : JEE 2019 Preparation (Complete details)
Also read, JEE Main 2018 Admit Card and Preparation Tips
You Might Want To Read:
Online Writing Services, Upsc Ifs Physics Paper I Question Paper 2002, Ugc Net Human Right Question Paper 3 2014, Wave Propgation Question Paper 1 2011, Social Media Manager, Lsat Mock Test Paper 7, Exam Cracker, Benefits Of Wearing Garments Made Of Natural Fibers, Nlc Graduate Executive Trainee Electrical Sample Paper, Class X Sample Paper
Leave your vote
This post was created with our nice and easy submission form. Create your post!