Are you thinking about what is data migration? Data migration is the procedure of transferring data from one system to another system permanently. The process includes making preparation, selection, extraction, and transformation. The activity of data migration is done because of various causes that comprise of changing or upgrading of older servers or storages, software, or any other hardware equipment improvements.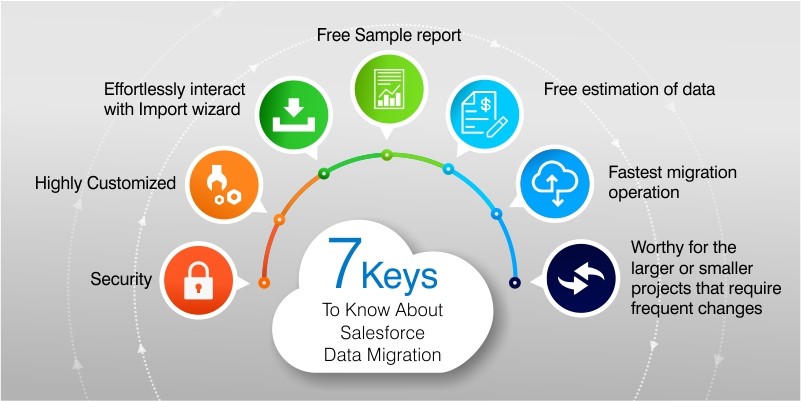 The data that is migrated from one system to another should be remaining same that is there should be no data loss during the process. Various things should be kept in mind while transferring your essential data from the legacy system to the new one. Planning plays a crucial part in achieving active data. The process of data migration in Salesforce differs from project to project. During the preparation and planning for data, you require analyzing the requirements and tests that are necessary after and before migration.
Factors that may be considered during data migration:
Total time the migration process takes.
Numbers of downtime takes place.
New system technical compatibility issues.
Corruption of important data.
The application on which work is to be performed may show some problem.
Loss of any data during the data.
The proper backup plan should be considered.
Know about the data migration process that means you should be well aware of the data migration.
Keep in mind the type of data you want to migrate.
Make a document of entire data migration activity.
Data Migration In Salesforce
Salesforce is a cloud-based software company of America founded 20 years ago. The Salesforce Company provides the service of Customer Relationship Management solution for bringing companies and clients in touch with each other.
Salesforce customer relationship management is providing many companies with an excellent option for standard CRM. Shifting from the legacy system to the new one is becoming a critical necessity of many companies to be a step ahead in the market of today's world. Upgrading provides many opportunities for sales growth and business amplification. User experience is also affected by the data migration process as the client will have a new system to work on now.
Types of Data migration
It is a type of migration that refreshes the technologies on which we are working on and requires very less time to validate data by additionally identifying the corrupt data. This process goes as moving a small amount of data and files from one data containing a system to another very quickly. The storage can be a disk, cloud, etc.
There are various transferring tools available to make the task swift and more manageable. Storage migration also presents to change or upgrade your legacy system to a new one.
Database migration comes into a requirement when there is a need for changing or upgrading software by uploading relevant data online on the cloud storage. The basic data may change while doing such type of migration due to change in the rule of data operation or language. This may also affect the level of the application. Database migration process goes through transforming data without a change in design.
There can be some operations that might take place before transferring such as testing data compatibility with the newer version of the application, quantity of storage requirements for the data that is to be migrated and guaranteeing the authenticity of data.
Migration of the application
Movement of application requirement comes ahead when the data of one app is needed to be transferred to the new one. Problems may occur while checking capability or uploading to the new application.
All the applications are not portable. Tools, operating system, and other configuration of the new application may be different from the old one. For a successful application migration process, there may require third party application.
Migration through cloud storage
Cloud migration is the new trend of the market because the data migration process goes through an online process. Cloud storage provides secure, flexible, and all-time availability of data. Your data will be automatically saved while working together with the process of data migration in Salesforce. Salesforce offers a variety of data migration tools for storage, application migration, etc.
How the data migration is Salesforce is useful
Ensures the businesses to interlink with the precious data by the help of which you will get an accurate and deep understanding.
Data migration increases the speed of interaction with the market.
Swift and problem-free user-friendly option.
Merging Salesforce with numerous applications that help the end-users to hold grasp of the platform to attain their business demands.
Migration to Salesforce saves your valuable time.
Backing up data in a proper storage system and also no duplicity problem.
Your data will migrate without any interruptions.
You will be notified of the downtime.
Following are seven amazing keys that you should know about salesforce data migration:
You will get 100 percent security and safety. You will get a comprehensive set of rules and regulation of integrated software. All your data will remain intact with measuring all security level.
Regular security updates will provide you. You will be notified with if any malicious activity going on your data. The virus will protect your data with powerful antivirus.
Salesforce gives you the option of quick data migration in Salesforce from your current software to Salesforce. Transfer your highly customized data or modules with the online process without loss of any data. You can also customize your data according to your need with many options available on Salesforce.
Effortlessly interact with Import wizard
The import wizard is a user-friendly interface that is more suitable for the beginner user. It also helps in keeping a proper relationship with the migrated data. Import wizard provides you with the option of total control over the customized data you are importing. You will have the overall observation of your data from the Customer relation management import.
It provides you with an option of Salesforce data loader that can be tried out by conducting a test of sample import. The process continues the as small amount of data is transferred to the Salesforce customer relationship management or CRM very quickly. You will be able to have a quick look and also can analyze your data from Salesforce Migration Tool, and your data will be available in new CRM.
Free estimation of data provides you information on the authentic amount of records on the present CRM. You can also estimate the cost of migration. This will give you an idea of making the budget of all the systems that require frequent or regular migration.
Fastest migration operation
Tools for data migration in Salesforce require less interaction of the user for the distribution of data. The tools of Salesforce made it easy for the users to migrate data than any other migrating tools available in the market. The Salesforce Migration tools transfer the data very swiftly and save your precious time. Other migrating tools also require time for navigating many different pages to write, confirm, and execute other actions that require a notable amount of time.
Worthy for the larger or smaller projects that require frequent changes 
If your project requires constant adjustments, then Salesforce tools are appropriate for it. Salesforce might be useful when a particular type of sudden development is going on. The data goes from many kinds of stages like testing, building, and execution before finally, it has come to the time of release.
The automatic betterment and distribution of data will let the process faster and swifter. Salesforce data migration tools can fulfill all this process and requirement.
You Might Want To Read:
Clat Pg Practice Test, Rbse 12Th Previous Year Question Paper 21, Admission, Civil Engineering Ebooks, Class 12 Political Science Question Paper 8, Ignou Cte Question Paper 1 2008, Karnataka Board Sslc Examination Pr Question Paper 2, Gujarat Board, Motion Classroom Problem Sheet Jee Best Kota Classroom Questions Combination, Jam Statics Question Paper 1 2009
Leave your vote
This post was created with our nice and easy submission form. Create your post!