Large numbers of students worldwide dream of studying as well as staying in Australia after they have completed their studies. Australia offers a warm invitation to international students to come and study but getting permanent residency in Australia is not so easy and quite a complex process. The process is managed by the Department of Immigration and Border Protection and is based on the needs of the Australian labor market.
International students aiming to study, work, and live in Australia after completing their studies must possess an Australia Student Visa. After completing 2 years of study in any of the Australian University or a college offering higher education, an overseas student can apply for an Australian post-study work visa under subclass 485. Students have issued an Australia post-study work visa for varied time durations depending on the qualification.
The working holiday visa and tourist visa allow the visitors to study in Australia for a short time period, but they cannot lead to permanent residency in Australia.
International students can avail permanent residency in Australia only when they meet the eligibility criteria.  An employer or a general skilled migration program provides the same. Therefore, applying for Australia's permanent residency through General Skilled Migration, the applicant must meet the skills requirements and earn a nomination in the list on the DIBP site.
But, the occupational list changes almost every year. So, how can you know which occupation is greatly in demand and is likely to remain on the long-term occupation list?
As result you should follow an important rule, you must seek highly skilled occupations having a shortage of workers in Australia. Therefore, this post will tell you about various occupations or courses that can help you meet your ultimate goal.  And consequently, help you avail a permanent residency in Australia. You can get more details here.
Courses that Offer Permanent Residency in Australia
ICT or Information and Communication Technology
Engineering
Nursing
Cooking Courses and Hospitality
Medical
Trade Jobs
Accountancy
Social Work
Education and Training
Law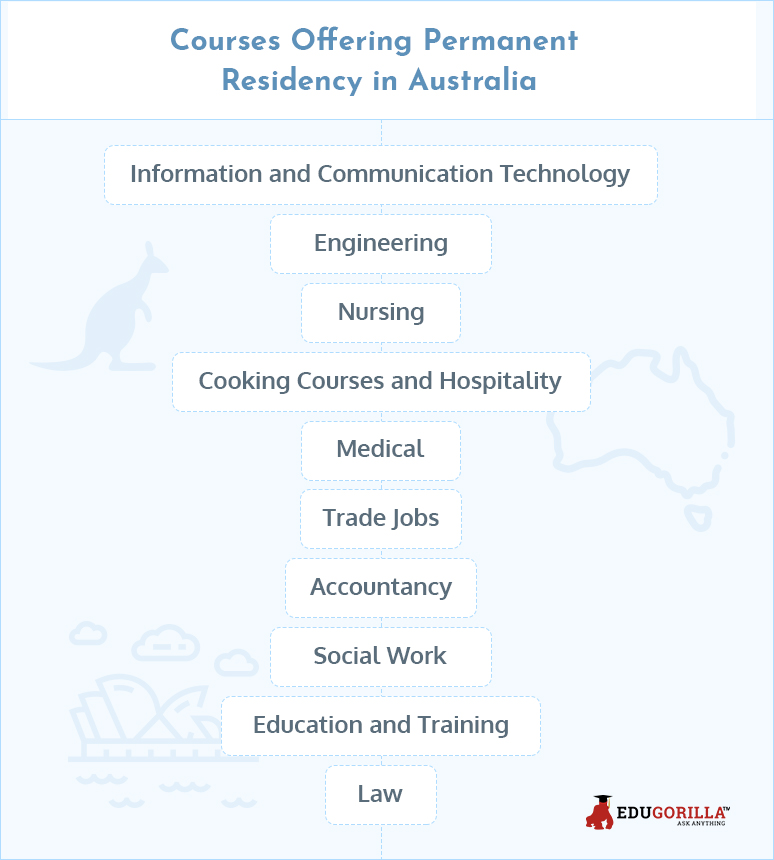 Some Important Things to Consider About Courses that Can Lead to PR Opportunities in Australia
It is essential to meet the Australian study requirements. Usually, the criterion for studying in Australia is minimum 2 years. But this can differ on the basis of the type of course you study or level of study, which can be higher education or vocational education.
You must meet ANZCO job descriptions. According to this, there are certain jobs that have specific fields of study at either vocational levels or higher education. To qualify for such jobs, you must meet their educational requirements.
Also, you need to apply for a visa within 6 months. You must apply for bridging visa or PSWV within 6 months of completing your study.
Finally, your study program must be CRICOS approved. Your course of study must be mentioned on the CRICOS (Commonwealth Register of Institutions and Courses for Overseas Students) list of courses. For the reason that international students studying in Australia get a good quality of education. All universities and colleges in Australia that accept international students must be CRICOS registered, so as to meet the requirements set out in the National Code of Practice which was set up to protect the interests of international students studying on Australian soil.
To get more details about this, you can consult your migration agent. He or she will help you in identifying the right occupation. This will help you to get a permanent residency as quickly as possible. You can get in touch with the expert team of Debika Migration Services who has been in this industry for the past 14 years. It has been counseling students on these aspects of international studies and permanent residency in Australia. Such experts can help you avail a thorough understanding of such options.
You Might Want To Read:
Jawaharlal Nehru University Nest Question Paper 1 2007, Research Paper, Institute Of Actuaries Of India Statistical Models Mock Test Paper 206, Arena Animation Bangalore, Get Expert Tuition Without Paying Fortune, Haryana Public Service Commissionhpsc, Delhi University B A Hindi Patrakarita Semester 3 Mock Test Paper 2 2013, Edugorilla Launches Bilingual App For Competitive Exams 2, Cat Syllabus 2018, Political Science Question Paper 2 2007
Leave your vote
This post was created with our nice and easy submission form. Create your post!