Guidelines for SEO and SMM
Please read the guidelines carefully
The applicants for Social Media Marketing and Search Engine Optimization needs to do the following tasks.
Register with EduGorilla

a) Go to EduGorilla Website and click on Register.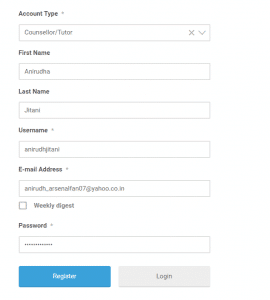 b) Please Register yourself and then confirm the registration via email. You can then login to our website.
c) Click on My Profile on the Left Top Side of the WebSite

2. Creating back links to our website.
What are backlinks and how to create them?
You can check out this video to learn more about it.
Here is an example of nofollow link I have created in Quora. You need to create both nofollow and dofollow links. The meanings of nofollow and dofollow links are explained in the video and the article above.
We have an article in our website Coping with Pressure. I have showed an example how to create a back link for the same.
I had searched for questions related to handling pressure in Quora:

When I answer the question, I clicked on the Link Button on the right and added the link of the article that is present in our website.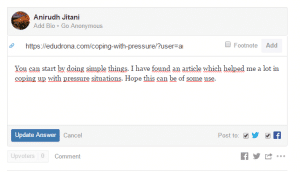 Please Note that you need to append your Affiliate link at the end of the URL so that we can track who is responsible for getting the new users to our website. This is a very important step and if you miss this step we will not be able to evaluate you. Here is how you do it:
For example:  https://edugorilla.com/coping-with-pressure/ is the URL of the link you create a back link for. Then you need to append the following at the end of the URL ?mref=username , so if your username is xyzabc the link that you are going to post is https://edugorilla.com/coping-with-pressure/?mref=xyzabc.

To check if the link is no-follow or dofollow, you can Right Click on the Link and Select Inspect Element as shown in the Youtube Video link provided above.

You can see the rel attribute has nofollow as highlighted in the picture, indicating it is no-follow link. I have also ticked the option of Facebook and Twitter, so that this post is shared on my Facebook and Twitter Timeline.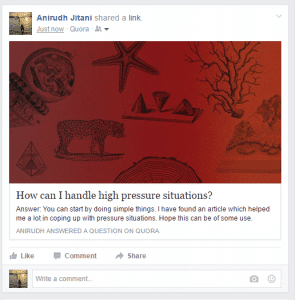 Similarly you need to find relevant communites and forums to create back links to our websites. You can easily Google to find different ways to create back links and the links provided at the beginning also tells how to create back links. Please do not spam the content, post only where it is relevant or else it will have a negative impact.
You can use any article or content from our website to create the back links.
You would be required to document all the back links and comments you have created in a proper format and share it with us.
   3. Increase the visibility of EduGorilla Facebook and Twitter Page
Use your marekting skills and promote the EduGorilla Facebook and Twitter Pages. Share the Articles in different Facebook Groups related to the domain.
   4. Learn how to increase your Reputation in EduGorilla
Improve your reputation points. Click here to see how you can improve your reputation.
5. You can also upload an Article if you are interested in Content Writing
This is not a compulsory task. It is completely optional.
6. Search Enginge Optimization
You could read a basic overview about Search Engine Optimization.