EduGorilla, a renowned 'Job-Tech' company based in Lucknow, has raised Rs. 16.5 crores in a round led by SucSEED Indovation Fund. Lead Angels Fund, Mumbai Angels, TiE India, VG Angels, WeFounderCircle, Ah Ventures, and a number of other famous angels were among those who participated. Ambrish Jain (ex-CEO of Vodafone), Vivek Chachra (Director Sales of Harvard Business Publications), Vineet Singh (Director-Infant Nutrition at Nestle), and Rohit Sathe (VP Philips) were among the notable super angels who participated in the funding round..
EduGorilla has ambitious plans to remold not just the firm but the educational Ecosystem as a whole:
Utilize the funding to expand the content in 9 Vernacular Languages by April 2023

Fine-tune its AI and ML-based platform to enhance applicants' success rate from 14x to 25x;

Increase coaching partners from 3,000 to 15,000

Launch 200 more video courses in diverse vernacular languages
Many existing investors, such as SucSEED Angels Network (SAN), TiE, and VG Angels, have again participated in the current round.
With the advancement of AI tech, the market for online test preparation has experienced a CAGR of 64% over the past five years, despite the fact that 90% of test preparation centers are in the unorganized segment, indicating a large potential market. While the majority of firms in this space provide coaching services, EduGorilla stands out for its content and exam preparation tools. EduGorilla's incredible growth and the journey were also published in several popular newspapers, which cited the company's inexorable expansion in the 'Job-Tech' business.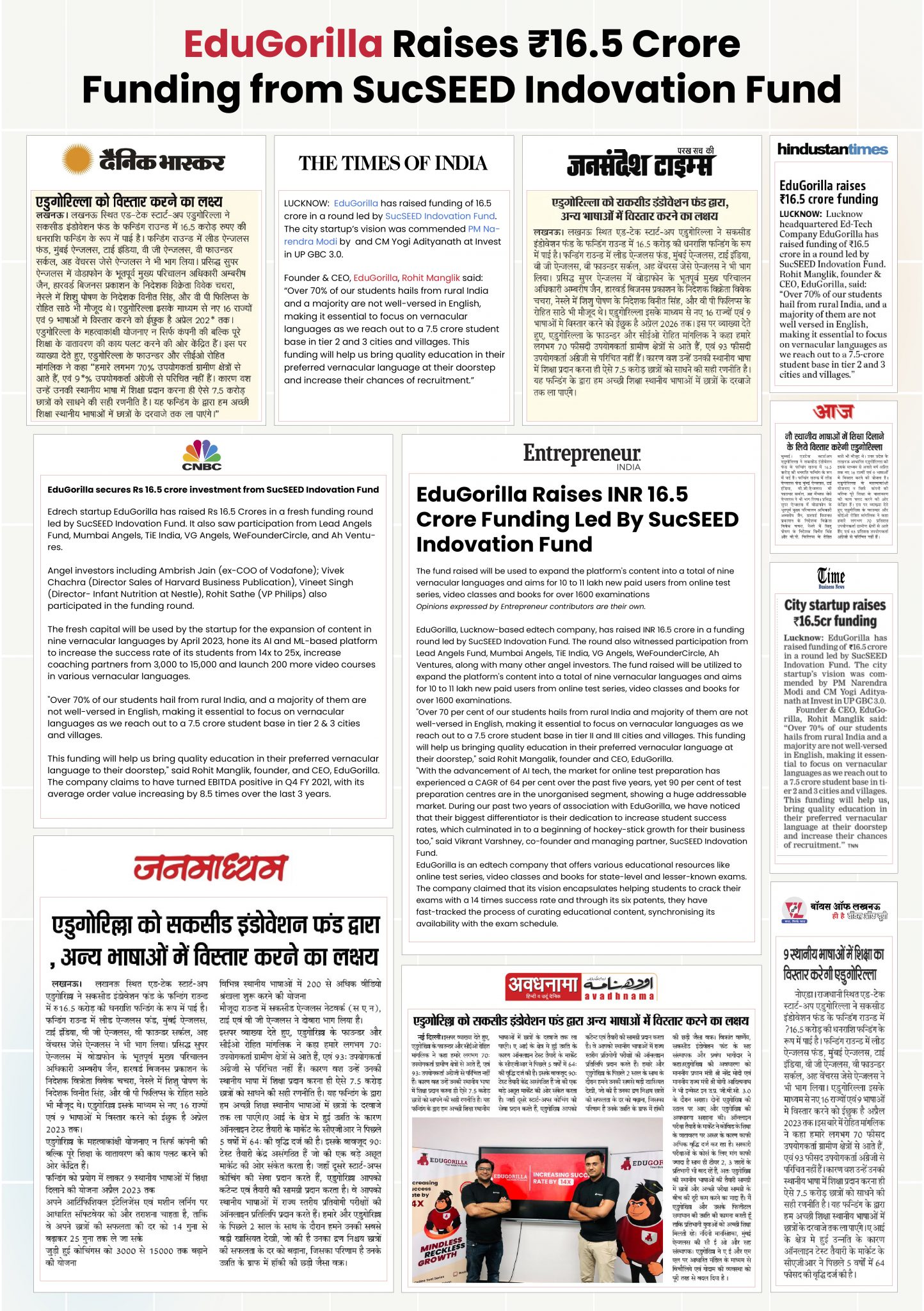 EduGorilla Got featured in many media sites under the Titles mentioned below: 
Jansandesh Times:

" EduGorilla Ko SucSEED Indovation Fund Dwara Aanya Bhashao Mai Vistaar Karne Ka Lakshya"
CNBC:

"EduGorilla Secures  Rs. 16.5 Crore Investment from SucSEED Indovation Fund"
Entrepreneur India:

"EduGorilla Raises INR 16.5 Crore Funding Led by SucSEED Indovation Fund"
AAJ:

9

Sthaaneey Bhashao Main Siksha Dilane Ke Liye Vistaar Karegi EduGorilla"
Time Business News

cited the news with headlines, "City Startup Raises Rs. 16.5cr Funding"
Jan Madhyam:

"EduGorilla Ko SucSEED Indovation Fund Dwara Aanya Bhashao Mai Vistaar Karne Ka Lakshya"
AvadhNama:

"EduGorilla Ko SucSEED Indovation Fund Dwara Aanya Bhashao Mai Vistaar Karne Ka Lakshya"