Choosing a right course after 12th may well turn out to be the biggest decision of your life specially  when fields like designing seems to have endless course-choices. Students often get confused about the career prospects and the job opportunities associated with these courses. All students needs to have is a clear goal and analyze the course they are willing to pursue along with the course's future prospects.
In the designing world, some courses focus on architectural trends and history, while others emphasize drawing, photography or modeling. A creative aptitude and carefully choosing core subjects in his XII standard will go a long way in charting a lucrative career path. Let us understand certain ambitious, creative and innovative designing course after 12th that any one can pursue.
Fashion Designing
If you are fond of creating a trendy look and have a taste for the finer things in life, a career in Fashion Designing is just apt for you. It not only helps to satiate your hunger for fashion, but also gives you an opportunity to work with the who's who of the fashion industry.
Course: Bachelor's degree in
Fashion Design or Fashion Business Management
Fashion Styling and Image Design
Garment Designing
Apparel Manufacturing
Do you want to know the Tips to Choose a Fashion Designing College? Click here.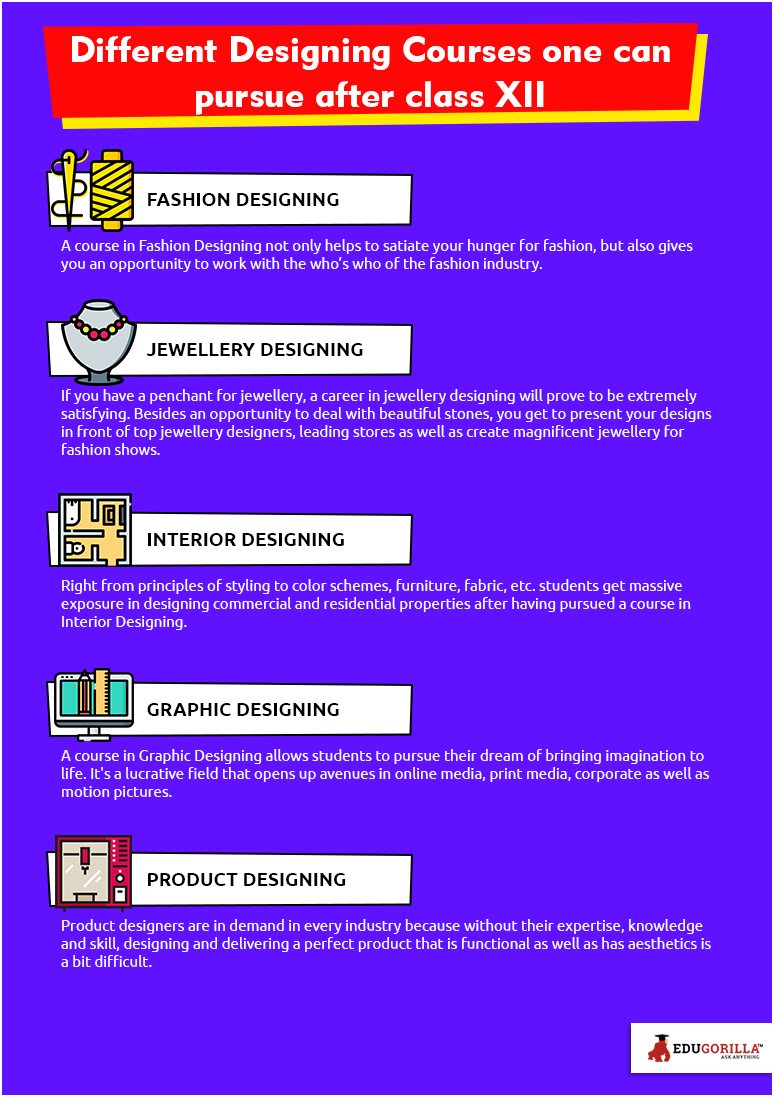 Jewellery Designing
Many of us have a knack for beautiful jewellery and often have vivid ideas to create some stunning designs. If you have a penchant for jewellery, a career in jewellery designing will prove to be extremely satisfying. Besides an opportunity to deal with beautiful stones, you get to present your designs in front of top jewellery designers, leading stores as well as create magnificent jewellery for fashion shows.
Course: Bachelors in
Jewellery Design
Manufacturing
Diamond Grading
Gemology, etc. are certain courses that one can pursue.
Interior Designing
Decorating homes and choosing items that add aesthetic value has always enchanted you; now explore amazing lucrative career opportunities in Interior Designing. Right from principles of styling to color schemes, furniture, fabric, etc. students get massive exposure in designing commercial and residential properties. One can intern with top designers to gain the required exposure as well.
Courses: Diploma, Bachelors and Masters in
Interior Design
Architecture and Design
Furniture Design, etc. are streams to pursue to become a full-fledged interior designer.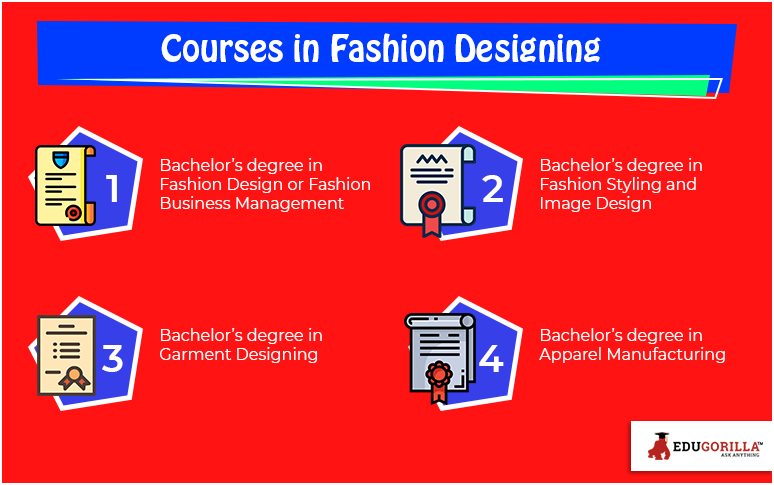 Graphic Designing
Are you fond of animation and creating alluring illustrations that leave a mark on the reader's mind? A course in Graphic Designing allows students to pursue their dream of bringing imagination to life. It's a lucrative field that opens up avenues in online media, print media, corporate as well as motion pictures.
Courses: Bachelor's, Diploma and Master's program can be pursued in
Graphic Design
Creative Arts
Design
Animation, etc. among few more courses that will present productive career opportunities in different industries.
Also read, Everything About the Course of Graphic Designing.
Product Designing
A very broad concept essentially used to create innovative products that can cater to the different industries and offer consumers ergonomically efficient products. Product designers are in demand in every industry. This is because without their expertise, knowledge and skill, designing and delivering a perfect product that is functional as well as has aesthetics is a bit difficult. Explore some really amazing career opportunities in product designing.
Courses: Bachelors and Master's program in
Product Design
Industrial Product Design
Toy Design, etc. are certain courses that can be pursued after XII.
All courses are subject to entrance exams which need to be cleared post XII. This is required to get admission in these colleges to pursue a dream career in designing.
In India, institutes like NID, NIFT, Arch college of Design and Business etc. are quite popular among the designing enthusiasts.
You Might Want To Read:
R P S C Agronomy Question Paper 1 2016, Ugc Net Environmental Science Solved Question Paper 2 2012, First Year B Pharm Examination Paper, Act Mathematics Question Paper 1, Gre Sample Paper, Ugc Net Pali Mock Test Paper 16, Vidyamandir Classes Dwarka, Nat Pg Diploma Journalism Course Question Paper 3 2013, Gmat Question Paper 8, Biophysics Question Paper 4 2010
Leave your vote
This post was created with our nice and easy submission form. Create your post!