Deciding a career path is a crucial step in a student's life and this process begins right at the time of schooling. Just after passing their class XII exam or even while they are pursuing class XII exam, they start worrying about choosing the best field for them and start preparing for their particular choice of entrance exam.
We all know that in this competitive world the entrance exams have become much popular among the students. Some students also look at them as a phobia. This is because they don't want to miss the opportunity of getting qualified to achieve their aim. We have brought to you a compiled list of top entrance exams that make you eligible for admission to both the conventional as well as unconventional courses.
Online Information 
Those days are long gone when students used to sit in the library for long durations and search for the information related to their interests. With the advent of the internet, things have become instant and convenient. Any information we want to find, we can get it with just some clicks. The internet provides a plethora of information which makes it much convenient for the aspirants to choose the right field. Online, they can find lots of information related to career options, various entrance exams, colleges, various courses, study materials, learning options etc. Whether it is engineering, medical, architecture, fine arts, agriculture or any specific area of their interest, they can get the related information easily and can apply for that without any hassle.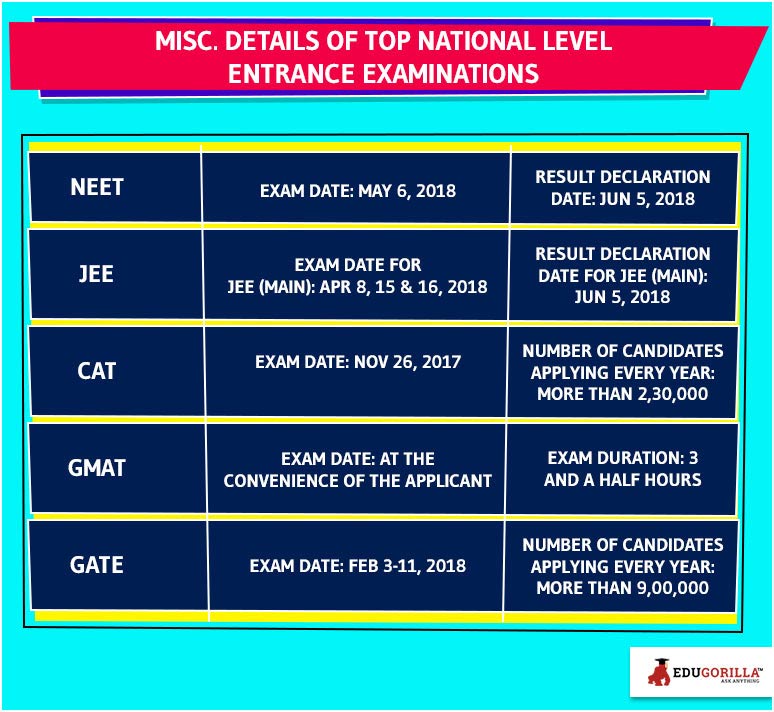 Entrance Examinations 
With the increasing population of youth, India is surely going to be the nation that will fulfill the service recruitment of other countries across the globe. And we have a traditional mindset in our country that we feel a sense of pride in getting government jobs and get a tag of well-settled.
This entire race creates tough competition among the millions of students to fight for limited seats. Some of these get qualified in various entrance exams conducted for various fields. In our country, there are various national level exams conducted to provide admissions to the aspirants in different fields.
For your convenience, we have prepared a list of top national level entrance examinations.
NEET
National Eligibility Entrance Test, NEET Exam 2018 is an all India entrance exam conducted by Central Board of Secondary Education (CBSE). The exam is a gateway for admissions to MBBS/BDS courses in India. Medical and Dental Colleges offer courses on the basis of this exam. NEET Exam 2018 is going to be conducted on 6th of May 2018. Apart from that, the unofficial NEET 2018 Answer Key will also be released on the same day by various leading coaching institutes. The result for NEET Exam will be declared on 5th of June 2018. Did you know that there are two other medical entrance exams and you can do the comparison among all the three right over here?
JEE
JEE Exam is conducted once in a year for the aspirants who want to crack the engineering programs at NITs, IIITs and other centrally-funded IT institutes all over in India. It was conducted on 8th, 15th, and 16th of April 2018. The result was declared on 30th April 2018 and now it's time for JEE (Advanced) which will be conducted for the JEE (Main) qualified candidates on 20th May 2018. The JEE Advanced Registration has started from 2nd May to 7th of May 2018 and JEE Advanced Admit Card will be available from 14th of May 2018.
CAT
Common Admission Test, popularly known as CAT is for graduates who want to pursue MBA in various fields like Marketing, Finance, and Human Resources. More than 2,30,000 candidates appear for CAT every year in order to get admission in highly prestigious IIMs. CAT is a computer-based test which checks the candidate's quantitative abilities, logical reasoning, verbal & reading comprehension and data interpretations.  CAT exam was conducted successfully on 26th November 2017 last year by IIM Lucknow. Check out the other comprehensive list of MBA Entrance Exams You can Appear for.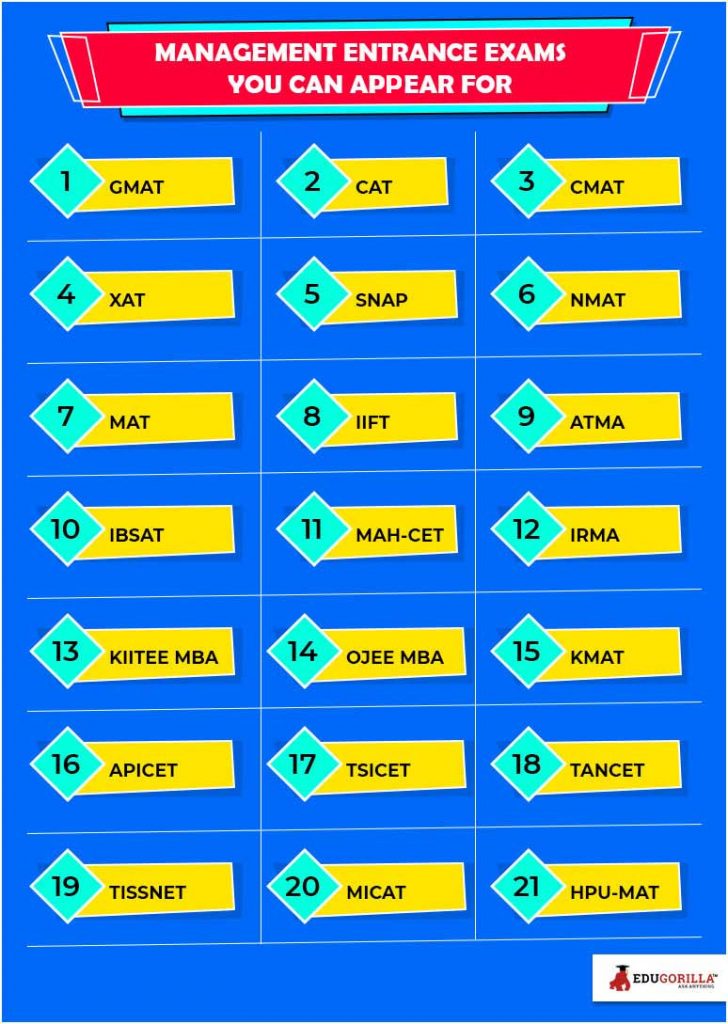 GMAT
GMAT (Graduate Management Admission Test) is a computer adaptive test to analyze the analytical and problem-solving skills of the candidates for their Masters basically in finance, marketing, accountancy, and operations. The duration of the exam is 3 and a half hours. GMAT is a reliable platform to predict a candidate's quantitative, logical and verbal abilities. The dates of GMAT are flexible. And it offers the aspirants to select the exam date according to their choice. GMAC (Graduate Management Admission Council) administers this test.
GATE
GATE, Graduate and Aptitude Test in Engineering is conducted once a year in the month of February. Post Graduate programs like M.E., M.Tech. Ph.D. etc. provide admissions on the basis of this exam. These institutes get financial assistance from MHRD (Ministry of Human Resource Development) and other Government agencies. Every year, more than 9 lakh candidates appear for the GATE exam. You can also go to the official website of GATE Exam to know the Admission process, Application Form Date, Admit Card etc.
Conclusion:
The competition among the students has become tough like never before. And for this reason, cracking these entrance exams is getting tougher day by day. Therefore, it is vital for the students to have correct knowledge about all the entrance exams of their respective fields. One of these entrance exams could be your way to achieving your aim. With efficient knowledge, learning, practice and focus, no one can stop you from getting success. All the best!
You Might Want To Read:
Testbag Iift Mba Exam, Ugc Net Indian Culture Question Paper 1 2011, Gate Hand Written Notes Mechanical Engineering Refrigeration Air Conditioning, Delhi University L L B 2Nd Year Mock Test Paper 3 6, Translation Services Case Study Using Technology At Work, Net Museology Conservation Paper Ii Sample Paper 1, Ca Foundation Practice Paper, Demand Salesforce Skills Rising 2017, Mpsc, Research Methodology And Educational Statistics
Leave your vote
This post was created with our nice and easy submission form. Create your post!