Aren't you fascinated by the creative tactics of Kungfu Panda's village-saving mission? Obviously!!! Don't the unusually built creatures of the blockbuster movie Avatar raise you eyebrows? I can see your head nod!!! Of course we are charmed by the enormous power movies possess in making the impossible look surreal or place the movie right at the center of our off-screen world such that the boundary between screen world and real world submerges. Films coax us to believe in our 'larger-than-life' desires because they are capable of implementing them visually.
However, has your curiosity ever tickled you to question how filmmakers do it? How Transformers, King Kong, Hulk or Kungfu Panda came into being? Can you ever create creatures of your imagination box? Yes you can. Let's see what you need and how you can create such artistic wonders.
PRE-REQUISITES TO BECOME A DIGITAL ARTIST
Though nothing can defeat the power of dedication and passion, but if you have them then you can look at improvising on skills below: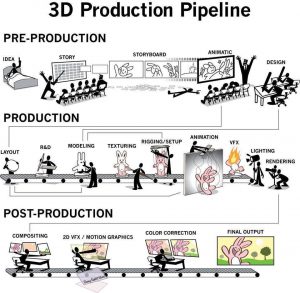 A sense of observation

To translate real world objects to 3D on softwares
Understanding the interaction of light and color with the environment
Understanding scale, weight, volume and their relative connections
Problem-solving and Team-work skills
Drawing and sketching skills
Attention to detail

Depending on whether the post-production work is subtle like in realistic movies, or partial in movies such as Life of Pi or hard core like in Ice Age, a movie can involve one or more of the following stages:

Computer Graphics
A computer graphics artist, popularly known as CG artist, adapts real-time pictures or design references into 3D models, rigs them to facilitate animation, textures and lights them. Common profiles of a CG artist are Modeller, Texture painter, Animator, Rigger, Technical Director, Lighting Technical Director, etc.
Visual Effects
Visual Effects is essentially the art of altering, creating or enhancing imagery to accomplish results which cannot be achieved during live-shooting. A VFX Artist is involved in rotoscoping, motion-tracking, color keying, color-correction, simulation and composting.
Animation   
As the word itself explains, an animator adds action to the models created by a CG artist and effects created by a VFX artist. You can further specialize in character modeling, scenery design or background design and for video games you can specialize in level designing, background designing etc. Animators are also employed in other industries to create simulation like construction and builders, education sector, scientific services, etc.
Learning CG, VFX or Animation can fetch you jobs in gaming, film production, television, advertising, publishing or any industry which requires video- making. As per the current industry standards, on an average the starting salary of a multimedia digital artist is 12-15k per month and depending on experience and quality of work it can go upto 1.5laks per month.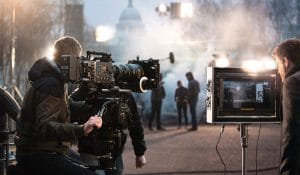 Umpteen number of institutes have sprung up to enhance the artistic skills of youngsters who intend to enter this industry. A few are listed below (The order does not indicate any rankings)
Institute/College
Course
Fees (INR)
Admission
Location
National Institute of Design
B.Des & M.Des in Animation Film Design
2,10,800
NID entrance test
Ahmedabad and Bangalore
Industrial Design Centre
M.Des in Animation

M.Des in Vis Comm

Around 30,000/Sem
CEED
Mumbai
Indian Institute of Digital Art and Animation
B.Sc, M.Sc and diploma in Animation & VFX
Contact admission team
Not required
Kolkata
Birla Institute of Technology
B.Sc, Masters and Phd in Animation & Multimedia
81-95,000 / semester
Creative Aptitude test and Interview
Noida
Arena Animation
Courses in Animation and VFX
1.5 – 2.8 lakhs
Not Required
Centres across India
MAAC
Animation, VFX and Gaming
Varies between centres
Not required
Centres across India
FX School
Animation, CG, VFX, Gaming art and development
2 – 3.5 lakhs
Not required
Mumbai
Picasso Animation
B.Sc and M.Sc in Animation, VFX, Game design
2 – 3.5 lakhs
Not required
Noida
Frameboxx
Animation and VFX
Varies between courses
Not required
Centres across India
Whistlewoods International
B.Sc Animation
10,00,000
Entrance exam and interview
Mumbai
FUTURE
[sociallocker]On an average, every Indian movie today allocates 10-15% of its budget to post-production and with movies like Bahubali-The Beginning which employed 600 artists from 17 studios, initiating a trend to seek more visual effects, computer graphic and animation in the Indian movies, the budget allocation is expected to increase to 30-35% for post-production work from the current 10-15%. Employment opportunities are also increasing due increased work outsourced from other countries as well as collaborative projects between studios in India and abroad. New studios are popping up at a rapid pace due to affordable access to instruments which is also the reason behind expansion of opportunities.
Nevertheless, the drawbacks of this industry's foundation are also alarming as of the approximately 400 studios operational only a handful are doing creative work and the rest are employed by non-creative outsourced work as the cost in India is 1/4th of that in North America and 35% less than in countries like Korea and Philippines. The education provided by our institutes is not on par; as a result only 40% of the talent in animation, VFX and CG are capable of producing creative output. Hence, the demand for creative talent is not dead. So if you can prove your creative skills then you have a huge room of opportunities open for you. Are you up for it?[/sociallocker]
You Might Want To Read:
Afcat Previous Year Paper 1, Why Pursue Masters From A Private School In Germany, Ugc Net Folk Literature Question Paper 3 2007, Bits Bio Molecular Comprehensive Examination Question Paper 1 2011, Innerself, Data Sufficiency Mock Test Paper 10, Kendriya Vidyalaya Sangathan Junior Mathematics Olympaid Mock Test Paper 5, Garden City College Bangalore, Top 10 Benefits Of Online Courses For Beginners Experts, Delhi University B Tech Analog Devices Mock Test Paper 85