First of all, the Graduate Management Admission Council, or, GMAC conducts the NMAT. NMAT is also known by the name of 'NMIMS Management Aptitude Test'.'  GMAC holds NMAT at both national and international levels. The scores you obtain thus, provide you admission into MBA programmes of over 20 renowned management colleges. These are like ICFAI Business School, NarseeMonjee Institute of Management Studies (NMIMS), Ansal University, Alliance University, BML Munjal University, SRM University, Xavier University Bhubaneswar, VIT University and more.
The schedule for NMAT Exam was announced earlier this year and the registrations for the exam started on July 3 and continued till October 3, 2018. You could opt for late registration starting from October 4 till October 14. GMAC allowed no registrations after October 14. It's basically a computer-based test (CBT) conducted by the Pearson Vue at 35 different locations in India. It's up to the candidates to decide their own time, date and venue of the examination, as per their convenience.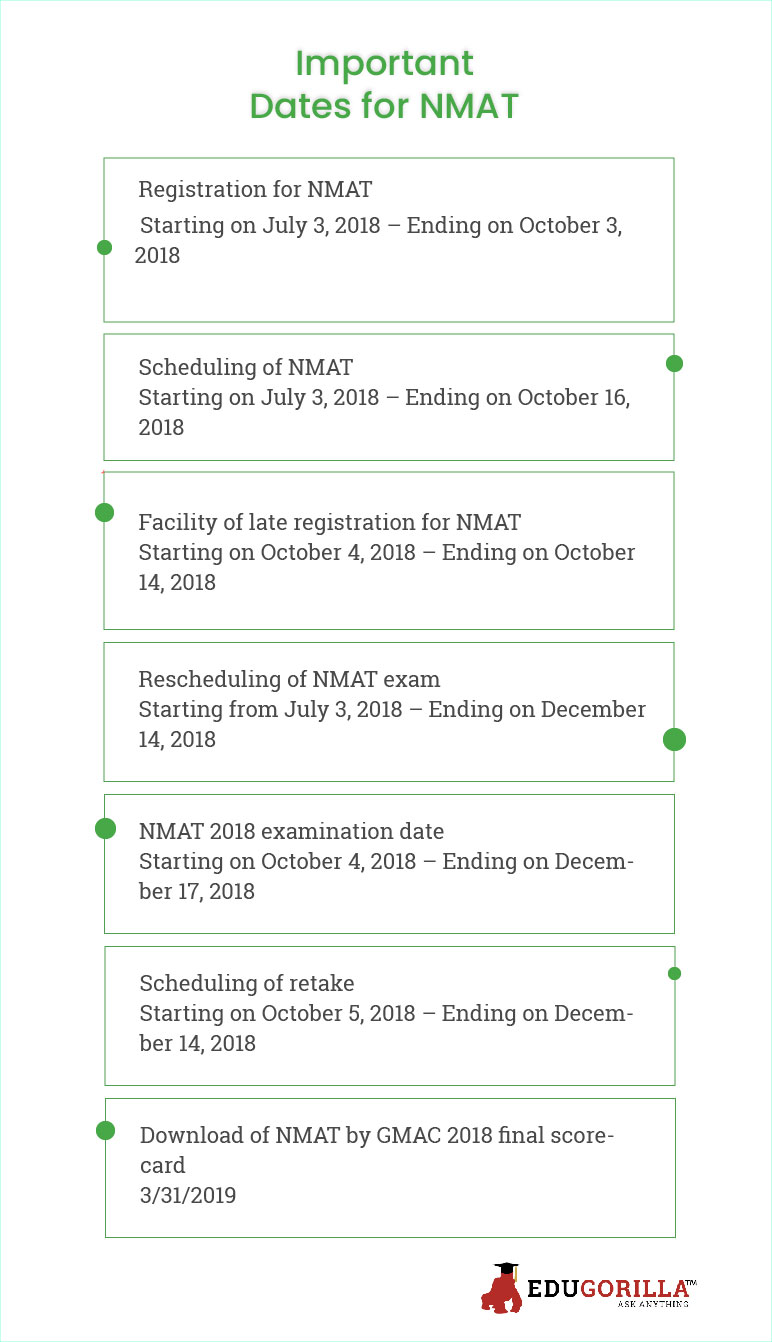 GMAC allows you 3 different attempts to get your best out of 3 scores in the exam. Apart from that, you can select up to 7 different management colleges/schools to send your admission scores to. It's a first of its kind MBA entrance exam where GMAC offers financing of students' MBA degree programs through leading lending establishments. For instance, these establishments are like Credila, an HDFC Ltd company.
Important Dates
Registration for NMAT – Starting on July 3, 2018 – Ending on October 3, 2018
Scheduling of NMAT exam – Starting on July 3, 2018 – Ending on October 16, 2018
Facility of late registration for NMAT – Starting on October 4, 2018 – Ending on October 14, 2018
Rescheduling of NMAT exam – Starting from July 3, 2018 – Ending on December 14, 2018
NMAT 2018 examination date – Starting on October 4, 2018 – Ending on December 17, 2018
Scheduling of retake – Starting on October 5, 2018 – Ending on December 14, 2018
Download of NMAT by GMAC 2018 final scorecard – March 31, 2019
NMAT Windows
The GMAC had 5 NMAT Windows for 2018 edition of the examination. It scheduled it from October 4 till December 17. We've provided below, more details on these windows:
NMAT window 1 – From October 4 to October 18, 2018
We recommend the candidates to appear during the later part of this window. This is, as they can get a better idea of the paper pattern by then.
NMAT window 2 – From October 19 to November 2, 2018
The result for the test given in NMAT window 1 is out by this time and one can decide if he/she wants to reappear for the exam in window 2 or not. If yes, it's always better to give the exam towards the later part of the window.
NMAT window 3 – From November 3 to November 17, 2018
Majority of the students targeting CAT (for admission to premier MBA institutes like IIMs etc.) normally avoid NMAT window 3; hence the students appearing in this window can expect a very good percentile score.
NMAT window 4 – From November 18 to December 2, 2018
A couple of prominent examinations like that of IIFT and CAT can fall in this window and hence very few candidates appear during this window too, giving you a chance to obtain a good percentile score.
NMAT window 5 – From December 3 to December 17, 2018
A large majority of students prefer appearing in this NMAT window as by now everyone has better clarity on the paper pattern and can prepare accordingly for the test.
Rescheduling of NMAT 
You get the facility to reschedule any of your NMAT attempts in case of an emergency or because of any other reason. The GMAC could allow rescheduling of NMAT 2018 starting from July 3, 2018, this time. Also, you could reschedule the exam for any date falling in any of the NMAT test windows from October 4 to December 17, 2018. The GMAC makes provides the rescheduling for you, until 72 hours before the originally scheduled NMAT examination date. GMAC won't allow you to reschedule the examination date after this deadline. Please note, the NMAT portal will ask you to submit a rescheduling fee of ₹ 1100 plus taxes, for this facility. This fee is payable by credit card only.
Application Process for NMAT 
Candidates wanting to appear for the NMAT by GMAC examination must fill out the online application form prior to the deadline. You'll need to pay a registration fee of ₹ 2000 plus taxes. You can choose to pay this fee by any of the following payment modes: American Express, Visa, MasterCard, Demand Draft, Diners Club, Net Banking, Debit Card.
All candidates who register for the NMAT by GMAC examination can download their admit cards from the NMAT official website. You need to enter your registration number and password to do so. You can always get in touch with the NMAT helpdesk in the event that you aren't able to download your admit card.
As also mentioned earlier, you get a maximum of 3 attempts to score your best marks at NMAT by GMAC. The NMAT examination tests your ability in logical reasoning, quantitative skills and language skills.
NMAT Result
The GMAC declares the NMAT results in different windows depending upon the test dates. You can download the final scorecard in March (March 31, 2019, this time around). You can view your scorecard for every attempt as and when the GMAC declares the results. Usually, it declares the results within 4 to 5 weeks from the test date. You can check your scorecard by logging in with your registered email ID.
NMAT Examination Centres
Presently, the GMAC holds the NMAT 2018 at 55 different centers in 35 locations across India. Apart from that, you can also give the test from 4 international locations in Bangladesh, Sri Lanka, Bhutan, and Nepal. Following are the NMAT by GMAC 2018 test locations in India:
North region – Jammu, Delhi, Chandigarh, Faridabad, Patiala, Lucknow, Gurugram, Dehradun, Agra, Kanpur, Varanasi, Noida
South region: Mysore, Chennai, Tiruchirapalli, Kochi, Vizag, Bengaluru, Manipal, Vellore, Vijayawada
East region: Shillong, Guwahati, Patna, Bhubaneswar, Kolkata, Ranchi, Jamshedpur
West region: Jodhpur, Vadodara, Ahmedabad, Nagpur, Surat, Kota, Nasik, Pune, Mumbai, Pilani, Jaipur
Central region: Raipur, Indore, Bhopal, Jabalpur
International locations: Colombo (Sri Lanka), Thimpu (Bhutan), Kathmandu (Nepal), Dhaka (Bangladesh)
NMAT Eligibility
NMAT by GMAC doesn't have any specific eligibility criteria and it's entirely the candidate's responsibility to understand the eligibility requirements of various schools and universities that accept NMAT scores, before applying to any of them. Nevertheless, there are certain eligibility guidelines provided on the NMIMS official website. These guidelines are as follows:
All applying students must have obtained a bachelor's degree (10+2+3 or 10+2+4 pattern) in any discipline at the time of admission, from a recognized University.
The candidate must have scored a minimum of 50% aggregate score in graduation.
Candidates having 2 or more years of experience after graduation are preferred for admission to full-time programmes.
Candidates appearing for their final year bachelor's degree exam can also apply and will be offered provisional admission until they submit complete proof of having completed their graduation with minimum 50% marks.
NMAT Exam Pattern 
NMAT by GMAC exam doesn't normally witness any major changes in the NMAT examination pattern. It is 120 minutes (2 hours) exam comprising of 3 major sections: logical reasoning, quantitative skills, and language skills. The breakup of the sections mentioned above is as follows:
Section                                 Number of questions                    Time given (in minutes)
Logical reasoning              40                                                           38
Quantitative skills            48                                                           60
Language skills                  32                                                           22
Total                                      120                                                         120
As per the official information, NMAT by GMAC is a computer-based test wherein candidates are given a test comprising of randomly picked questions from a large pool, delivered one by one. The time limit, difficulty level and the number of questions in every section are pre-decided and usually remains the same, regardless of where you take the test from. It's up to the candidates to select the sequence or order of the above-specified sections. In addition, you are required to review your answers prior to moving on to another section, as a section once ended is considered final.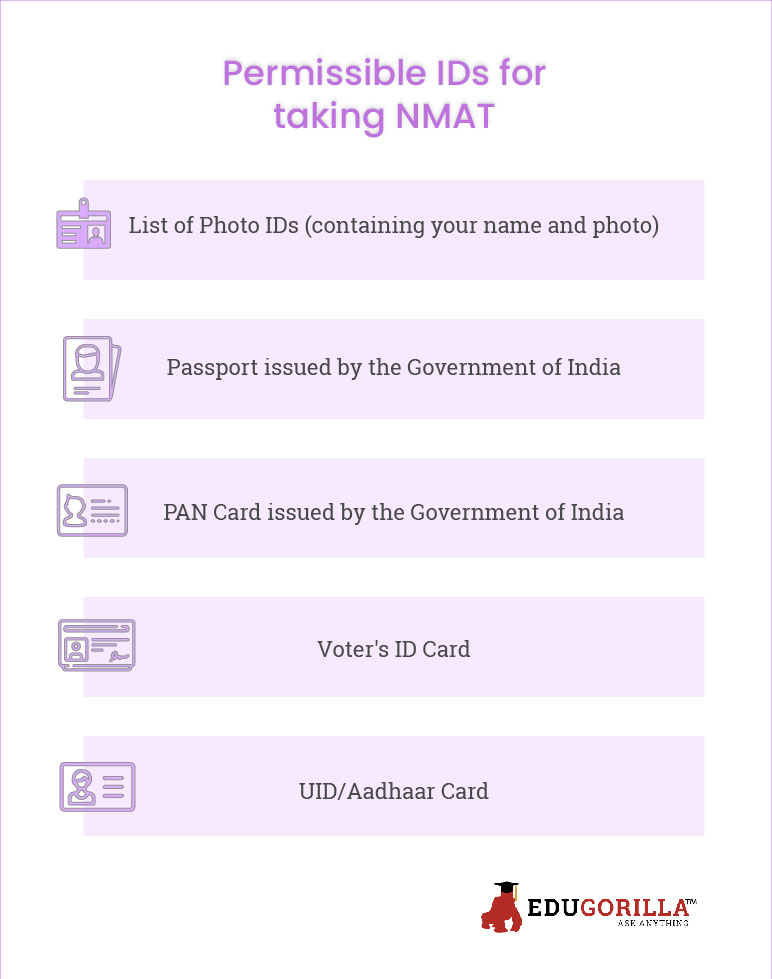 NMAT Syllabus
As already detailed above, NMAT by GMAC consists of 3 sections. The syllabus for these 3 sections is provided below:
Logical reasoning: puzzles, series, arrangement, coding and decoding, numeric grid, blood relations, statement conclusions, family tree, multidimensional arrangements, calendars, the course of action, critical reasoning, weak arguments, and strong arguments, syllogisms
Quantitative skills and data interpretation: trigonometry, tables, number systems, arithmetic, bar graph, pie chart, algebra (quadratic or linear equations), percentage, probability, work/time, average, permutation and combinations, simple or compound interest, modern math, mensuration, coordinate geometry, time – speed – distance, profit and loss, mixture and solution, average, statistics, 3D geometry, 2D geometry, line graph, number systems
Language skills: antonyms, synonyms, reading comprehension, vocabulary, idioms, para-jumble, correct grammar, syntax, language use, and its rules, fill in the blanks
NMAT Marking Scheme
NMAT by GMAC exam has a uniform marking scheme. You get +1 mark for every correct answer and no zero marks or negative marks are given for non-attempted or wrongly answered questions respectively. Hence, instead of skipping any question, you can always make a calculated guess and mark an answer without having worries about the penalty.
You Might Want To Read:
Budget As A Fiscal Tool Notes, Gsssb Mines Supervisor Technical Assistant Test Series, Baba Farid University Physiology Question Paper 1 2006, Mathematics Question Paper 2010, Ugc Net Manipuri Mock Test Paper 31, Junior Assistant, Net French Mock Test Paper 164, Class Viii Practice Paper, Iit Jam Sample Mock Test Paper 4, Iit Jam Mathematical Statistics Answer Key 2016
Leave your vote
This post was created with our nice and easy submission form. Create your post!