Management programs are one of the most desired courses in India. Every year, fresh graduates, scholars, teachers, etc, choose their preferred management entrance exam and start preparing for it. The most common management entrance exam is CAT, but there are many other alternative options which offer admissions in top business schools. There are many national and state level management entrance exams where students face the dilemma of choosing an appropriate choice for themselves. Still, you can consider SNAP and NMAT as the best alternative option after CAT. If you discover more about SNAP, then results will show that SNAP has extra benefits than other management entrance exams.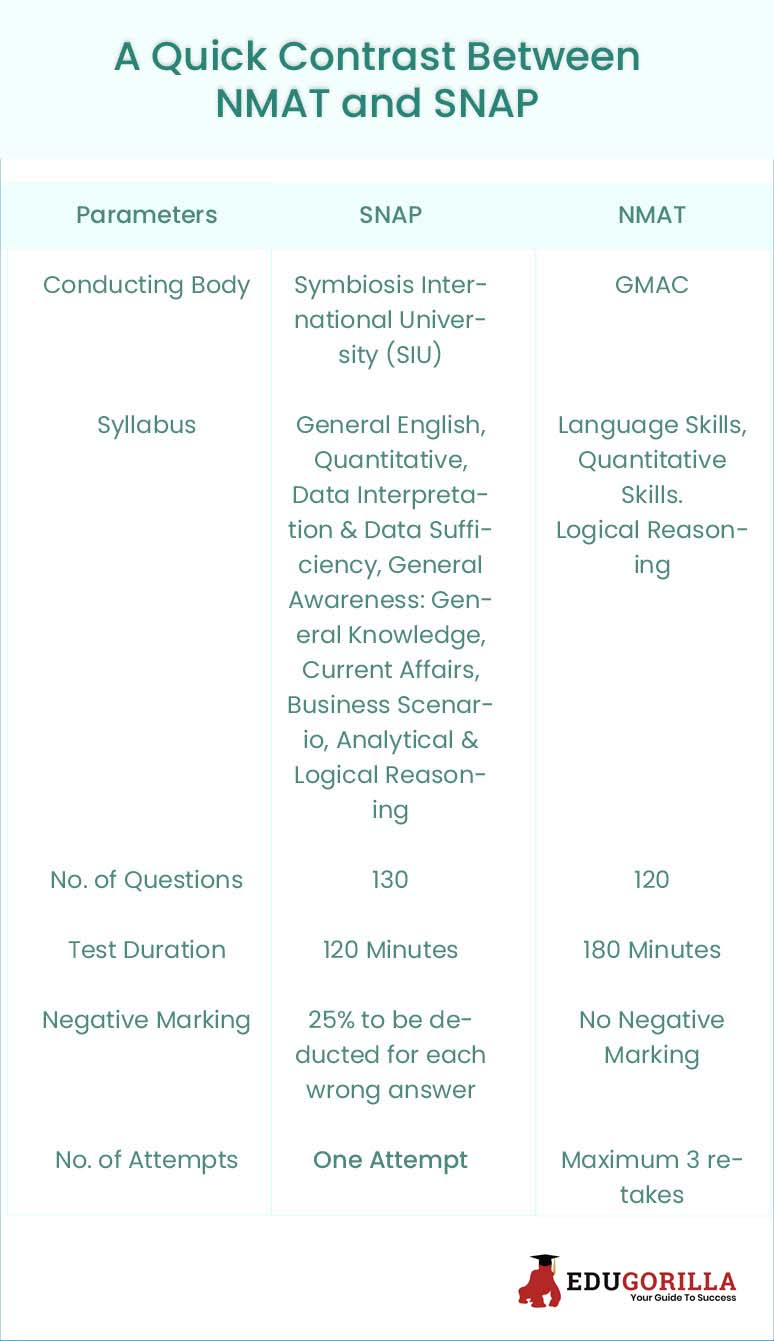 Aspirants, who are finding it difficult to choose between NMAT and SNAP, can further read to get their doubts cleared easily. The comparison between both these management entrance exams can help students to choose a better option for themselves. Both these exams offer management courses in their respective institutes. There are many similar things between SNAP and NMAT, but major differences need to be known.
Interesting Facts about SNAP and NMAT
NMIMS Management Aptitude Test (NMAT) or NMAT by GMAC is a computer-based exam offering different management programs in top business schools in India. NMAT scores also utilized by business schools of the Philippines and South Africa. The NMIMS authorities hold the exam in 44 cities through 75 days test window. According to previous year data, there is a rapid growth in the number of NMAT test-takers.
Similarly, the Symbiosis International University (SIU) holds SNAP as a popular management entrance exam. Each year more than 50,000 students appear for this exam to grab a seat in SIU institutions. Various SIU institutions offer different 23 management programs to the students who crack SNAP.
NMAT by GMAC
SNAP
Exam Syllabus
1)     Logical reasoning

2)     Language skills

3)     Quantitative skills

1)     Quantitative, Data Interpretation and Data Sufficiency

2)     Analytical and Logical Reasoning

3)     General Awareness

4)     General English

Total number of sections
3 sections
4 sections
Difficulty level
Easy to moderate
Easy to moderate
Exam Duration
180 minutes
120 minutes
Total number of questions
120 questions
130 questions
Differences in NMAT and SNAP syllabus
Almost, the syllabus of every management entrance exam is the same with some changes in topics. There are also some topics which vary between NMAT and SNAP. For example- NMAT's language skills section consists of syllogism and SNAP comprises of idioms. The major changes in the syllabus are SNAP's general awareness section where 25 questions appear in the exam. NMAT syllabus doesn't consist of general awareness section.
Differences in Difficulty Level of NMAT and SNAP
The overall difficulty level of both SNAP and NMAT is moderate to difficult. But the sectional difficulty level varies in both NMAT and SNAP exam. SNAP Quant section and General awareness section is always difficult whereas Logical reasoning is a little bit easy.
On the other hand, SNAP difficulty level is rapidly increasing every year. Many students expect that in future years, SNAP difficulty level will be the same as that of CAT. The negative marking of SNAP makes it more challenging. The SNAP authorities have provisioned for attempting it only once a year. This can be a drawback for students. Students can attempt NMAT for three times in a year which increases the chances.
Differences in Test Details of NMAT and SNAP
Speed and accuracy are needed in the SNAP exam. Students have to answer 130 questions in 2 hours, which is a challenging task. In NMAT, students are allocated with 2 hours to solve 120 questions. Students should be accurate and quick while solving NMAT question paper. Speed and accuracy in must in both exams, but SNAP have negative marking which needs extra attention. There is a sectional time limit in NMAT, which varies from 20 minutes to 1 hour. SNAP doesn't consist of the sectional time limit, and students can easily jump from one section to another.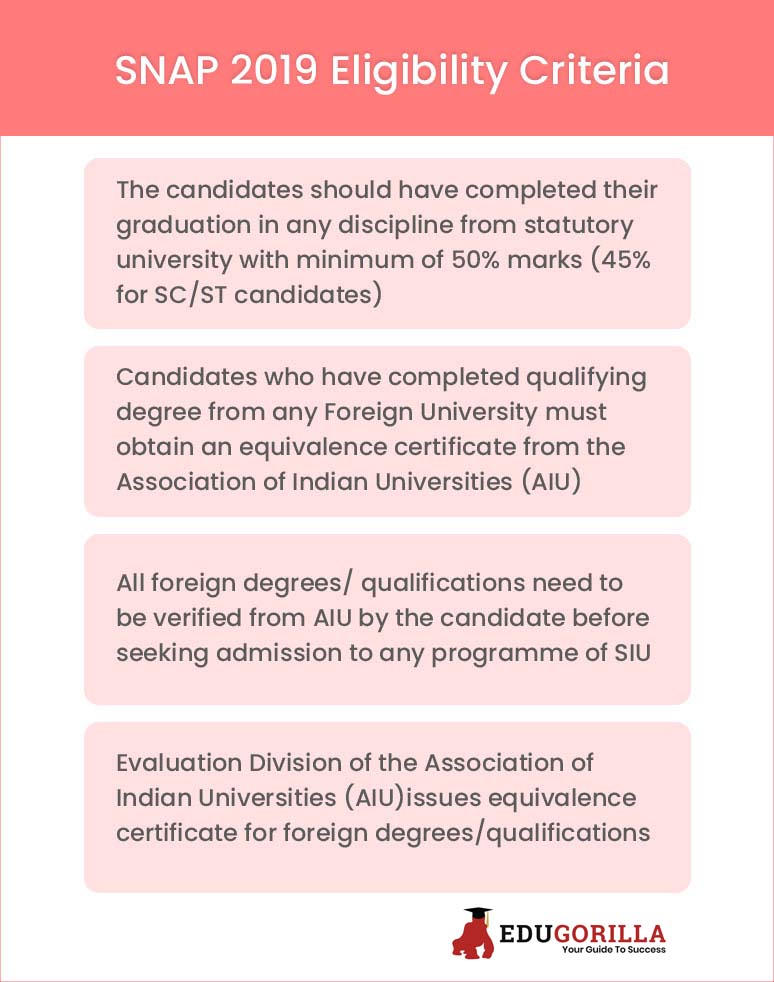 SNAP or NMAT – A Critical Decision
Both SNAP and NMAT has many similarities and differences, but it depends on the student's preferred business school. It is difficult to opt for anyone, but the student's ambition will be an important aspect. There is no difference in preparation strategy apart from general awareness section. Both exams are based on speed and quick calculations. After seeing all the comparisons, NMAT wins this comparison because there are certain numbers of test attempts, a highly-rewarding scope and a lack of negative marking.
You Might Want To Read:
Political Science Question Paper 4 2010, Delhi University L L B 2Nd Year Mock Test Paper 14, Aiims Laboratory Technician Mock Paper, Upsc Cds Sample Paper, Wisdom Mart, Aakash Institute Vs K2 Solutions, Institute Actuaries India Previous Year Question Paper 21, Tucareers, Best Ias Coaching Institutes In Delhi, Upsc Ifs Agricultural Engineering Paper I Question Paper 2012
Leave your vote
This post was created with our nice and easy submission form. Create your post!