Common Law Admission Test (CLAT) 2018 is an All India level online examination organized by The National University of Advanced Legal Studies, Kochi, Kerala. It is conducted on a rotational basis by the 19 participating universities across the country. This exam provides admissions to both undergraduate and postgraduate degree programs and is scheduled for May 13, 2018. You may also like to have a look at Top 9 Online Coaching Institutes for CLAT (Common Law Admission Test).
CLAT  Eligibility
Educational Qualification:
Under-Graduate Programme (Five Year Integrated Law Degree Hons.)
Pass in 10+2 or equivalent examination with a minimum of:
45% of marks in case of candidates belonging to unreserved/OBC/Persons with Disability/NRI/NRI sponsored categories
40% of marks in case of candidates belonging to SC/ST categories
Candidates appearing for the qualifying examination in March/April 2018 are also eligible to apply.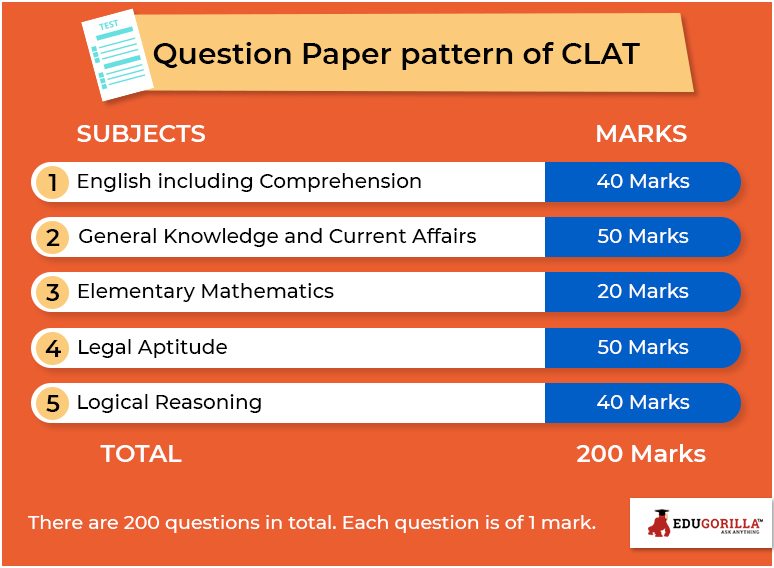 Post-Graduate Programme (One Year LL.M Degree)
Educational Qualification: An LL.B Degree or an equivalent examination with a minimum of
55% in case of candidates belonging to Unreserved/OBC/Persons with Disability/NRI/ NRI Sponsored categories
50% of marks in case of candidates belonging to SC/ST categories
Candidates appearing in the qualifying examination in April/May 2018 are also eligible to apply.
CLAT 2018 has papers on English language, general knowledge, elementary mathematics, logical reasoning and legal aptitude. Among all these papers, legal aptitude is one of the easiest and scoring and at the same time an important section in CLAT. Whenever there is a tie, it is sorted by using the marks the candidate has obtained in legal aptitude section. This is a clear indicator of the importance of this section.  Practice with previous years CLAT question paper.
The Legal aptitude part is of 50 marks questions and is divided into 3 sections:
Legal reasoning
Legal facts
Legal general knowledge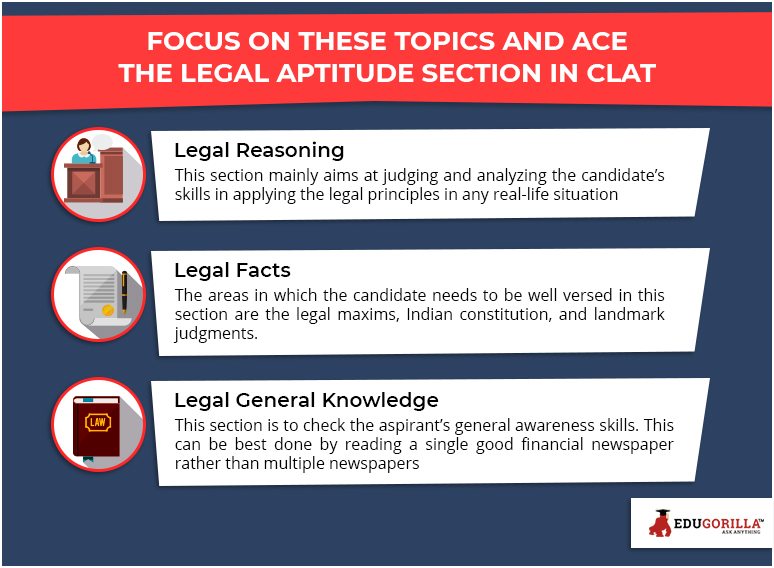 Some tips to help you prepare the Legal Aptitude:
Legal reasoning
This section mainly aims at judging and analyzing the candidate's skills in applying the legal principles in any real-life situation. It also looks for the knowledge in law, research aptitude, and the problem-solving capacity of the aspirant.  The topics to prepare in depth are Indian Penal Code, Law of Torts and Law of Contract.
Legal facts
This section is to test the candidate's knowledge of legal facts. The areas in which the candidate needs to be well versed in this section are the legal maxims, Indian constitution, and landmark judgments. The topics of importance are the fundamental rights, directive principles, preamble, important landmark judgments and amendments, the various recommendations and chairpersons of the law commissions.
Legal general knowledge
This section is to check the aspirant's general awareness skills. You can do it by reading a single good financial newspaper rather than multiple newspapers. This will also help you in the GK section of the exam. Keep yourself updated with the latest current affairs as well.
To prepare well and score good marks in legal aptitude, ensure that you don't assume any answers. Update knowledge regularly by reading newspapers. Prepare well, crack this important section in CLAT 2018 and get admission in one of the Top 5 Law Colleges in India.
All updates about : CLAT EXAM 2019
You Might Want To Read:
Physical Education Question Paper 3 2011, R P S C Psychology Question Paper 2 2015, Ugc Net Performing Art Dancedramatheatre Mock Test Paper 1, Cbse Class 5 Science Maths Animated Video Lectures In English Hindi, Engineering Science June 2013 Paper Answer Key, Tips Achieve Academic Goals College, Soluction, When Writing A Research Paper, Physics Energy Motion Notes, Ugc Net Law Mock Test Paper 14
Leave your vote
This post was created with our nice and easy submission form. Create your post!