" Where there is a will there is a way" is a well -known proverb which means that if you  wish to do something from your heart you can surely do it.
   Once there was a handsome looking boy named Rishik. But there was one problem he was very  fat so everyone use to tease him. Rishik loved skating a lot.But many coaches used to ignore him because he was fat and could not catch up speed in skating.He was very sad due to this.
   One day the coach of skating announced that there is going to be Skate India Competition.Everyday in newspapers pamplets of Skate India would come.Rishik was very excited to participate.The coach had even announced that there would be practice sessions too for the race.
   The next day he went to the coach and pleaded that he could too participate in the competition and come for practice sessions.But the coach ignored him as always.Rishik requested the coach once again Sir agreed with him and told him to come direct for the competition but he can't give him training.
   He didn't lose his hope and started practicing on his own in his complex.At last, after few days he didnt become slim but he became faster in skating then before.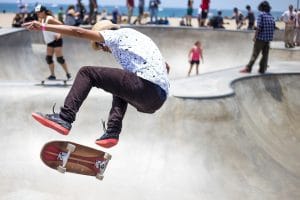 The final day of competition arrived and there was full of excitement in all the children.The first race was of Rishik.As the whistle was blown by referee, all the participants stormed the skating rink.In starting Rishik  was last but with his confidence he overtook everyone and came on the first position.
   Till the end he maintained his first position and didn't let anyone overtake him.There was a huge distance between Rishik and other skaters.Rishik came first and won the race.The coaches and the public around was shocked to see Rishik on the first position.There was a huge applause for Risk and everyone started rejoicing the victory of Rishik.So it is said "where there is a will there is a way."
You Might Want To Read:
Himachal Pradesh Technical University Pharmaceutical Question Paper 11 2012, Security Assistant Grade Ii Technical Lok Sabha Secretariat Pre Exam Paper, T F R Physics X 2016, Mathematics Quadratic Equation Part 1, Associateship Examination Liability Insurance Mock Test Paper 52, Avon Academy Cma Icwa Final, Tamil Nadu Board English Question Paper 7 2012 2, Afmc Question Answer Paper 2006, Madurai Kamraj University M Sc In Physics Optics And Spectroscopy Mock Test Paper 4, R P S C Commerce Question Paper 1 2014