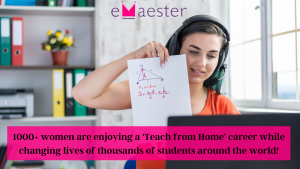 Online Training Website  
Have you ever wondered if you could learn to teach online? Do you know that women can make careers even by sitting at the comforts of their house? This is possible and eMaester helps you achieve it. Check out this article to know more about the courses and how it helps to change your life.
Ufaber's EMaster trains the trainer to get efficient results. This program is specially curated for homemakers who want to pursue a career along with managing their family. 1000+ candidates have been trained to be an English language trainer, UPSC exam faculty or STEM teacher. The tutorials will ensure that you will be in par with an IELTS trainer or an IB teacher with guaranteed employment, what more could you ask for, right?
Career + Family = eMaester is the mantra followed by eMaester.
Teach From Home Online 
Learning to teach from home has never been easier and effective and now with these unprecedented times, it has become an emerging skill and profession. With unlimited online lectures, job opportunities and career growth for women, eMaster takes pride in establishing successful careers for women.
How does it work?
1. Eligibility
eMaester's perfect candidate is someone who enjoys interacting with people and has a passion for teaching. They have to be above the age of 18 and should have at least a Bachelor's Degree in any stream. Moreover, they should exhibit great communication skills.
2. Training
In their thorough 6 week program, each of their candidates gets personalized mentoring (1:3) with a Master Trainer and access to an exhaustive library of teaching resources transforming them into 'Maesters' or Masters in core concepts of Language, STEM or UPSC.
3. Certification
Once transformed by the 6-week training, the student aka the trainer will be presented with a certificate that will guarantee them with an earning for a lifetime. eMaester guarantees at least 1000 teaching hours every year.
4. Getting Onboard
Once certified, the trainer gets in touch with eMaester's team and they will craft a schedule along with assigning time slots that are convenient for them. Finally, the trainer signs off on a contract and they're good to go. However, the team will always be a call away if the trainer needs any further help.
H2 – Online Training Courses 
eMaester offers several ways to change the trainer's life and touch several others. The courses are as follows:
IELTS trainer
STEM Trainer
Robotics Trainer

Extreme Science Trainer

Mathematics Trainer

UPSC Trainers for History, Polity, Economics, Geography

Creative Expressions Course

Diploma in Online Training
Earn from Home 
An eMaester career is sure to guarantee the trainer with a consistent income every month. The trainer can teach more, earn more, without leaving their home! The trainers are paid on hourly basis and it is approximately Rs. 150 per hour. On an average, if a trainer teaches for 4-5 hours everyday according to their convenience, they can earn Rs. 30,000 to 40,000.
Once the student is a certified eMaester trainer, the earning opportunities are limitless! As an eMaester, the trainer can earn via any of the following ways –
Online Trainer with uFaber
This program gives the student a job opportunity right after they complete the course. Becoming a trainer with uFaber will give them a platform to help countless numbers of students while being able to earn from the comfort of their homes.
Workshops and Seminars
uFaber companies conduct workshops and seminars in every metro city at least 5 times a month. If the trainer can develop their personality as a public speaker with eMaester, then they will be eligible for this lucrative option.
Content Developer
Hunger for knowledge is rewarded at eMaester. As a trainer, the student will be evaluated on their mastery of the subjects that they teach, and if they choose to, they could opt for further training and develop interesting content projects with the core research and development team.
Corporate Trainer
Tata, Mahindra, DCB bank, Crompton and Grieves are only a few of many corporates which Ufaber serves around the year. eMaester conducts corporate training online as well as offline at more than 30 locations in India. Through eMaester, the can be associated with several celebrated business houses, which otherwise would take years of hustling.
Several students of eMaester have reviewed it and said how it was the best online platform to kick start their career again. In one such review, Rupinder Kaur said, "I had 6.5 years of experience in the corporate world. But with eMaester, I love how I'm making a difference in someone's life virtually. There are times when students come back to me and tell me about their results which really bring a smile on my face. Not just that, but now I can perfectly balance my family responsibilities, hobbies, and even work according to my convenience and time. Now I'm my own boss at work from the comfort of my home. It indeed gives me a lot of professional freedom." You can check out more reviews here.
Conclusion
Remote working is soon going to be the new norm with several pools of opportunities to tap. According to a January 2018 PayPal study conducted among 500 Indians who are working from home, 41% have witnessed a rapid growth within a year, with 80% working with international and domestic clients. Nearly 23% had an annual income of over 12 lakhs.  But you're not alone as according to a poll by CNBC, 62% of women prefer to work from home as they get to spend ample time with their family. Further, you can also pursue other interests and hobbies. Not just that, you get a lot of much-needed 'me time'. All this would have been a distant dream if you had to travel for hours to work. Isn't this the best option to attain the perfect work-life balance?
Leave your vote
This post was created with our nice and easy submission form. Create your post!