With tech advent, the industry that was once deemed traditional has now become different. It has started relying on modern technology for not just simplifying the monotonous processes but for imparting knowledge as well.
What once used to be equal for all systems has now taken the turn towards personalization. It has become a one on one setup, with every student getting an education at a grasping speed. There are a number of technologies like smart classes that have brought about this change over time. Here are the six technologies that are all set to carry on the transformation for the future to come:
Augmented Reality/Virtual Reality
Gone are those days when a classroom was made of 80% one-sided conversation. With teachers dominating the discussion and students only chiming in to ask questions or to give a robotic answer. Today's modern education world has become more interactive than ever before. Students who were earlier peeling off an onion layer by layer are now putting on their AR Glasses and stepping onto a screen where every detail of the onion layer is popping up on their screens.
Using VR technology, students are now going inside an Egyptian Pyramid right next to the Nile river and are seeing a mummy, all of it without even stepping a foot out of their classes.
Also read, Education-Technology and Risk-Taking in Schools: Knowing the Limitations.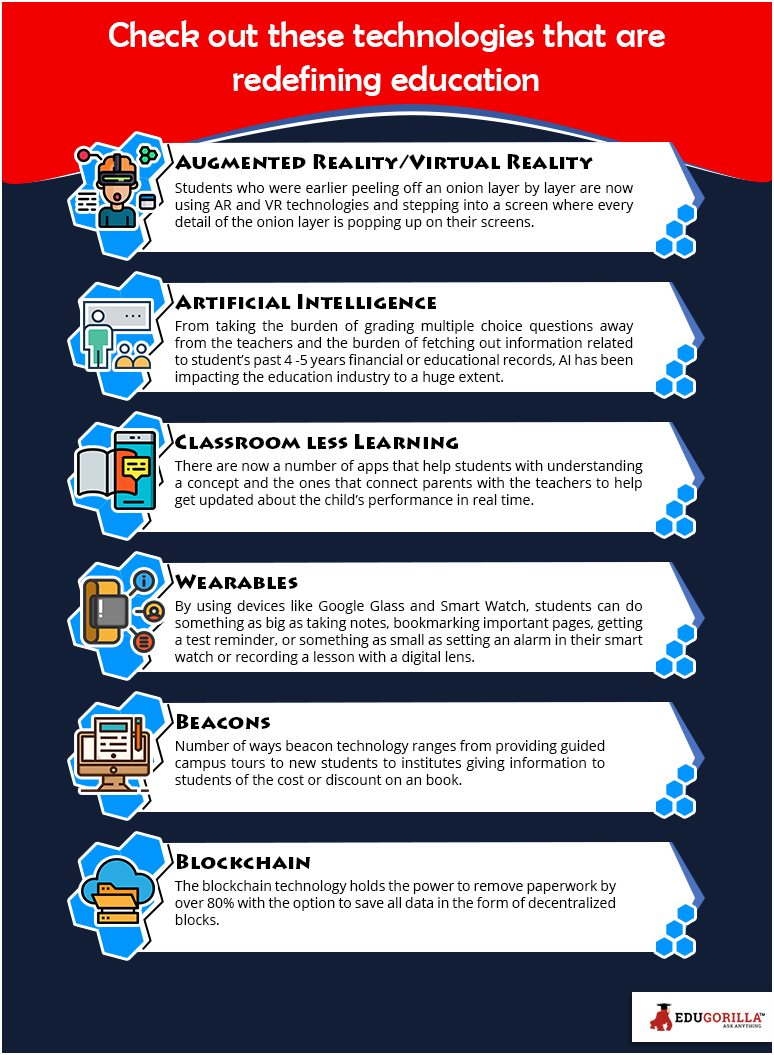 Artificial Intelligence
Among all the other technologies, AI probably plays the biggest role in redefining the education industry. From taking the burden of grading multiple choice questions away from the teachers and the burden of fetching out information related to student's past 4 -5 years financial or educational records, away from the administration department to highlighting the para in course structure that needs changing, AI has been impacting the education industry to a huge extent.
If you wish to learn AI and blockchain, then Intellipaat AI and blockchain training course are there for you. Intellipaat is one of the most popular eLearning platforms that offer professional certification online training courses like Big Data, Data Science, Blockchain, Artificial Intelligence online course, which is authored by industry experts.
Classroom less Learning
The time when education was restricted to the four walls of a school is past us. Today, students no longer wait for the next day a school to clarify their doubt – academic or related to their attendance count. Everything from getting answers to their doubts in real time, irrespective of the time, to view their last semester's exam grades happen on the go, with mobile. There are a number of technologies like smart classes that have brought about this change over time.
Education application development is what today's era is about. There are now a number of apps that help students with understanding a concept and the ones that connect parents with the teachers to help get updates about the child's performance in real time.
Wearables
Wearables have emerged as yet another technological advancement of the present day education domain. By using devices like Google Glass and SmartWatch, students can do something as big as taking notes, bookmarking important pages, getting a test reminder, or something as small as setting an alarm in their smartwatch or recording a lesson with a digital lens.
While an in-depth use case of the technology is yet to be seen, wearables are anticipated to create a long-lasting impact in the education industry in the future to come.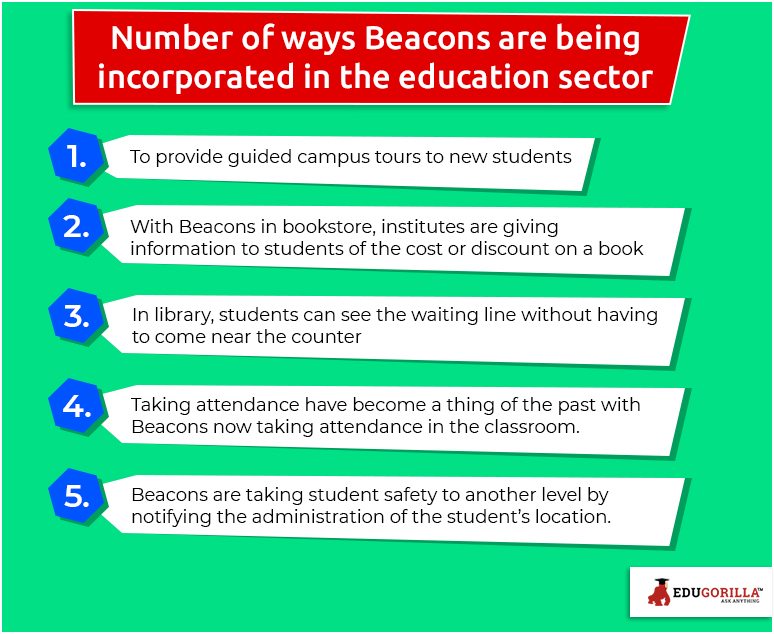 Beacons
Beacon technology has also started impacting the education industry to a huge extent. There are a number of ways institutions are incorporating Beacons in their educational plans-
To provide guided campus tours to new students
With Beacons in the bookstore, institutes are giving information to students of the cost or discount on a book
In the library, students can see the waiting line without having to come near the counter
Taking attendance has become a thing of the past with Beacons now taking attendance in the classroom.
Beacons are taking student safety to another level by notifying the administration of the student's location.
Blockchain
While still a little far-fetched, Blockchain has started showing potential to change the education system. The technology holds the power to remove paperwork by over 80%. This will save all data in the form of decentralized blocks. Also, the fees payment structure can also see a complete turnaround once cryptocurrencies come, full-fledged. Other than all of this, there is one other big issue that blockchain would be able to solve – use of fake certifications. With everything being on an open decentralized system, institutes will be able to check the genuinity of the documents that are submitted by students at the time of admission.
Seeing the potential that the technology holds, a number of businesses have already started investing in blockchain app development in the educational domain.
So here were the six technologies that are all prepared to transform the education industry in the coming time. While some have already started showing their impact, some are still doing the basic groundwork. Whatever the present day situation is, the future of education most definitely belongs to technology.
The question is- Are you ready for the change?
You may also like to read, The Contribution of Technology in Changing the Future of Education.
You Might Want To Read:
R P S C Question Paper 17 2014, Net English Paper Iii Sample Paper 10 2013, I C S E Board Hindi Question Paper 3 2012, Delhi University B A Hindi Semester 6 Mock Test Paper 9 2014, Haryana Public Service Commission Mains General Studies Mock Test Paper 36, Ymca College Of Physical Education Chennai, Himachal Pradesh Technical University Multimedia System Question Paper 1 2012, Delhi University, Email, Gre How To Choose Wrong Answers Video
Leave your vote
This post was created with our nice and easy submission form. Create your post!