Networking is the art every successful person is familiar with. It's a feature, particularly and more easily found with and among students. From borrowing textbooks to money to party-attires, networking is the help that has saved days and days for many students. And recently, technologies like the internet and social media have taken the world by storm.
With the increased affordability to the internet and smartphones, the sphere of networking has gained great new heights. Apps like, Instagram, Facebook, YouTube, Whatsapp, LinkedIn, etc. have forever changed the way we communicated. Popularly known as social media tools, these apps are establishing themselves as great boons for students. Also, it's needless to mention that they are proving themselves more than simply being the tools of communication, particularly, when they are concerned with the students.

Background Information
Systrom and Krieger created Instagram, one of the above-mentioned apps in 2010. Users didn't find the app very popular until 2012 when it gained major popularity after reaching a hundred thousand users. The definition of Social Media is an online platform where people share their experiences and opinions with other people. Social media has become a large part of society nowadays. It influences how and what people think, how they act and what information they see. People spend significantly more time on Instagram than on any other social networking site. Because of this, it is important to understand why people, and particularly students use Instagram. It is also important to gain insight into the satisfaction they receive from it.
Benefits Emanating from Tools of Social Media
A Great Tool of Communication for Students
As mentioned above, social media tools come to the students' rescue in their emergencies and day-to-day communication as well. Be it borrowing of friend's textbook, money or motorbike, the apps like Iigers, WhatsApp and Instagram save the day for them. There is an extra feature that these apps enjoy, apart from having the regular features that face-to-face conversations otherwise carry. This is of transferring all kinds of digital content from and to your friends. And, this digital content ranges from files ranging from texts to audio recordings, videos. Besides, their size is quite transferable- from some Kilobytes to even Gigabytes.
Great Tool for Student-Teacher Communication
And it's not only your peers that you can chat with. The tools are equally productive to communicate with your teachers and professors. From asking a question to clearing your doubts to sharing your answers (in textual and other forms), everything is at the touch (or press) of your fingers (or of buttons, respectively). One can say the same for the teachers who understand and use the benefits of these apps.
A Great Tool for Research
Because pocket-sized smartphones today come with the power of extremely capable browsers, users carry the world of knowledge in them. They can, therefore, surf the internet at the blinking of the eyelids. They can also view or download heavy files (PDFs, DOCs, videos, audios, etc.) running in voluminous Gigabytes. Similarly, they can carry on with their studies sitting or lying comfortably in their study-rooms.
The Power of Educational Apps
The study of students receives further edge when it couples with the power of educational apps. And, these social media apps essentially carry this power with them. From teaching you the nuances of geometry to producing a 3D image of the geographical spot of your wish to voyaging you through the internal organs of organisms (including humans also), these apps cover every aspect of a student's research. Lastly, apart from this capacity, social media apps host facilities like organizing conferences, webinars, shared group reviews, blogging, etc.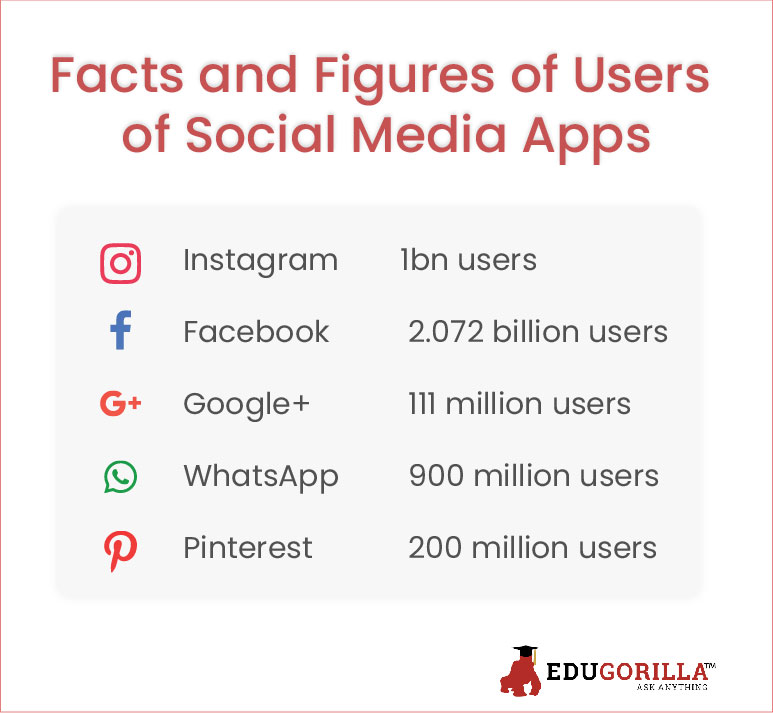 On an Ending Note
With each passing day, the future of social media apps promises to be more exciting than ever. Giants of technology like Artificial Intelligence, Machine Learning, and Virtual Reality are going to revolutionize our lives further. One can say this particularly for the field of education. Students only need to roll up their sleeves for standing strongly afoot in the technological storms of the coming days!
You Might Want To Read:
Haryana Board Class 10 Technology Science Question Paper 1 2015, Centurion Defence Academy Vs Warriors Defence Academy, Amiete Et Old Scheme Circuit Theory Design Mock Test Paper 34, Main Agriculture Question Paper 4 2012, Sri Chaitanya Coaching Institute Application Form 2017, Ftii Digital Colourist Online Test, Comparative Religion Question Paper 4 2009, Computer Science Is Changing The Shape Of Future, Principal Related To Practical Chemistry, Ugc Net Forensic Science Question Paper 2 2010
Leave your vote
This post was created with our nice and easy submission form. Create your post!