Writing creatively is an art. It's an enjoyable work and you can make it as your career. Anyone can be a creative writer. It takes creative thinking, good idea and your command over the language. Think beyond the limits. Ideas can get through extensive reading. One can be a good writer only when a person has the habit of reading and communicating with others on different topics, accepting their ideas and understanding their perspective. Then you can become an expert in your selected field.
Read and Read
To be a creative writer you have to read extensively. Reading gives you new ideas. It makes your thinking deep and flexible. Good writers are mostly addicted to reading. It helps you to think differently and understand how the plot is constructed, how the dialogues are written etc. It really makes a big difference in your writing style. Your writing should inspire the readers and it should make readers think positively. The more you read, the more you will get new words. Your vocabulary will expand. Writers learn how to craft prose while reading. Also read, How to write a Paper with Good (Enough) Referencing.
Choose a Genre
As steps, you have selected a different style of writing. Think about your own style of writing. There are writers who stick to one genre and try to perfect it. I am not saying its wrong but when you want to get attention in the writing field, you have to make your own identity. Be different and let the world recognize your potential. And for that read lots of books. Whether you want to write poetry, fiction, short stories or a memoir; there are different styles of writing. You need to decide which one suits your style of writing.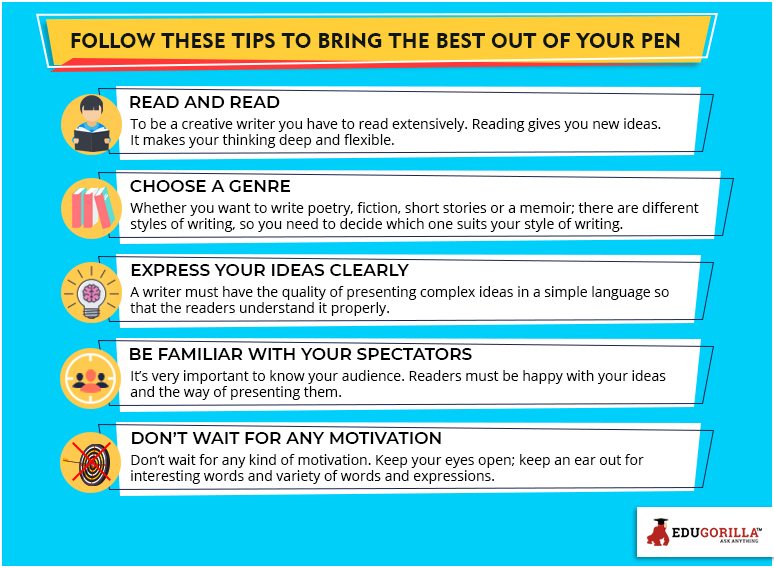 Express Your Ideas Clearly
Clarity should be maintained while writing. A great writer must present his idea clearly and precisely. A writer must have the quality of presenting complex ideas in a simple language so that the readers understand it properly. Sometimes people use rigid language to present ideas which becomes difficult for ordinary people to understand. So always be simple. Language is just the medium to communicate but if you use complex language we may fail to pass our ideas to the audience.
Be Familiar with Your Spectators
It's very important to know your audience. You are not writing for yourself but for the readers. So always keep them in mind. Readers must be happy with your ideas and the way of presenting them.
Don't Wait for any Motivation
Don't wait for any kind of motivation. Keep your eyes open; keep an ear out for interesting words and variety of words and expressions. A number of famous poets like John Keats, Words Worth, Robber Frost, Ted Hughes, Alfred Lord Tennyson etc. have been a great admirer of this nature. They observed everything about nature and put their thoughts in their writing. To start with, observe nature, you will get some great thoughts and ideas. Fresh thoughts always result in fresh pieces of writings.
So continue reading, observing and writing on varied subjects. With the right pace, you will definitely carve out that creative writer out of you. Check out How to Cite Sources & Not Steal Other People's Research.
You Might Want To Read:
Army College Of Nursing Jalandhar, Ibps Rrb So It Officer Free Test, Vibrant Academy Nano Jee Main Advanced, Alcohols Phenols Ethers, Defense Strategies Question Paper 1 2008, Ugc Net Gujarati Mock Test Paper 29, Hppsc Traffic Manager Test Series, Fddi Pg Sample Test, Jawaharlal Nehru University Gate Agricultural Engineering Question Paper 2 2008, National Institute Of Designnid Ahmedabad
Leave your vote
This post was created with our nice and easy submission form. Create your post!