Course module assignments including essays, reports or other coursework submissions have always been ranked very highly by module supervisors when generating student grades. Today, in some significant universities and study institutes, these assignments accumulate a large chunk of the grading system (sometimes all of it). And therefore, it must be treated with extreme concentration and priority if students are to get good grades helping them in their professional careers.
When writing an assignment with the aim to get marked with high grades, there is quite a long list of things that must be taken care of. Tutors and module supervisors these days stuff in as much as they can in assignment requirements making students scratch their heads once or twice (more than that in reality). The students do encounter problems of different types while writing their assignments. Here is our step by step guide to help students write high-quality coursework assignments:
Step 1 should always be the Plan
Like every other aspect of life (or most of them anyway), it should always start with a plan:
Be sure about when you are starting the assignment writing and how much time do you have.
Check the weightage of assignment towards the final grade and write accordingly.
Check the assignment requirements and concentrate on that part which contributes more to the grades before moving on to other parts which are relatively less important.
Break all tasks and chapters into sub-tasks and sub-chapters before you begin the writing process. Also, give each task and sub-task a deadline and don't stray too much from it.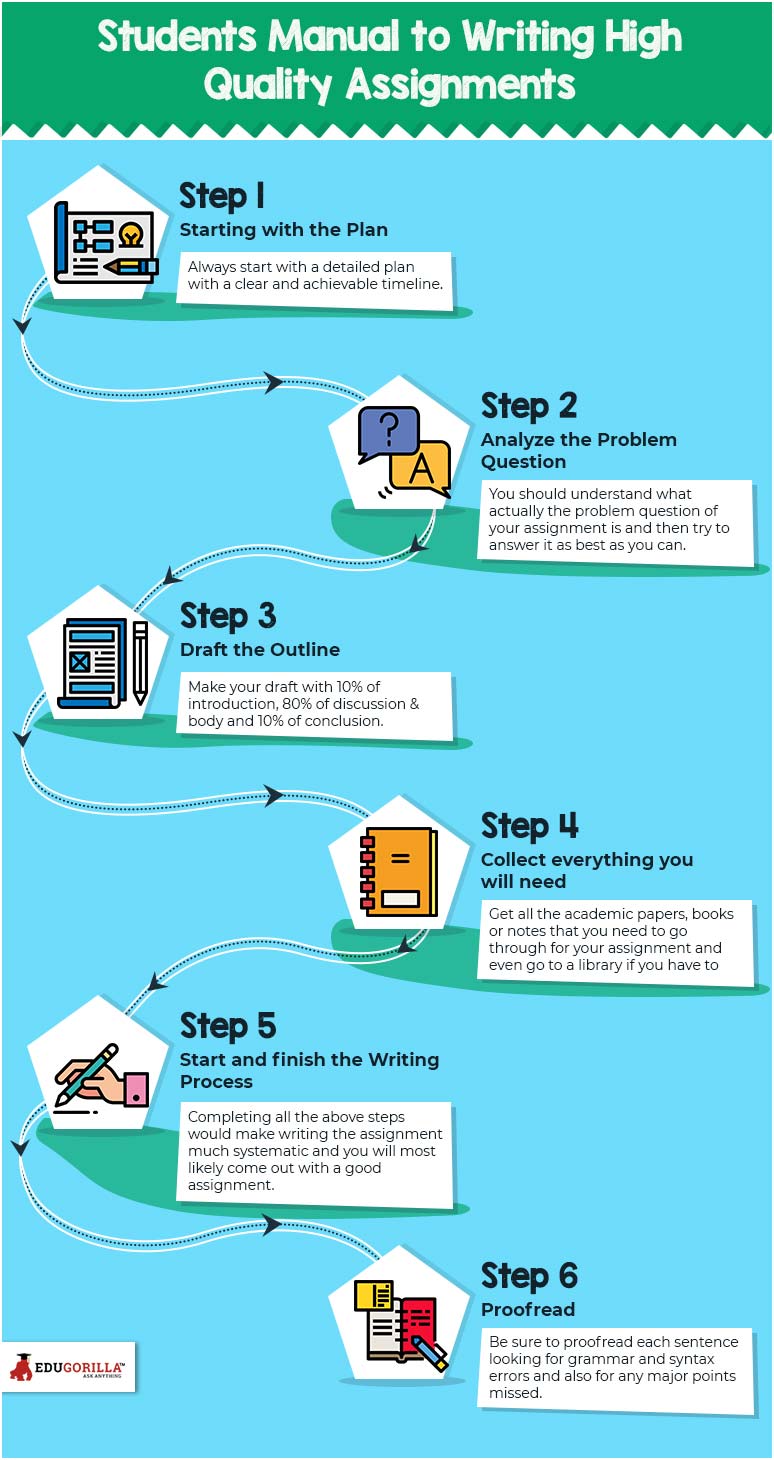 Step 2 is where you Analyze the Problem Question
Every assignment or academic paper has a problem question. It doesn't have to be written specifically as "Problem Question" or has any other specific name. You should understand what actually the problem question of your assignment is and then try to answer it as best as you can. Be sure on analyzing the problem question thoroughly and break it into sub-questions and sub-steps if you need to. You should understand each part of the problem question separately.
Step 3 is all about Drafting the Outline
After having understood the problem question thoroughly, it is time to make your first outline draft. Essay or assignment outlines usually get marked like:
Mark the introduction at 10%
Discussion and Body of the assignment should be marked at 80%
Mark the conclusion at 10%
Your draft should always follow the weightage pattern. Start your draft by writing out all the headings and main points taken from the problem question and then assign the number of words to each of the headings. Be sure to assign roughly about 10% of the word count to the introduction and conclusion each and leave the rest of the 80% for the body and discussion.
Step 4 is where you collect everything you will need
This is where you will need to collect all the information about what you will be writing. Get all the academic papers, books or notes that you need to go through for your assignment. Visit a library if you have to and also talk to experts as much as you need. Collect all your online sources as well with their references as academic writing assignments do require everything to be referenced. Ensure that you provide the reference properly and don't even mistakenly steal other people's research.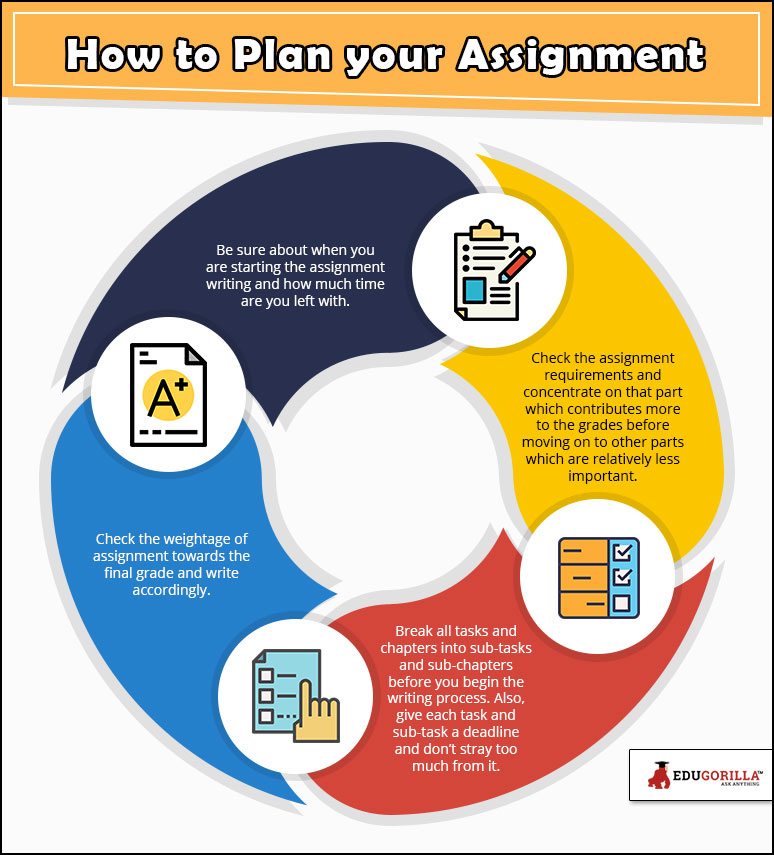 Step 5 is when you start and finish the Writing Process
If you have completed all the above steps and stages efficiently and successfully, the time required to finish step 5 and write the actual assignment should be much shorter.
Start by writing your introduction.
Make your way into the body and discussion filling out all the headings that you wrote in the draft. Amend the ones that need a change.
Don't miss any of the references you read your text from and follow the correct referencing system recommended in assignment requirements.
Fill the conclusion heading at the end to provide yourself with all the information required to write the conclusion.
Step 6 is the favorite of all – Proofreading
Students generally don't like to proofread but there isn't much option available. Be sure to proofread each sentence looking for grammar and syntax errors and for any major points missed. Take a printout of your requirements page and tick every single one of them as you proofread the finished assignment.
You Might Want To Read:
Current Affairs 2017 Pdf 7, National Eligibility And Entrance Test Tutoring Instructors In Lucknow, Case Study 27, Important Steps Of Assignment Writing, Mathematics Question Paper 15, How To Skill In Your First Job, Neet Aipmt Mains Question Paper 2012, Associateship Examination Life Assurance Finance Mock Test Paper 119, 5 Last Minute Tips For Board Exams, Material And Specification
Leave your vote
This post was created with our nice and easy submission form. Create your post!