In arguing for a radical alteration of the education system of the country, educators rarely talk about the importance of a student-oriented teaching approach. Most of the blames of distractions and attention issues are accorded with great certainty to students. However, what is not considered to be a problem is the obsolete teaching method which allows for almost no rapport and development of a positive student-teacher relationship.
In an idyllic classroom based on traditional approach, a teacher is seen as someone whose work is to train students rather than facilitating the learning process with which a better future can be entailed. At the same time, the importance of educational motivation can't be undermined. It is high time, that with changes in the education system, changes in the teaching approach and teachers are brought about by incorporating new teaching methods.
With some schools, including few of the top schools in India, consideration of the issue, a number of reasons have been provided for a quick redressal of the inefficient state.
Developing a Student-Teacher Relationship
Teachers are often perceived as someone who is just there to spell out knowledge that he has accumulated. The pedestal system in place has given rise to forms of inequality which only makes student-teacher relationships too awkward to be developmental. It would not be wrong to say, that be it a classroom or a workplace, an orientation which calls for teamwork or equal importance to all is better at getting things done.
In other words, when students view their teacher as a facilitator, they are more likely to feel a positive bond with the teacher.  This ensures better taking in of things taught by the teacher. A teacher who steps out of the ideal traditional system and comes down from the pedestal to reach out to the students is truly the one who is accomplishing the task of spreading knowledge than simply completing the syllabus.
Interactive Discussions and Lectures
The conventional teaching method is always the one which just requires reading out of facts. It also requires a note-making effort from the side of the students. Catching the attention of students is one of the most daunting tasks that one can ever do.
However, certain practices mentioned below are ways to ensure that students remain with the flow of the teaching session.
Dialogue like lectures
Real-world examples
Role plays
Novel ideas
Group activities
These incorporations also serve as good alternatives without the use of lectures and dictation. Hence, a conversation-based learning ensures a better understanding of concepts and information.
A Stimulation to Classroom Environment
While some of the best school franchises have started bringing changes to pale and boring classrooms, however, sometimes a switch from a room set up offers much better boost to the mood of students. It is true to some extent that it is always not in the hands of the administration to look for interesting means that prove beneficial for learning sessions. Hence, an effort from the teacher's end to modify mundane regimen is required.
Teaching can happen at places like natural surroundings and creative learning can take place in fields. Students in these scenarios will be at the receiving end of a much better exposure. This is compared to what a simple textbook and classroom have to offer. While making the students more energized and enthusiastic towards learning, a change in environment also helps the teacher refrain from the conventional method and try something unique or different which suits the environment.
For instance, while teaching about plants, teachers can carry out a group activity. Various groups should give their viewpoints on how these plants are useful and how they can be preserved. This can be concluded by the teacher's remarks and supplementary points.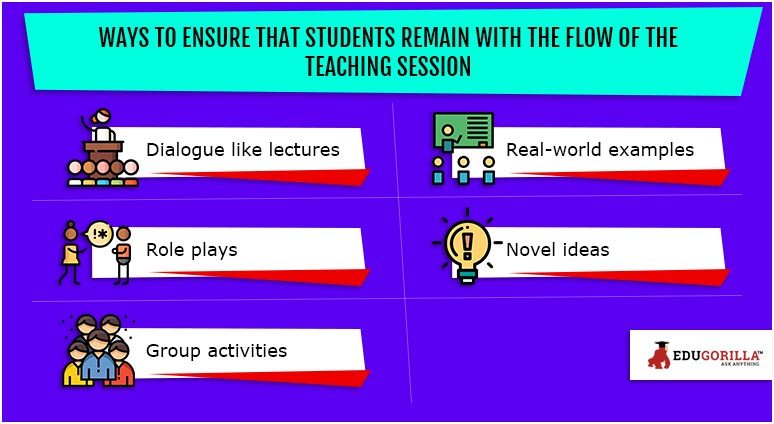 A change in Conventional Teaching methods is necessary
Most of the teaching methods mentioned above fall on the opposite end of the traditional education system. A change in conventional teaching methods is necessary. There is a need to bring the changes in the mentality of both the teachers and students. The teacher and students value memorized concepts more than their use in the real world. It is not just the teachers and parents who have forced this form of learning on students. A part of the blame resides with students who weigh themselves as inefficient and useless. This happens when they fail to memorize and perform well on the memory and writing speed examinations.
However, blaming and figuring out the problems brings no solution to the problem. With teachers being trained to practice these methods and also being supported by the school administration, change and progress are likely to unfold. This calls for an essential requirement of an institution which guides and helps teachers to learn these methods faster and bear the qualities every teacher must have.
You Might Want To Read:
Financial Advising Mock Test, Himachal Pradesh University, Paper Solution, Education Technology Risk Taking Schools Knowing Lim, Byjus Classes Vs Aakash, Jee Chemistry Ionic Equilibrium, Karnataka Board Sslc Examination Rr Question Paper 32, Elitmus Free Test, Entertainment Apps, Application Of Derivatives
Leave your vote
This post was created with our nice and easy submission form. Create your post!