The question "How much am I worth?" is usually answered by the HRs in a disappointing salary amount. This is usually the sticking point in an interview which can often end up venturing out of a small number.  That, obviously, does not contest with your capabilities.
Besides, you may be less confident in an interview, at the salary discussion stage. Consequently, it can reveal dissatisfaction at the end of the dialogue with the HR. This would permanently shake your interest and disassemble your confidence. That would further hamper your days to come to the company (in case the job is critically important at that time). Work is affected, interest is lost, and dissatisfaction increases day by day. The best way to avoid the irrelevant stress of less salary, however, is to analyze their capabilities and match it with the right number. Furthermore, you should be able to communicate the same to the HR.
Here's all that you need to know, and learn how to calculate your salary expectations before going to a decisive interview: 
Do your research homework
Your value in the industry is calculated by a combination of factors like experience, skills, and skills in demand. In order to know what you deserve, you should be able to know your current industry standing. How to come down to a number? Easy, you can browse through any salary calculator, input your position, years of experience, location, and skill set. Only this much is enough. And voila, you will get an estimation of your deserving salary!
Apart from this, you can also follow organizations you want to reach out to. This is because a majority of companies release annual salary guides for professionals. This will give you an idea to quote a number that will be in sync with the company's offering. Otherwise, you can also connect with HR consulting firms and provide them with your job expectations. These will help them conduct a mock requirement for you. After going through a few mock interviews, you would be able to confront your well-deserved amount.
Asking the right questions
After doing your homework on research, you can curate the right questions. Meanwhile, it's important to get a sense of how companies will judge you and your performance. Consequently, they'll then offer you additional opportunities. Hence, you can ask a few questions to them like:
What is the growth trajectory associated with the role?
What are the expectations for the role?
Can you enumerate the benefits of the package offered?
Is there any base-only offer?
Is there any availability of any sign-in bonus?
What are the time period of performance checks and reviews?
Apart from this, for any job aspirant who is looking at getting associated with honorary startups, cross-checking/confirming simultaneous and more advantageous offers along with the salary package is even more necessary and important. This alternate form of compensation will allow aspirants to explore and extract benefits from ongoing startup trends. Here are a few questions to ask before finalizing a salary package with any startup:
What are the numbers of shares that are outstanding in the company, presently?
How many options for these shares, are available for you?
What is the strike price on your options?
What is the standard range of equity at the company (Ask for a sliding scale)?
How can stock options be exercised?
The above-mentioned variety of questions will clear your understanding of your present value in the industry and also give you an opportunity to explore more options.
Apart from this, you can also ask yourself a few questions that will help you to say yes to the right offer:
How long do you see yourself staying in the company (your future plans with the company)?
How much risk you can afford to take?
Is the company qualified to handle your growth plans (Internal promotional ladder)?
What are the company's exit plans?
Negotiate with Confidence
Multiple opportunities for jobs are present there for the right candidate. Before finalizing a number with the HR, you should know your options beforehand. Determine what's more important for you. If the job meets your growth trajectory, offers you flexible options and gives you the room for personal growth as well, then a slim increase in the salary is worth it. But don't give up too soon as well, since as much as you hate to interview a lot, so does the HR.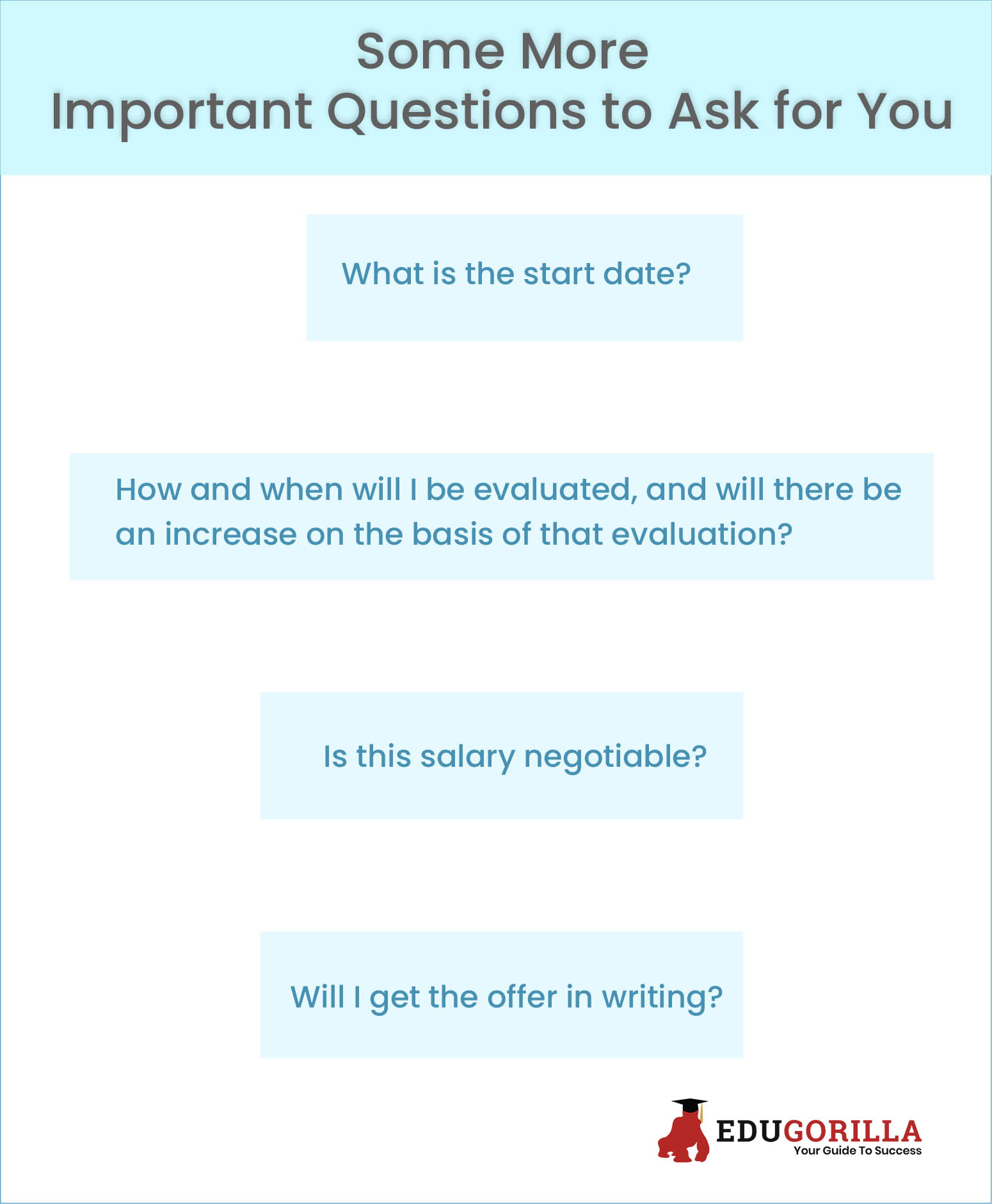 Final Words
Corporate culture is enhancing since the past decade, and with fewer people available to dedicate themselves to the 9 to5 culture, thanks to the startup revolution, HRs are consistently trying to retain a good candidate. Before singing off any contract or agreement, strong negotiation and valuation of commitments are important. Consider the amount of time you will dedicate to your job, and growth factors available, along with flexible hours, and then declare your consent, negotiating terms or give a final nod to the salary offered.
You Might Want To Read:
Synthetic Fibres And Plastics, Maximizing Your Educational Qualifications Put Your Certificates To Work After You Get The Job, Best 5 Cds Coaching Institutes In Delhi Vs Brilliant Academy Of Learning, Classes In Mumbai, I I L Education Centre, Karnataka Public Service Commission Mathematics Mock Test Paper 2, City Srinagar, Delhi University M A Persian 1St Year Mock Test Paper 5, Preparation Stratgey For Competitive Exam Of Your Choice, Professional
Leave your vote
This post was created with our nice and easy submission form. Create your post!