The accessibility of technologies has changed our lives drastically, but the area that has undergone the most visible changes is, beyond question, education. Higher education today, in particular, provides limitless options to youngsters for their self-education and independent professional development. Because of higher education, youngsters of today are exposed to hundreds of education programs. They can choose from these programs, after finishing their high school. Hence, in this article, we shall explore the ways and tips on choosing the right educational programs for the youngsters. This is important, as this choice is going to prove to be an invaluable investment in their future.
Usually, Master's or Doctor's degree is an obligatory document that will later give the youngsters the fruits of their labor. They provide them with an incredible chance to be a top level manager in the chosen sphere of their career. Salary wise, prospects of people who look after the workforce management depend on the field to field. Hence, it will be useful to mention here that the most valuable salaries are in production, finance, and in the sectors of high-technology. Similarly, you can always count on Masters degree. But, there are also options like Master of Business Administration in HR or Masters degree in HR Management and Analytics. Besides, these comparatively new Masters programs look to promise you to pay excellently and become the benchmark programs for education.
SHRM – One of The Key Players in The Field
Therefore, we mustn't forget to mention that one of the most common practices is to follow the SHRM association. The SHRM association publishes and annually updates the guide for HR programs in universities. Also, SHRM standards give corporations the hope that their HR managers can keep with the times. Hence, SHRM is your one-stop solution in choosing educational programs.
One may find standards in the following content, in the SHRM:
Planning for the carrier
Relationships between employees
Benefits, compensations
Job analysis
Recruitment process
Training
Talent seeking
The Question of Graduating in HR
Beyond question, a Bachelor's degree is must if one has to strengthen one's career. However, for an individual choosing educational programs, particularly a career in human resource, should familiarize himself/herself with the following contemporary issues. These issues are of prime importance in the field of Human Resource. These issues are as follows:
General education like math
Laws related to employment
Following ethics in management
Evaluating the staff
And of Post Graduation
MBA curriculum commonly contains concepts in corporate and business strategies, a behavior of the organization in general, the idea of leadership, tools which are great assistants for a manager to control any HR activities etc. Thus it proves it's worthy of being counted as one of the options for choosing right educational programs. Master's degree involves the creation of a voluminous assignment (thesis or dissertation). This requires performing a valuable scholarly study, collecting data, and analyzing results. It simply results in possessing a more in-depth understanding of the complex personnel management.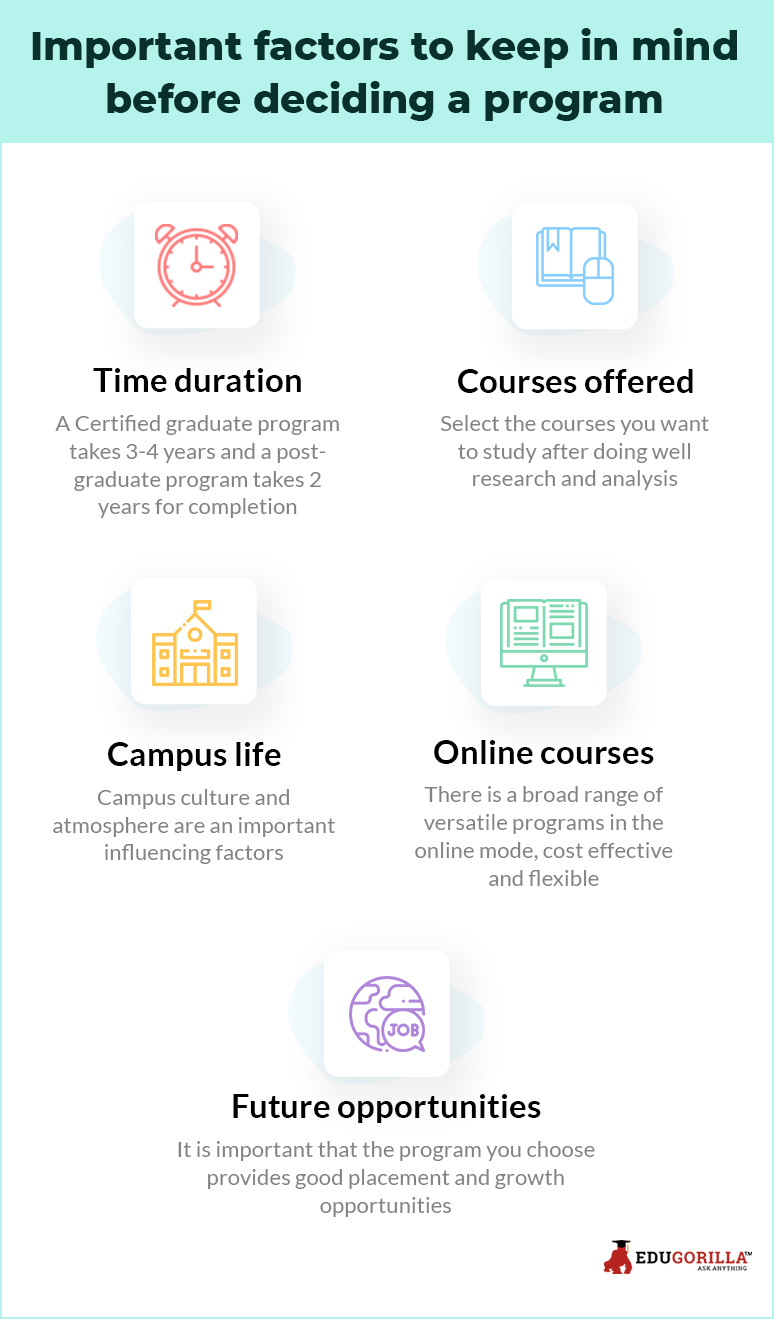 Some Noticeable Points on Choosing the Right Educational Program/Institution
There are some noticeable points to be paid attention to in choosing various educational programs and the institutions providing them. These are as follows:
Four years are required for the Bachelor's degree.
Master's degree, certified MBA or an associated degree course takes two more years after completion of the Bachelor's program.
The most convenient method nowadays is pursuing online courses. You are free to select a convenient time and sit comfortably at home while studying. The schedule of the lessons is flexible as opposed to offline classes. A broad range of versatile programs in the online mode gives you a possibility to select the favorite one.
Some More Noticeable Points
Similarly, readers must be mindful to a fact that it is not only the name of the course/university that matters. Inner culture and atmosphere are the more influencing factors. And these depend from one institution to another. Also, these are going to define your student life during all the years spent on campus! Similarly, students must be aware that a lot of educational courses may propose them a political strand inherent in their philosophy. This depends on their choice to accept such proposals or decline them. This also depends on their own beliefs and intentions in the future.
It is good to find out what methods are likely to be used in choosing a university and its courses. Are they traditional or experimental ones? How are they open to you if you raise any one of your ideas? You must ask yourselves "Can someone write a research paper for me or can I do that by myself?" Which behavior is preferable among the students, and among the students and teachers? Hence, the philosophy of educational institute should be close to your expectations and you in general. Speaking contrarily, in case it doesn't happen, you may regret your choice, and your education will not be as successful as you wished.
Some Questions to Ask Before Choosing the Program/Institution
There are some more questions which you can ask with your chosen university/institute. Some of these are as follows:
What is the number of students going for that particular University or a course?
If the quantity of pupil might play a crucial role for you, then it is better to collect quantitative data prior to choosing a college or particular course. The number of applicants is usually no secret. So, just make sure to check the information regarding this number on the college website, in advance.
What are the required scores for availing admission?
Sometimes, to get admitted to a prestigious university/college of your choice is difficult. This is because high cut-offs for seeking admission make it difficult for average students to get access. Hence students must verify the cut off scores needed to get admission into the university/college of their choice.
What are the resources offered by a college or other institutions?
You should ask yourself – are you going to do any serious research? Do you need additional materials for it? Do you want to participate in community or work with associations of some schools? If you find a positive answer to these questions, don't forget to check that your institute provides all this assistance.
What is the possibility to meet teachers and professors?
Professors can give incredible opportunities to get all valuable information in the field of your interest. You can avail this benefit by meeting some of them. They can prove to be wonderful assistants in the course of your learning.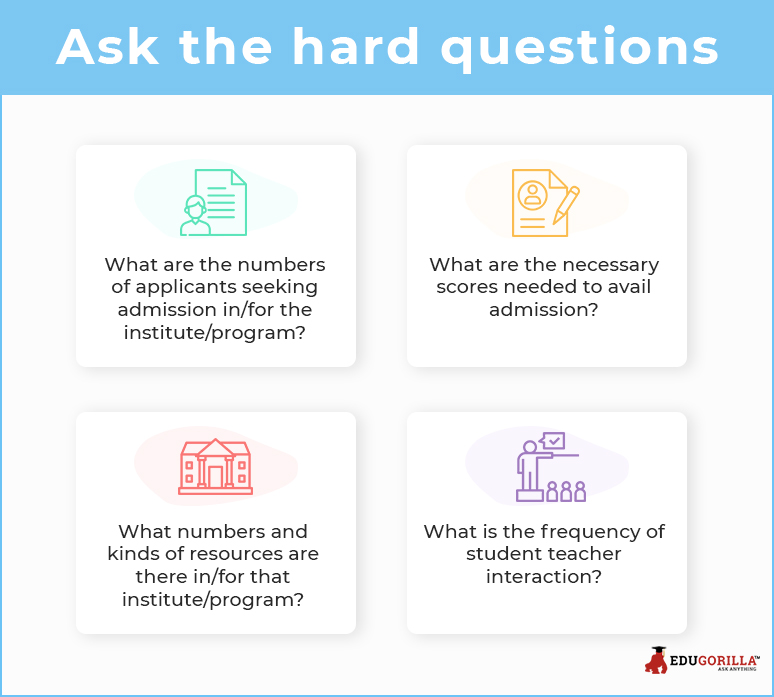 You Might Want To Read:
Purification Of Organic Compounds, Diksha Learning Services Kolkata, Geography Syllabus 2017, Ugc Net Linguistic Solved Question Paper 2 2012, Career In Actuary, Positive Attitude, English Question Paper 7 2012 Ph D, Baba Farid University Pathology Microbiology Question Paper 4 2009, Aakash Institute Vs Adcc Academy, Email
Leave your vote
This post was created with our nice and easy submission form. Create your post!