TOP 7 JOB PORTALS AND JOB SEARCH ENGINES IN INDIA
Posted by

Categories

Reviews

Date

November 10, 2016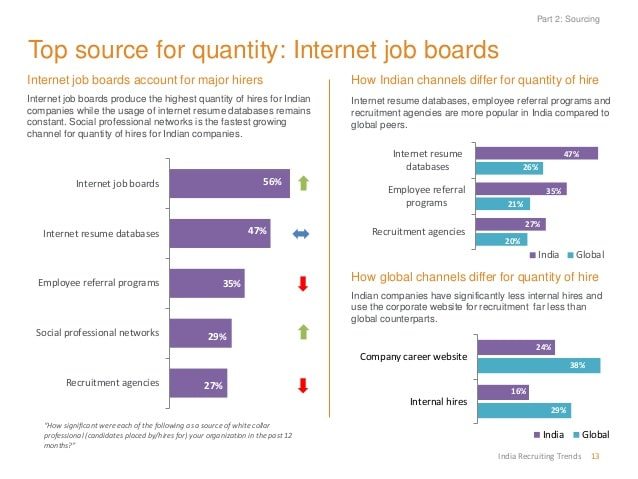 Are you a graduate now? So, what next?  Finding a job? Of course, You certainly want to experiment with your skills, innovate and evolve.  So how about a quick run through the competitive circus you will soon enjoy working in?
CURRENT TRENDS
The employment sphere you want to dwell in is your forte and fondness towards the subject; However, if you happen to enter one of the below mentioned sectors, it's quite certain, you will have a gamut of opportunities at your service. Currently, the largest employing sectors are:
SECTOR
Expected annual growth by 2020
Current contribution to GDP

FY 2015-2016

Information Technology
11%
9.5%
Telecommunication
10.3%
1.94%
Health Care
16%
4.9%
Infrastructure
5.65%
5%
Automobile
2.5%
4%
Finance & Banking
11%
6%
The internet and allied services like E-commerce, M-commerce, search engines, social media, etc. sector have also carved its niche and is expected to be the crown soon.
You can take these statistics a little subtly if you do not belong to any of these sectors because not being listed doesn't mean your choice of field is ignored. Umpteen number of jobs are available in every employment genre human mind could possibly think off. Do not believe me? You can verify with these top Indian job search engines and portals yourself because they have been finding jobs for common man for a long time now.
TOP 7 JOB PORTALS AND JOB SEARCH ENGINES
Inception: A job portal started by Sanjeev Bhikchandani in 1997 which connects recruiters and candidates.
Registration mechanism: You can register for free as a candidate using your email ID and Mobile number and verify the same. By becoming a Premium member you get additional benefits which increases your credibility and enhances your visibility on the portal.
Features:
1,00,000+ recruiters
20,000 companies and consultants
Want to apply for multiple jobs? Obviously, you require a different profile presentation for different designations. Naukri.com lets you create 5 profiles at once
Create job alerts for upto 5 designations
Define your privacy level. Eg: block someone from viewing your profile
Naukri Paycheck: Displays salary distribution based on the data obtained from 6 million verified anonymous users
Services: Naurkri.com is also appreciated for its combo sevice packages which includes services like
Resume writing: Text and visual resumes
Access to relevant material like resume samples, cover letters, etc.
Boost visibility among recruiters
Recruiter Connection – connect directly with recruiters from your domain
Major recruiters: Himalaya, Lodha, Kotak, CEAT, LG, Spencers, Biocon, Nokia, BlueDart, etc.
Inception: Founded in 2002 by Reid Hoffman to connect professionals on a single social networking platform.
Registration mechanism: Register using your email id and verify it to get completer access to its free services. Add your skills, jobs, summary, profile picture, etc. i.e., fill up as many details as you can. Connect to your known contacts.
Features:
106 million+ active users across 200+ countries
Allows sending a personal message to someone you know or follow
LinkedIn's Premium account gives you access to multiple features like InMail saved jobs alerts, reach a professional you are looking for directly, etc.
Services: LinkedIn behaves like a social media platform and does not offer services like other job portals
Major Recruiters: Johnson & Johnson, Adobe Systems, VMware, Zoomcar, Limeroad.com, Star India, etc.
Inception: Started by the TOI group in 2004 and since has branched into multiple specialized recruitment services like Jobbuzz.com for company reviews and ratings; Techgig.com for IT related jobs, competitions, etc.; Stepahead.timesjobs.com for career assessment and enhancement services.
Registration Mechanism: You can register by simply filling in your details, your current job details and uploading your resume.
Features:
It's a free registration job portal
2,50,000+ jobs have been made available
Filtered searching process by either job or location or company
SMS alerts
Services:
They offer several services that can assist you in finding a suitable job like:
Resume writing
Boosting your reach among recruiters throughout India and Gulf countries
Get referrals from 20,000+ people in 2500+ established companies
Major Recruiters: Healthify Me, Amazon, HP, HDFC Bank, Wipro, Matrimony.com, etc.
 Inception: A career and recruitment resource operating in India since 2001.
Registration Mechanism: The registration form is itself your basic resume that recruiters and peers on Monster will see. You have a personalized dashboard and customized profile letting you save jobs and receive alerts.
Features:
Apart from searching for jobs by location, skills and industry you can also apply for government jobs, startup jobs and international jobs
A worldwide network of over 200 million active users in 40 countries around the globe.
Can login through Google plus or LinkedIn
Services:
Resume and Xpress resume
Resume Highlighter
Vskills Certification & AMCAT certification
Expert Speak videos & research reports
Psychometric tests and other career services
Major Recruiters: Infosys, Accenture, DTDC, Ciber, Datamatics, Genpact, TCS, etc.
Inception: A job search engine started in Ireland in 2004 and has spread to over 60 countries in over 28 languages.
Registration Mechanism: You can register by uploading your resume or creating your own resume or find resumes for free.
Features:
Over 20 crore unique visitors every month
You can either upload your own resume or create and resume on Indeed
Sign up using facebook ID is also available
As a recruiter, you can find resumes in different countries as well
Services: Unlike other portals, It offers no extra career related services catering strictly to the purpose of finding jobs and recruiting candidates.
Inception: A venture of Perspi Interactive Pvt Ltd established in 2005 to showcase your professional portfolio, interact and apply to companies across India.
Registration Mechanism: Employers and employees register separately through a simple although a long process comparatively as you are required to fill up your entire resume.
Features:
Over 3,00,000 job offerings
Get paid 50% of your resume value every time a recruiter views your profile and 10% every time your friend's resume is viewed
Instant SMS facility to email your resume to anyone on the network
Updates you with the latest trends in the industry
Services:
Resume writing – Textual and visual
Profile making
Major Recruiters: Oracle, Capgemini, CavinKare, LIC, Cipla, Wipro, Fortis, Shaadi.com, Bigvacancy.com, etc.
Inception: Established in 2008 by HT Media Pvt Ltd
Registration Mechanism: You can either register as a recruiter or a candidate
Features:
1.9 crore candidate profiles
3,00,000 job vacancies and 14,000 recruiting companies
You can apply for jobs by location, designation and industry, apart from which government and part-time jobs are also available
Services:
Resume services – Indian and International resume writing for experience classified into 5 levels
LinkedIn Profile writing
Interview preparation course
E-learning courses on HR, IT, Marketing, Operation and finance
Major Recruiters: IBM, Genpact, Cognizant, Radical Minds, Deloitte, TCS, Tangoe, Capgemini, etc..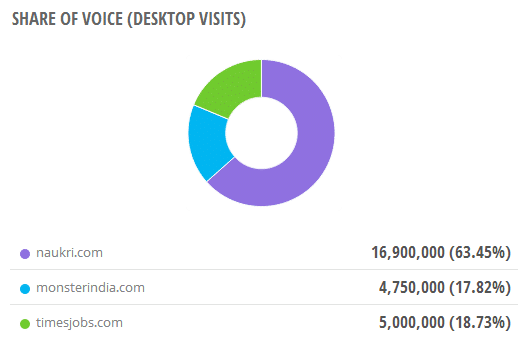 PROS AND CONS OF REGISTERING ON JOB PORTALS
Guess what's trending in our metros – 'sarkari naukri'!!!  As per the new KPMG and Google report the online job market is set to double by 2020 which is a celebrating news for online job businesses. In fact, Google also reports that job searches have doubled in tier-2 cities like Pune, Ahmedabad, Chandigarh, Jaipur, etc. I can foresee a time when interviews will also be conveniently conducted online and with the same efficiency. As reliability on online job search engines and portals increases, they also strive to enhance their credibility which works in favour of both candidates and recruiters.
Besides the multiple benefits the online job market offers, there are certain striking limitations as well. The possibility of finding bogus jobs is high which might leak your personal information to undesired people. There have also been rumours that some startup job portals are selling information which puts you at risk again; Nevertheless, established portals can be relied on.
VERDICT
Let me also warn you that relying only on your online resume might not be a fruitful action because resumes are ignored also. "Are you sure?" Yes, I am. A recruiter might not see as much potential in you as you do or you might not find a job as per your expectations. Utilize them as one of your strong tools to help you find a naukri!!! Online job portals certainly have their set of drawbacks, nevertheless, they have also made the whole cumbersome circus of recruitment a cakewalk for deserving candidates.
Read More
http://blogs.naukri.com/6-ways-to-increase-your-chances-of-getting-short-listed-for-a-job/
http://info.shine.com/article/tips-to-get-your-online-resume-noticed/33.html
http://economictimes.indiatimes.com/slideshows/nation-world/indias-eight-biggest-employers/indian-railways/slideshow/47861032.cms
http://in.norton.com/yoursecurityresource/detail.jsp?aid=jobs
Tag:career, Clickjobs, indeed, job, Job search engines, LinkedIn, Monster, naukri.com, Placement, recruiters, resume writing, services, shine.com, Times jobs, Top Job portals