Most aspirants want to know how much time should be taken by them for UPSC preparation. They look into the forums and try to decipher as to how much time students who cleared UPSC took. The syllabus of UPSC is ever-increasing making the time management tricky as never before. Sometimes, despite studying for 10-12 hours, candidates are unable to achieve their daily goals and suffer from depression and anxiety. Let's have a look at the main factors which play an important role in time management during UPSC preparation.
Factors that affect the time taken to Prepare for UPSC
Before understanding as to how much time you should take to prepare each subject, the students should be well aware of all the factors that affect their time management to prepare for UPSC exams. We have listed those factors below.
UPSC Syllabus
The student has to keep in mind that the syllabus of UPSC is vast. There are two sets of prelims papers. The subjects of prelims Paper I include the current events which are of both national as well as international importance, the Indian History along with the Indian National Movement, Indian Geography and World Geography, the Indian Polity, Environment and General Science.
The subjects of prelims Paper II include Comprehension, Interpersonal Skills, Analytical Ability, Logical Reasoning, Decision Making or Problem-Solving, General Mental Ability, and Basic Numeracy along with Data Interpretation. The Current Affairs part keeps on expanding.
The Exam Format
The syllabus of UPSC is very long and is the same for almost last 10 years. The three stages are responsible for eliminating a particular number of candidates. The three exams have two objective papers of the UPSC prelims, nine descriptive papers of the UPSC mains and a personality test of UPSC.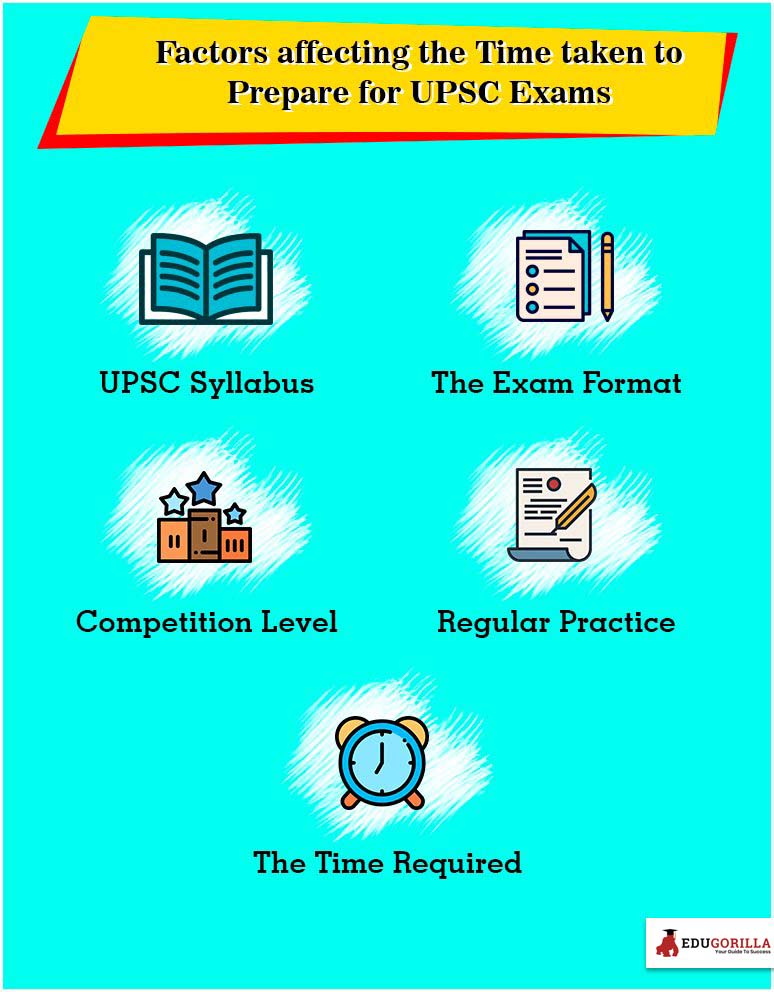 Competition Level
The students should be well aware of the competition of the UPSC exams. There are lakhs of students who take part in the prelims exams of UPSC each year. When the journey ends, only a thousand of the successful students remain selected as a final list of the candidates.
You have to keep in mind that you cannot study for a month and appear for this examination and get the desired result. You have to work immensely hard to get selected for UPSC exams.
Regular Practice
Considering the huge syllabus, the students generally remain worried about how they will retain everything during the exams. This is one of the main reasons as to why revision is a must for these exams.
A regular revision makes sure that you can recall 85% of what you have studied. Apart from all the regular revisions, it is important to practice the mock tests as well. Taking the mock test give the students a feeling of the exams which will help you to gain speed and improve the writing skills.
The Time Required
Generally, the time that is taken to prepare for UPSC exams is around 10 to 12 months. There have also been a number of candidates who have cleared the examination in 6 months. And for some of the students, even 6 years have proven to be less.
UPSC exams have a huge syllabus and a number of factors also come into the picture. It is very important to get the proper guidance and strategies so that you do not lose your time by studying the irrelevant study material. Also read, Tricky Questions Asked in IAS Exam and UPSC Interview.
There are certain internal factors as well that the students have to keep in mind. These factors are dedication, sincerity, perseverance, and commitment. These qualities differ from person to person. Thus, it could also be said that the time taken to prepare for the different subjects generally rely on the internal factors' intensities.
Check out How to Prepare UPSC Mains Geography Optional Paper
You Might Want To Read:
77 Years Of Heritage, Institute Actuaries India Business Economics Mock Test Paper 25, Reaction Mechanism, Endeavour Careers, Learninguru Delhi, Under Graduate Program, Production And Operations Management, Career Launcher Ssc Online Coaching, Ugc Net Prakrit Syllabus 2018 Code 91, Upsc Combined Geo Scientist Geologist General English Question Paper 2016
Leave your vote
This post was created with our nice and easy submission form. Create your post!