A career in travel and tourism is exactly what you need!
"We live in a wonderful world that is full of beauty, charm and adventure. There is no end to the adventures we can have if only we seek them with our eyes open." ~ Jawaharlal Nehru.
Travelling gives you a sense of fulfilment and fills up a void that you never know existed. Even if you live in a beautiful city and have a vast social circle, travelling will still make you believe that you have miles still left to explore. Although you can pack up your bags and start your journey right away, a better option would be to choose travelling as a career option.
With determination and the right skill sets, you can easily put yourself on a career path, which allows you to explore the world as per your job requirements. It doesn't get better than that!
Just like the famous adage that goes, "Choose a job you love, and you will never have to work a day in your life", a career in the travel industry can be more fulfilling, especially for those who are wanderlusting.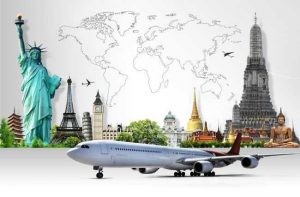 Does it ring a bell? Well here are a few career paths that can take you places, not by breaking your bank, but actually adding to it.
Pilot / Flight Crew:
This one is a no-brainer, pilots and flight crew get to see the world, especially if they're employed with a major airline. If spending days basking on the beaches and soaking in the sun and the azure waters is your liking, there is nothing like choosing a career as a pilot or a flight crew. Although you'll have erratic schedules, long flights, and jet lag to take care of, still the results will pretty much be in line with your passion. To add to this, you'll even be able to show the world to your family, with the discounts that you get on air tickets. So why travel alone when you can make your family go places as well!
Merchant Navy:
Another fantastic option for those who love the sea and enjoy travelling is planning a career in the Merchant Navy after class XII. Apart from the regular benefits of travelling the world at no cost, you will also be able to gain a lot of knowledge about commercial shipping as well.
Travel Agent:
Being a travel agent comes with a unique set of perks, such as knowledge about all the crazy discounts that are floating in the travel industry, places which you should travel on a specific budget and at a specific time of the year and much more. Although it's a little taxing too, as you will have to manage the tours of all your clients, the travelling benefits associated with it are too hard to ignore.
Travel Writer:
Travel writers have dream careers. Not only are they following their passion of writing, but also enjoy travelling around the world. Once you have created a decent reputation for your writings, you can also enjoy free travelling to different parts of the world and share your experiences with the millions of followers you have.
Archaeologist:
If history is your liking and travel your passion, archaeology can transform into a dream career for you. Archaeologists travel the world and usually spend months or even years in a foreign location, often in remote areas, which usually have something new and important to say. Moreover, apart from the usual benefits of travelling the world, the thrill of rediscovering pieces of history, that has been lost for centuries, is pretty exciting too!
Courses to Enter the Travel and Tourism Industry
The tourism industry is one of the driving forces for almost all developing nations. In developing countries like India, that are rich in history and culture too, the travel and tourism sector contributes a major chunk to the overall GDP. With global organisations predicting a steady rise in the tourism industry in all parts of the world, a career in tourism definitely makes sense.
Those who are interested in taking up travel as their career can opt for a variety of diploma, certificate, undergraduate and postgraduate programs to be a part of this exciting and developing industry. These programs are offered by a plethora of universities and private institutes in different parts of India and the minimum eligibility to enrol in a tourism course at an undergraduate level is successful completion of Class XII exams.
On the other hand, those eyeing postgraduate courses have to first complete their graduation from a recognised institute or university, and then appear for an entrance test, which is usually followed by group discussions and personal interviews. Similarly, those who are presently employed and want to take up travel and tourism as their career can enrol for distance-learning courses too. Several institutes offer distance-learning courses in Tourism and Travel Management, which includes degree, certificate and PG Diploma courses.
Following is the list of courses that you can choose to make it big in the tourism and travel industry.
Undergraduate Courses:
Bachelor in Tourism Studies
Post Graduate Courses:
Master of Tourism Administration
Master in Travel Administration
M.A. in Tourism Management
Diploma Courses:
PG Diploma in Travel and Tourism
Diploma in Tourism and Hotel Management
Diploma in Airline, Travel and Tourism
Additionally, there are a variety of courses for those who would like to pursue a career as an airline pilot, flight-crew, merchant navy, and archaeology.
Career Scope in the Travel and Tourism Industry
The tourism industry in India is largely dominated by private players, although there are options for hardworking individuals in government departments and state-owned companies as well. Moreover, industry analysts have predicted a steady rise in the growth of tourism industry in India, which will ensure a steady stream of job opportunities in the future as well.
Alongside the millions of jobs that are forecasted by industry analysts in the coming future in the travel sector, there will also be jobs in tourism departments, airlines, hotels, tour operators and travel agents, who are all looking for skilled workers to join their workforce.
So what are you waiting for? If you love to travel but don't want to break your bank going around the world, there is a promising career awaiting you in the field of tourism and travel. Apart from giving you a sense of satisfaction and the ability to do what you are passionate about, these careers will enrich your perspective and contribute to personal development!
You Might Want To Read:
Indra Kala Sangeet Vishwavidyalaya Chhattisgarh, Net French Mock Test Paper 170, Oil Assistant Technician I Practice Paper, Fluid Mechanics, Gravity Physics Module 3 Numericals, Upsc Geo Scientist Geologist Exam Hydrogeology Question Paper 2018, Ims Cat Maximiser Enhanced, How To Prepare For Ssc Cgl 2020 Latest Guide, Kabras Horizon Vs Aakash, Delhi University Honours Programb A Urdu 2Nd Semester Mock Test Paper 2