Every person feels excited about going to college for the first time. More so, it is indeed an exciting moment if it is the college of your choice. Even if some people do not fit in at first, this does not mean that the situation will remain like that forever. Also, raising the required school fees to attend the college may be an uphill task for many young students. The better side of going to school, whether you will be studying literature, mathematics or any other subject, is that life will indeed improve. Therefore, there are many ways to get excited about the whole situation of your future college. Read on to know how.
Take Advantage of the Orientation
It is almost a norm that all colleges will subject the new students to orientation. It is a program organized by older students together with the school administration and other organizations.
Students are introduced to everything important about the school. If one takes advantage of this period to explore the college and surrounding area, she or he will have an easy time adapting and staying organized. It is also the best time to make friends with some helpful older students.
Plan the First Month Well
No matter how overwhelming it may seem to be in a totally new environment, you still need to bring your organization skills on board. Be sure to plan your first week in college well to avoid starting on the wrong foot. Lecturers and tutors usually supply students with course outlines so that they know what is coming. Study them well together with the class timetable and plan your first month. It will make you happier when everything is flowing well without a struggle.
Visit the School Social Media Accounts
The generation of today cannot live without social media. Most colleges have social media accounts where they share everything that is happening at the college. As a new student, this is where you will learn more about the school and the activities they have. It will surprise you how easy it is to be accepted on social media as a new student and get any help that you need. It is also an excellent opportunity to meet new friends in college.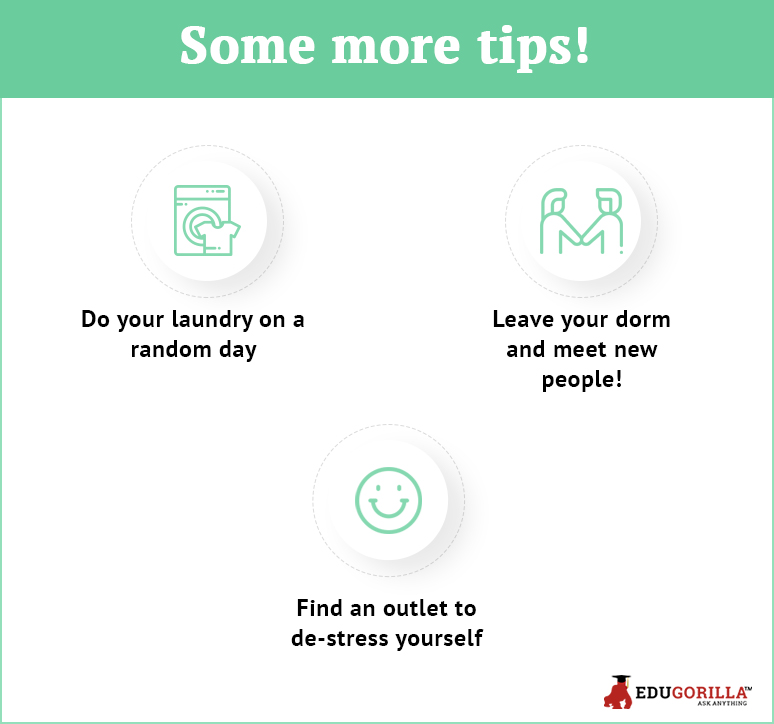 The Plan to Excel
No matter what the situation is at first, your main aim is to study and make your future better. Most students forget the fact that their lives will be different if they graduate as compared to those who dropped out. Indeed, a better future as an accountant, banker, doctor or in any other career provides everything about which to be excited. And, it all starts to take shape when a person attends college. According to studies, people who attend college are less likely to go to jail than those who do not. You are lucky to be studying.
Your Dorm Experience
The place you will be resting after studies, whether alone or with a group of friends, matters a lot. It should provide an exciting atmosphere all from day one. So, why not think about how to decorate and arrange your things nicely. The most important parts of your dorm or apartment are the bed, shower, and the studying desk. You could also include some entertainment system if the school allows. Also, entertainment makes your room an enjoyable place for you to relax.
You Might Want To Read:
Necessary Documents Needed Before Applying For A Student Visa, Delhi University B Tech Micro Processor Application Mock Test Paper 86, Tamil Nadu Board Economics Question Paper 6 2012, Sri Gayatri Educational Institutions, Soldier Defence Academy, Upsc Departmental Examination Question Paper 4 2009, Iit Home Vs Resonance, Biology For Class 11 Video Lectures For Aipmtneetaiims 2018 Mpeg By Career Point Kota, Animal Husbandry Main Question Paper 2 2012, Jee Main Advanced Mathematics Probability Notes Part 1
Leave your vote
This post was created with our nice and easy submission form. Create your post!