Since the recent incident of gun violence at Marjory Stoneman Douglas High School in Parkland, Florida, the issue of safety in academic sector has been discussed meticulously across numerous media organizations. After going through the stats about gun violence in U.S. schools, a lot of important people have shared their views on how to make school a safer place for the students of all religions and colors. However, it is the proposal from President Trump that has grabbed most number of eyeballs on this particular issue.
On the listening session with the students and parents affected by the horrific shooting incident, and on his twitter handle, President Trump has suggested that arming school teachers with guns can be a solution to the problem at hand. He has also made a proposal of rewarding the armed teachers with a yearly bonus. Naturally, it received a lot of criticism from people all over the world, and even if his intention was pure, it is believed by many that arming teachers couldn't make schools safer.
The Second Amendment to the United States Constitution protects the right to keep and bear arms in the United States. However, the recent incidents of mass shooting in schools have made it absolutely clear that there need to be some changes in that regulation. Students no longer feel safe in their schools and colleges. And as parents, guardians and family members, it has put everyone in the States in an enormous quandary.
As a regular citizen of America, you may not have the authority or the power to reform the gun laws in the country, but you can send your voice to the people who can. Till now, the leaders have done very little to stop the gun violence in academic institutes (or anywhere else for that matter). So it is high time to let them understand the gravity of this crisis.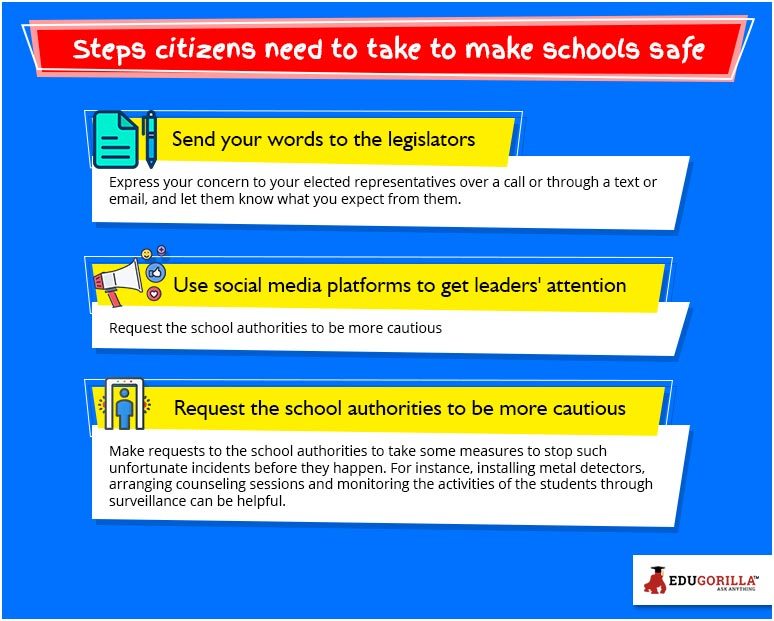 Schools can be safer again when there are stricter guidelines to regulate the use of guns on American soil. And to make sure that happens very soon, here's what we need to do:
Send Your Words to the Legislators
The Lawmakers in the country may have shown their solidarity against gun violence, but they need to understand that it takes more than just prayers and condolences to stop such brutality in the defenseless institutes. Express your concern to your elected representatives over a call or through a text or email, and let them know what you expect from them.
Use Social Media Platforms to Get Leaders' Attention
Social media is a very powerful tool if used properly. For an ordinary citizen, it is not that easy to get the attention of leaders. However, one can make sure the leader is listening to him/her by addressing the leader on a social media platform. Raise your voice against the actions that violate civil rights and also remind them to take more responsibility to safeguard people's interests.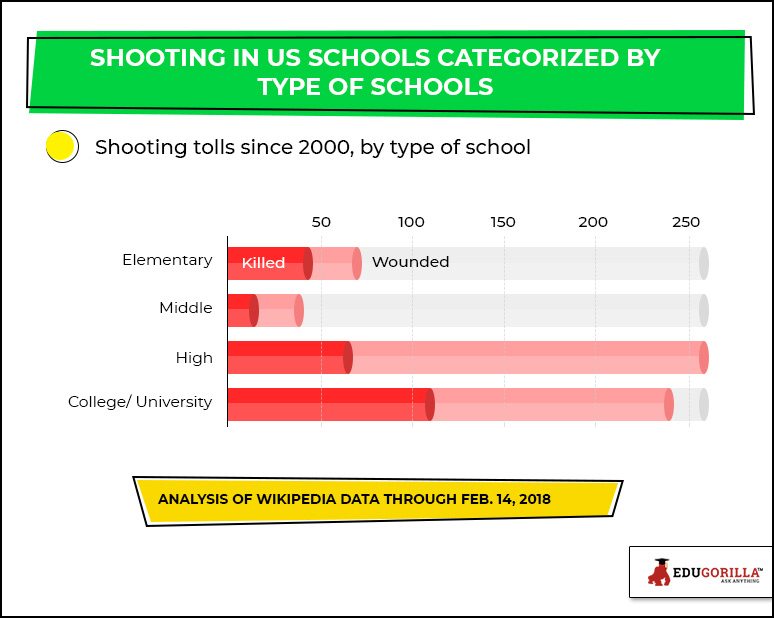 Request the School Authorities to be more cautious
The schools need to be more watchful about the activities that seem suspicious. Moreover, the administration needs to become more cautious about the use of anything that can threaten someone's life. Make requests to the school authorities to take some measures to stop such unfortunate incidents before they happen. For instance, installing metal detectors, arranging counseling sessions and monitoring the activities of the students through surveillance can be helpful.
Protests and coordinated actions can be helpful in making more people aware of the current situation. However, they have not produced any positive results in the past few years when it comes to stopping gun violence in academic institutes. It can only change when the government takes the necessary measures to regulate the use of guns in a more watchful manner.
Moreover, people need to open up to others about all the challenges and shortcomings they are experiencing in their lives, even if it is for the smallest of matters, like the need for homework help especially if you are unable to focus on homework. Usually, a lot of repressed rage against the government, a community or a group of people is the major reason behind such violent actions among the youth. It becomes the duty of their parents to talk to them and make them understand the difference between right and wrong from an early age.
You Might Want To Read:
Jee Advanced 2010 Question Paper With Solution Paper 2 Code 0, Crash Course, Securities And Exchange Board Of India Sebi Free Test, Ugc Net Jan 2017 Paper Iii Sanskrit Traditional Subjects, Meghalaya Police Sub Inspector Mock Paper, Annamalai University M Sc Mock Test Paper 1 2, Doeacc B Level Introduction To Object Oriented Programming Through Java Mock Test Paper 184, Class 10 Video Lecture Pcb By Career Point Kota Mpeg By Career Point Kota, O Level Ict Computer, Botany Question Paper 2 2011
Leave your vote
This post was created with our nice and easy submission form. Create your post!