On October 28th, Financial Times released the global management master list and it showed that Antai College of Economics and Management ranked 14th. In particular, this is also the second consecutive year that Antai College lies in the top 20 on this list.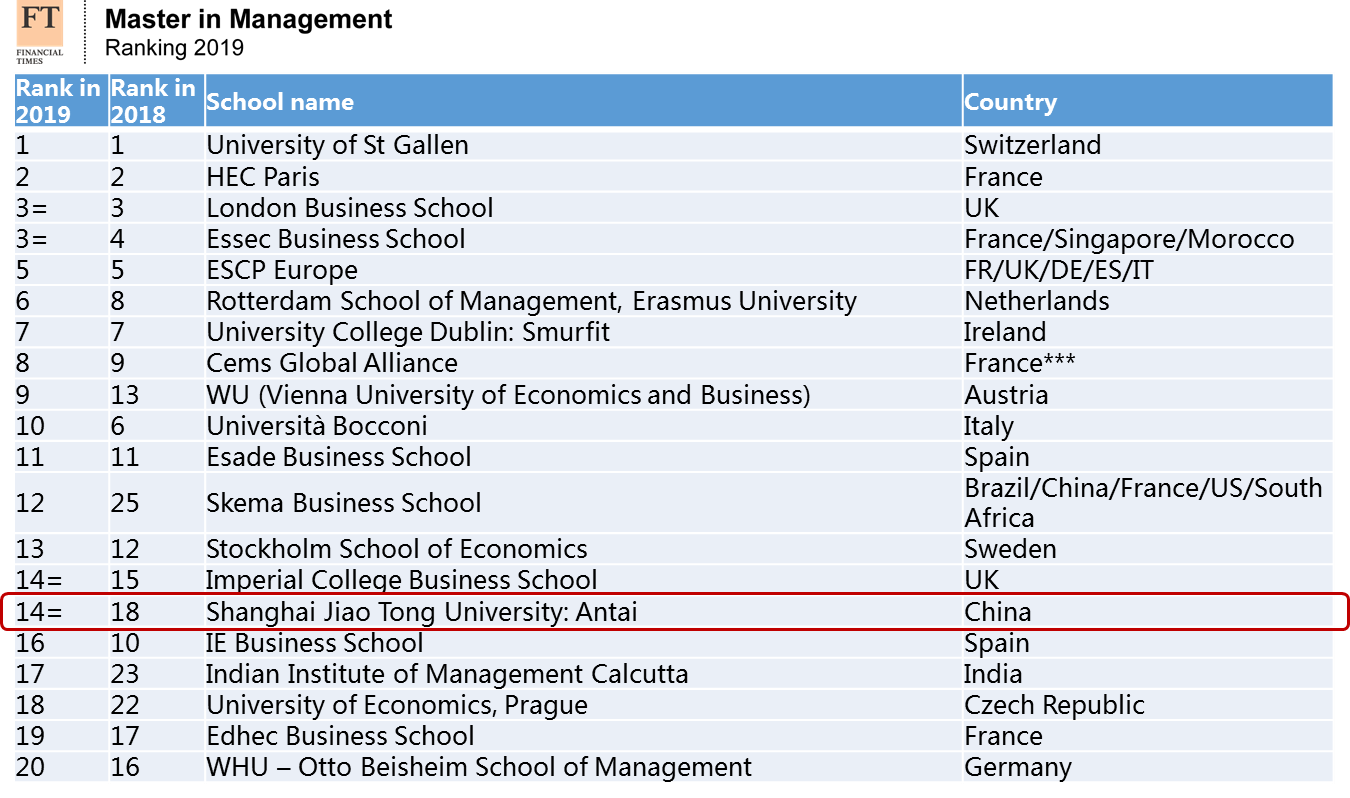 With strict evaluation criteria, objective data survey and in-depth assessment indicator system, the Master in Management ranking of Financial Times is one of the most authoritative international rankings in the education field of business school. It measures the overall faculties strength as well as the internationalization level of business school with essential indicators. Besides, it conducts a complete assessment of the performance of graduate students' salary, career development, goal achievement, entrepreneurship and other aspects.
There is no doubt that it is the pursuit of distinguished student development and high academic standards that earn Antai College of Economics and Management(ACEM) this achievement and a reputation at home and abroad. Aimed at cultivating economic and management talents with international competitiveness, Antai College dedicates to promoting the innovation in scientific research and academic articles to the fullest. As a leading global business school in china, ACEM was the first business school in mainland China to have been triply accredited by AACSB, EQUIS and AMBA. It is definitely the best choice for master in management. Three reasons may account for that.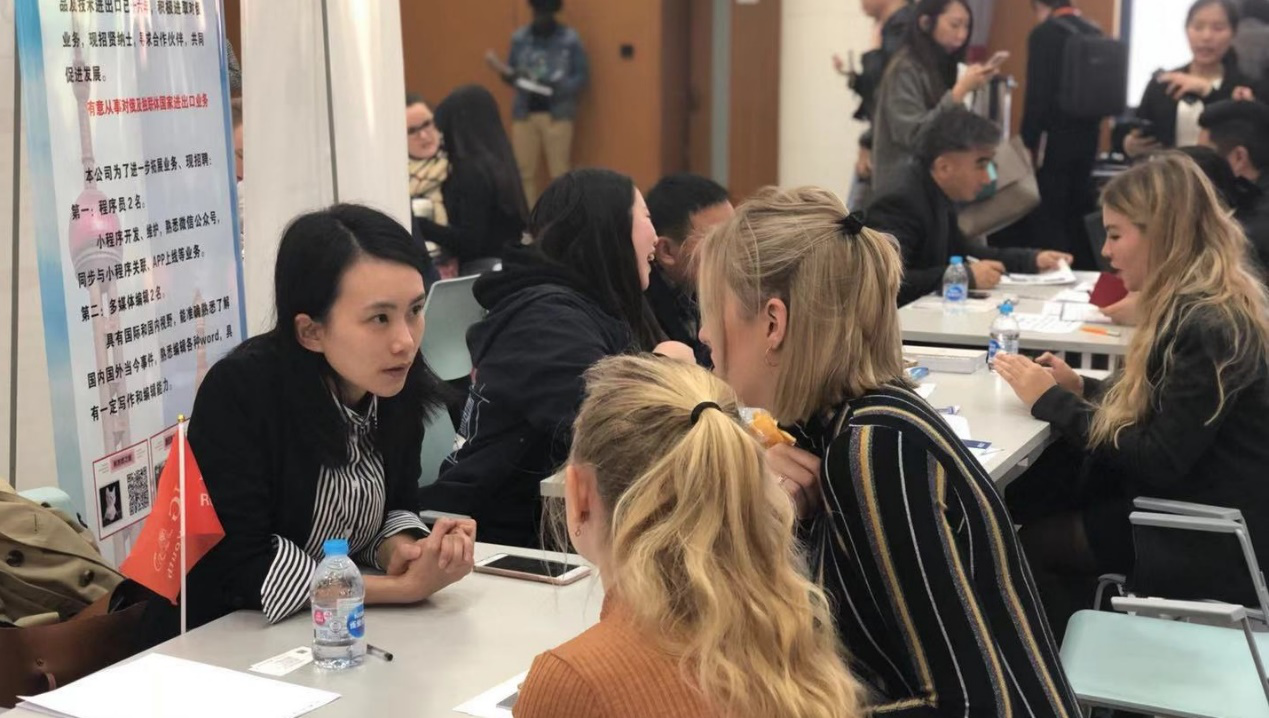 1. Professional Project Courses
The design of the curriculum system of Antai College embraces the first-class international universities' academic style, reflecting the close connection among the theoretical basis of management, the professional knowledge of science, economics, mathematics as well as computer application and the latest research in related fields at home and abroad. To be more specific, based on the traditional management theory teaching, special attention is paid to the quality of the cutting-edge management courses. Additionally, Antai College focus on developing students' technical competence in big data, machine learning and computer programming through systematic training. In a word, Antai College of Economics and Management is committed to keeping pace with the times to cultivate qualified and competent management technology talents.
2. Reliable Platform for Academic Exchange
At present, Antai College has established various co-operative ties and academic exchange programs with 107 famous worldwide colleges, 54% of which are the top 100 universities in the world. There are plenty of accessible international exchange opportunities for its students such as exchange student programs, summer and winter vacation study tours, national conferences, competitions, etc. For example, Antai College provides a mass of high-quality exchange student programs for students and every year about 20% of the graduate students of Antai College of Economics and Management seize the chances to further study or internship overseas. At the same time, Antai College welcomes more than 200 excellent international exchange students from different countries every year. What's more, there are many double major programs with top business schools of foreign universities, including ESCP Europe business school, IE business school, Purdue university, university of southern California, etc. Students from top universities learn together in the course, explore the global business practice and reap considerable benefits in not only broad future professional knowledge but personal growth.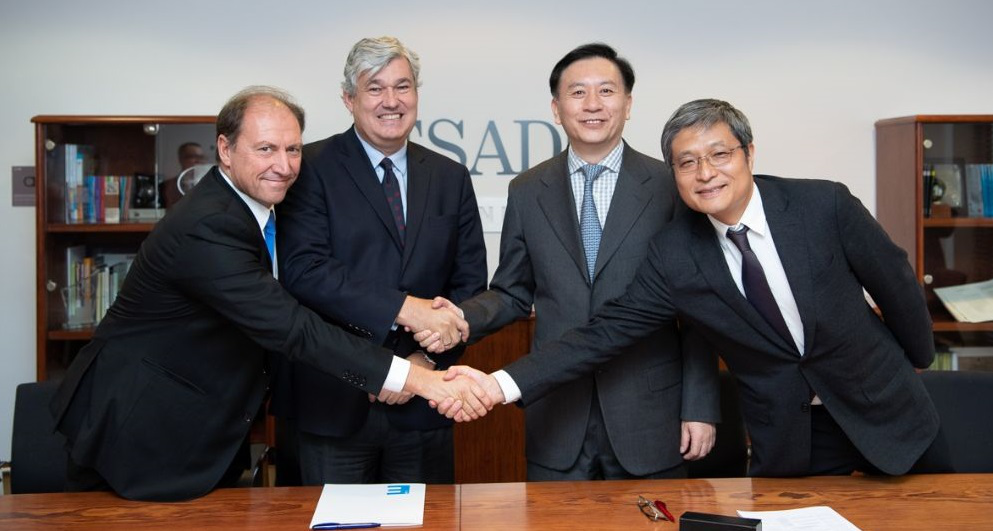 3. Services for Personal Growth and Career Planning
In terms of personal growth and career planning for students, Antai College spares no efforts to take measures. For one thing, it has arranged a variety of extracurricular activities for students, which is the useful access to improve their social skills such as social responsibility, excellent leadership, communication ability and cultural literacy. For another, by participating in industry forums, paying visits to famous enterprises and other career development projects, students are equipped with a basic framework for career planning and direct experience to various industries.
Under the circumstances, they can learn how to connect activities in the school to the events unfolding in the labor market. In return, these measures give fresh impetus to the employment of graduate students of Antai College of Economics and Management. According to a research, the growing rate of salary of students of Antai College is the highest in the world and the rate of employment in three months is 100%. With a solid professional foundation and hard work, students of Antai College have won the favor of employers, which also improved the image of Antai College of Economics and Management.
You Might Want To Read:
Counselling Psychotherapy Developmental Psychology, Icsi Securties, Delhi University Italian Semester 1 2013 Mock Test Paper 6 2, Guide Find Best Coaching Classes, Arc Paramedical Institute Kurukshetra, Telugu Literature Question Paper 2 2010, Gate Instrumentation Engineering Question Paper 6 2014 Solved, Net Museology Conservation Paper Iii Sample Paper 10 2014, Delhi Police Mts Free Test, Resonance Eduventures Vs Catalyzer
Leave your vote
This post was created with our nice and easy submission form. Create your post!