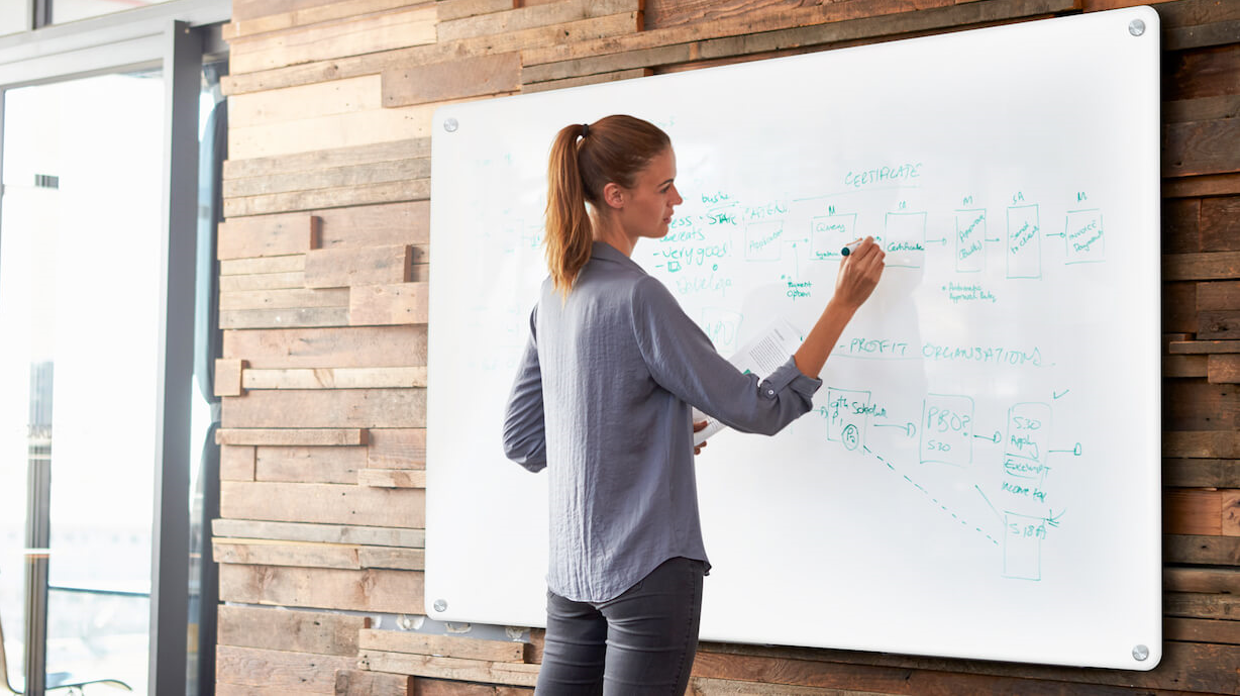 If you belong to the teaching profession, you might be accustomed to the use of whiteboards but school is not the only place where whiteboards are being used these days. This traditional note-making and presentation method can be seen everywhere whether it is in a home, in an office or in a child's room for learning purposes. Even whiteboards are incredibly popular in offices for a number of years.
Whiteboards are becoming outdated as new types of boards are being introduced in the market such as interactive boards, LED colored glass boards, etc. All of these boards have some drawbacks regarding durability, price, mobility, and the ease of cleaning them, etc. If you are looking to buy a whiteboard and wondering which type of whiteboard is the best for your particular working environment, then you must read the breakdown of the two most popular whiteboards below: traditional whiteboard and glass board. You may select the one that suits you the most.
The Traditional Whiteboards:
Traditional whiteboard has been the most popular and common method of note-taking and presentation across the globe. They are most commonly seen in schools for lessons but are also used in offices for note-taking and presentation purposes.
Despite many other types of boards that are available in the market now, whiteboards have managed to be a popular choice for a decade, especially among classrooms. While they are predominantly used in classrooms, they can also be used creatively in other environments.
Whiteboards are available in a variety of sizes so they easily fit into everywhere. They are very easy on the pocket as compared to other fancy boards. Their affordability adds to their appeal. Variations in their size and price allow you to use miniature whiteboards for the students in a classroom, smaller whiteboards at different workstations, medium whiteboards at the company's office and large boards in schools.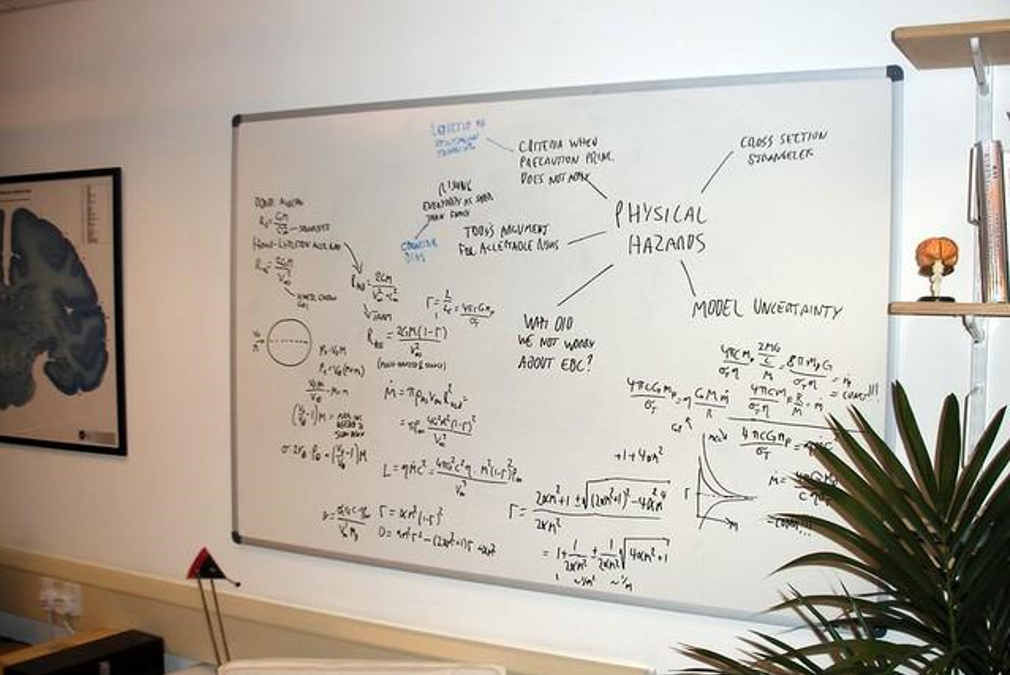 They are also known as multipurpose boards because sometimes they are half whiteboards and half other types of surfaces usually cork or felt. This variety of notes can be saved and attached to them. Recently, whiteboards are also available in mobile options, so they can be moved around in the classroom or office easily.
Glass boards:
The future of the whiteboards are glass boards. Glass board definitely wins out all other types of board. A glass board's transparency allows us to blend them into any environment. Glass boards are incredibly stylish and modern due to the simple use of glass, with a smooth cut edge and contemporary finish. Their fancy and modern look gives the image of professionalism in the office. They have the ability to make a space more appealing and clean. Click here to check out a selection of glass boards for your Educational place, workplace, home office, or just to use as a vision board for your goals.
Glass boards not just look great but also serve the purpose perfectly. Unlike whiteboards, they do not suffer from ghosting while giving us a perfectly clean office environment that is a must to be kept in order to maintain professionalism.
Unlike whiteboards, glass whiteboards come in various fancy and beautiful colors. With multiple colors they look artistic in every space. Glass boards can come in multiple colors whether you want a clear standard board for your office or a light blue board for design and architecture reasons or you may want to brighten up the classroom with vibrant colored glass board. Different color options allow them to fit in every room beautifully even your home office. Glass board with LED lighting is a new trend to add a contemporary, modern and stylish theme to your office and schools. They add a high quality feel to your working environment.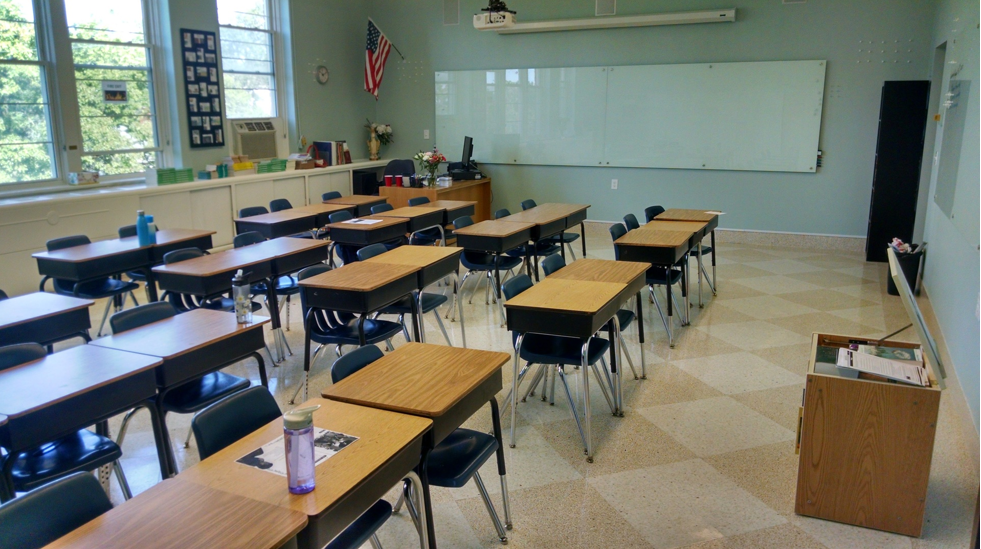 Glass boards are available in a range of sizes. Placing glass boards for different sizes and colors together can be a very creative idea for an office or classroom decor. For example, you can place a miniature glass board along with a large glass board in your workstation while following a certain theme of different colors. Different colors of the boards can also be used to depict the level of importance of the written note. It will give a unique yet fresh look to your working place.
Glass boards do not just offer you the variety of colors to choose from but also allow you to have a high-quality image of your choice printed transparently on the border surface of the board including family photos, the company's logo, and branding images. Now you can personalize your glass board for your office easily.
Let's not ignore the fact that glass boards are also as durable as any other board. Well some of us may think that glass boards tend to break easily once they get knocked but that is not true. Actually, they are made of tempered glass which is as strong as other board materials are. Many precautions are taken when making a glass board to ensure safety. They are carefully packed to be shipped safely so they can be delivered to their destination in perfect condition.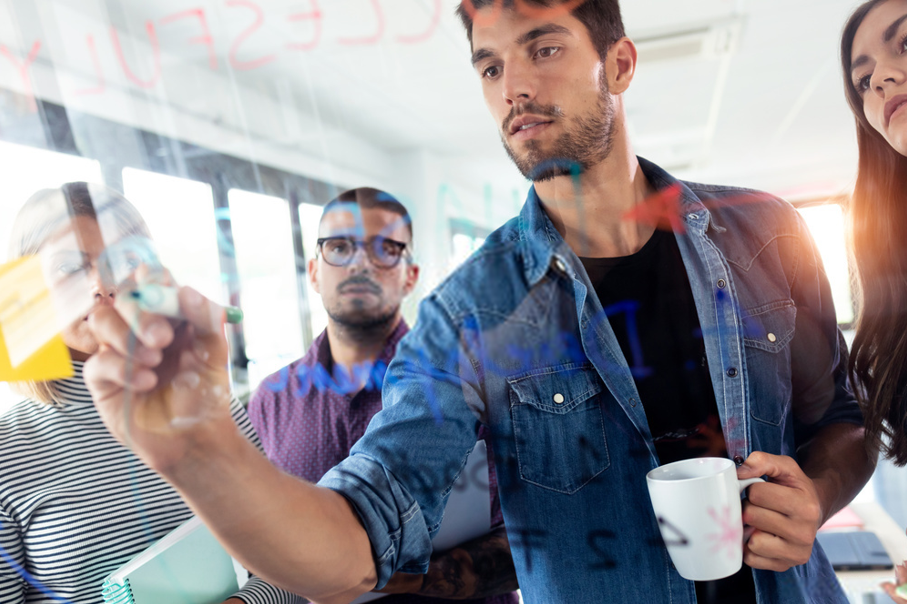 Though glass boards tend to be more expensive as compared to other traditional boards, they are long-lasting. A modern erase board product has a premium look for a modern well-styled working space. Unlike whiteboards, they are not prone to staining and ghosting. They can be easily cleaned with a single wipe of tissue. They are definitely long term options in erase board products as compared to traditional whiteboards which can easily appear old with regular use.
Recommended Board Type:
Both boards have their own advantages. The beautiful glass boards are sleek for professional working environments. Further LED lighting effects can be added for higher quality. Different color pens are also used to represent different ideas and increase understandability in the working space. Different accessories can be used on these glass boards to clip documents and notes with the help of magnetic clips. They are very easy to clean as compared to the traditional whiteboards.
You Might Want To Read:
Scholastic Aptitude Testsat Mathematics Mock Test Paper 2, Icse Board Previous Year Question Paper 27, Delhi University M Com 2Nd Year Mock Test Paper 16, Mahendras Laxmi Nagar, Ica Mock Test Paper 3 2, Jee Main Advanced Chemistry Basic Principles Of Chemistry, Jee Main Advanced Chemistry Identification Of Acidic Radicals, Tamil Nadu Board Anglo Indian Slc Examination Geography Mock Test Paper 17, Gre Learn How To Simplify Square Roots Video, Ugc Net Management Question Paper 4 2015
Leave your vote
This post was created with our nice and easy submission form. Create your post!