IIT JEE is one of the toughest technical exams that requires a lot of hard work and a better strategy to crack the exam. Before you start your preparation, you should know how, when and where you can utilize your time and other limited resources. You should know the syllabus as well as the paper pattern so that it would be easy for the students to prepare.
A student who wants to know how when and where to start preparation for JEE, should know the syllabus of exam beforehand.
They have to cover a large syllabus for Physics, Chemistry, and Mathematics. Before starting JEE Main Preparation, students should clearly understand the syllabus, exam pattern and make the plans accordingly. Check out Which Important Topics of Mathematics to Cover for JEE Main.
When to Prepare:-
If you aim to study in an IIT, you might want to start as early as possible. But if you are wondering when you should start studying for it, it is best to start your preparations early. JEE is not about just 1 year or 2-years preparation.
The early you start the more feedback you get out of your preparations. You may be a topper or an average scorer at school. But it is always better to get your fundamentals cleared early. So you can build a solid conceptual foundation for your preparations.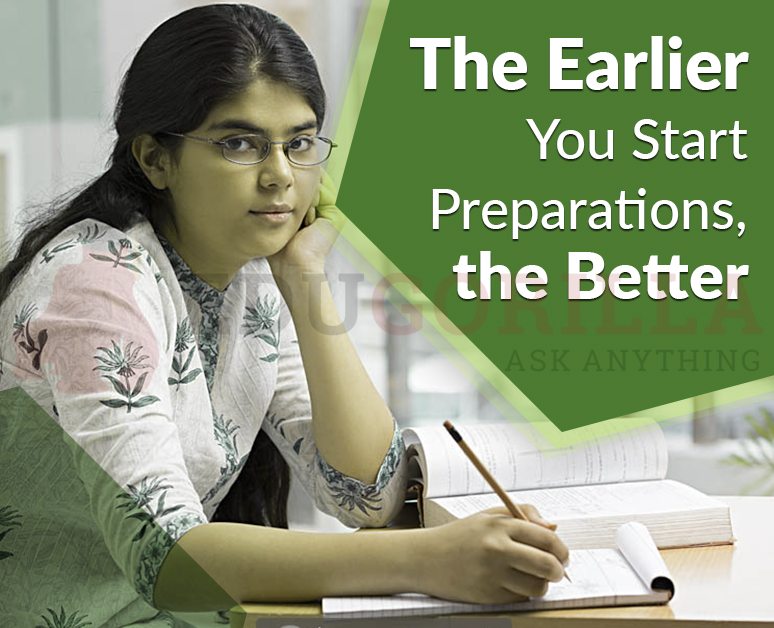 How to Start:- 
Below are some tips on How to Start Preparations.
Time management
Be selective about your study material. Refer to right books, not too many books. Don't waste your time running behind various study materials.
Follow a schedule/Prepare a plan
Chalk out a timetable and prepare your strategy.
The smart way to Prepare
Make separate sheets for formulas and theorem that can help you a lot while solving problems in Physics and Mathematics.
Revise
Make sure you revise every topic thoroughly and prepare all the topics well by revising it time and again. Also, prepare separate revision plan for the last minute preparations.
Positivity
Always try to be positive towards every work that you do and be focused towards all your activities along with studies. Being optimistic works very well in such situations.
Study concepts, solve problems, look at solutions
No matter how many more study materials/books you buy, you have to spend time studying these materials and lecture notes. Self-study is one of the most important key factors of your JEE Main & Advanced preparation.
Solve previous year's papers
Always remember, there is nothing called a new concept. The JEE Main or Advanced examiners have to test students year after year on the same concepts in order to establish the credibility of the student as to whether or not he or she is capable of making it to the IITs or NITs!
Health is wealth
The most crucial factor in your entire JEE Main exam is nothing but your health. If you avoid unhealthy food, it will help you stay calm and composed and let you give the best of you in your exam.
Where to Prepare?
Students have a choice between online and offline study sessions. There are different coaching classes offering lessons for JEE Main and Advanced examination. No matter which coaching class you opt for, self-study is important for getting the concepts right.
Offline classes:
The traditional method of learning remains the most favorite. Live classroom sessions, learning environment makes the student closer to their goal.
There are some classes providing offline classes for JEE:
1. Allen classes
One of the best platforms for the students to crack JEE Main. The faculties are stable and expert. Systematic approach to teaching, student analysis, doubts clearing sessions are some of the special features of Allen classes.
2. Aakash Classes
Aakash has been consistently training students from the last decade in Engineering Entrance Exams like JEE (Main & Advanced), BITSAT, etc and key Foundations level competitive exams KVPY, NTSE/NSE/NSO exams etc.
3. FIIT JEE
They believe in the philosophy of establishing holistic education system and its ultimate delivery to all the deserving students in India & abroad. They believe in absolute transparency.
4. CatalyseR
One of the most trusted institutes for the aspirants who want to crack JEE Advanced and other national level exams like NTSE. It is a student-oriented organization where attention is given on an individual basis.
5. Vijay Classes
The aim of Vijay classes is to provide effective, accessible and responsible education to one and all and to build a motivating environment to bring out students' potential. We have set highest standards of coaching, academic support, and guidance.
Online Test Series:
With technology at its best today, online JEE coaching classes are excellent for students who want to prepare at home and make the most of the limited time available.
Online lessons use the most advanced study material to help students achieve their goals
The top online test series platforms are:
Nothing can be the best platform, it depends on the individual what suits him. What you need to check is the quality of questions put up the websites and the report that it generates for you.
Read JEE 2018 Examination Notification here.
You Might Want To Read:
Ugc Net Computer Science And Application Question Paper 1 2005, Metal Forming, Aiims 2018, Delhi University Mlis 1St Year Mock Test Paper 2 3, Ugc Net General Studies Question Paper 5 2012, Haryana Public Service Commission Mains Psychology Mock Test Paper 79, Cat Sample Papers With Answer Key, Act, Panchayath Development Officer Pdo Online Mock Test, Histroy Question Paper Answer Key
Leave your vote
This post was created with our nice and easy submission form. Create your post!