The award-winning EduGorilla Community has over 200,000 plus subscribers and attracts more than 30,00,000 monthly visitors. What's more, this post will be shared on our social media platforms which have more than 4,00,000 Facebook likes and more than 12,000 Twitter followers. In addition, our Domain Authority is 53 and Alexa rank is 2,039 (India). We're always on a lookout for more ingenious and creative contributors to join our Community.
If you have exceptional writing skills and would like to share your expertise with a large audience of students, Coaching, Institutes, Schools, Colleges and professionals we would love to hear from you.
You will also receive 2 DoFollow links to your Blog/Site.
The guidelines listed below will answer most of your queries, build a foundation of our expectations and make you familiar with the submission process.
725684
STUDENTS
74540
STUDY MATERIAL
898740
SCHOOLS, AND COACHING INSTITUTES
The Minimum Requirements For Every Post We Publish:
The successful contribution will be the one which is comprehensive, data-driven, interesting and teaches our readers something new related to education. We accept publication on any topic that our target audience cares and that is related to education and academics in general.
Your article will be assessed against the following criteria before publication:
We expect original concepts, compelling arguments, and high-quality writing from you. We refuse already published content. We have a strict policy against plagiarism.
Your post should have proper attribution of data, quotations, and outside content referenced in the article. We refrain from using any copyrighted content. Kindly refer Copyrights for more details.
Maximum one link to your company's website or personal website/blog in the body of the post.
Minimum length of an article is 600 words. Anything below then that will not be published.
Article Types We Prefer
We've conducted extensive studies to uncover which type of blog posts work. Here are some of our most successful Article types:
Article: An article should have some new aspects not covered until now. Unnecessarily complicated words should be avoided. Please bear in mind that a majority of our audience is students and we would like to present them the content they understand. Make use of bullets instead of making long sentences. Double check your content to avoid errors related to grammar & punctuation. The article should have an introduction to the main body followed by a conclusion.
Infographic: An infographic puts heavy emphasis on visual information sharing and perceiving. Usually, they feature paragraphs of introduction, the embedded infographic content itself and some narrative. The graphics should be comprehensive and easy to read, have a captivating narrative, contain plenty of blank space, and feature up-to-date and properly sourced data. The flow of thoughts in the infographic should be in such a way that the user pays attention to the message you are conveying. Ensure that the smallest font on your infographic can be read without any difficulty. Generally, the length and size of a good infographic would limit themselves to 8,000 pixels and 1.5 MB, respectively.
Open List: If you have a topic with several parameters which you want people to vote on, use this section. Put an introduction with the details of different parameters. For eg., if you put the topic 'Best JEE Coaching in Lucknow' with different coaching institutes as parameters, visitors can vote up or vote down the institutes as per their opinion. And their ranks will change accordingly.
Poll: Feel free to take a poll on any subject (related to education/career) you have in mind.
While, from time to time,  we certainly publish Articles that don't fall into any of the above categories, your Article should have exceptional content and binding writing making it worth the effort. However, your post has the best chance of being accepted if it matches one of these formats.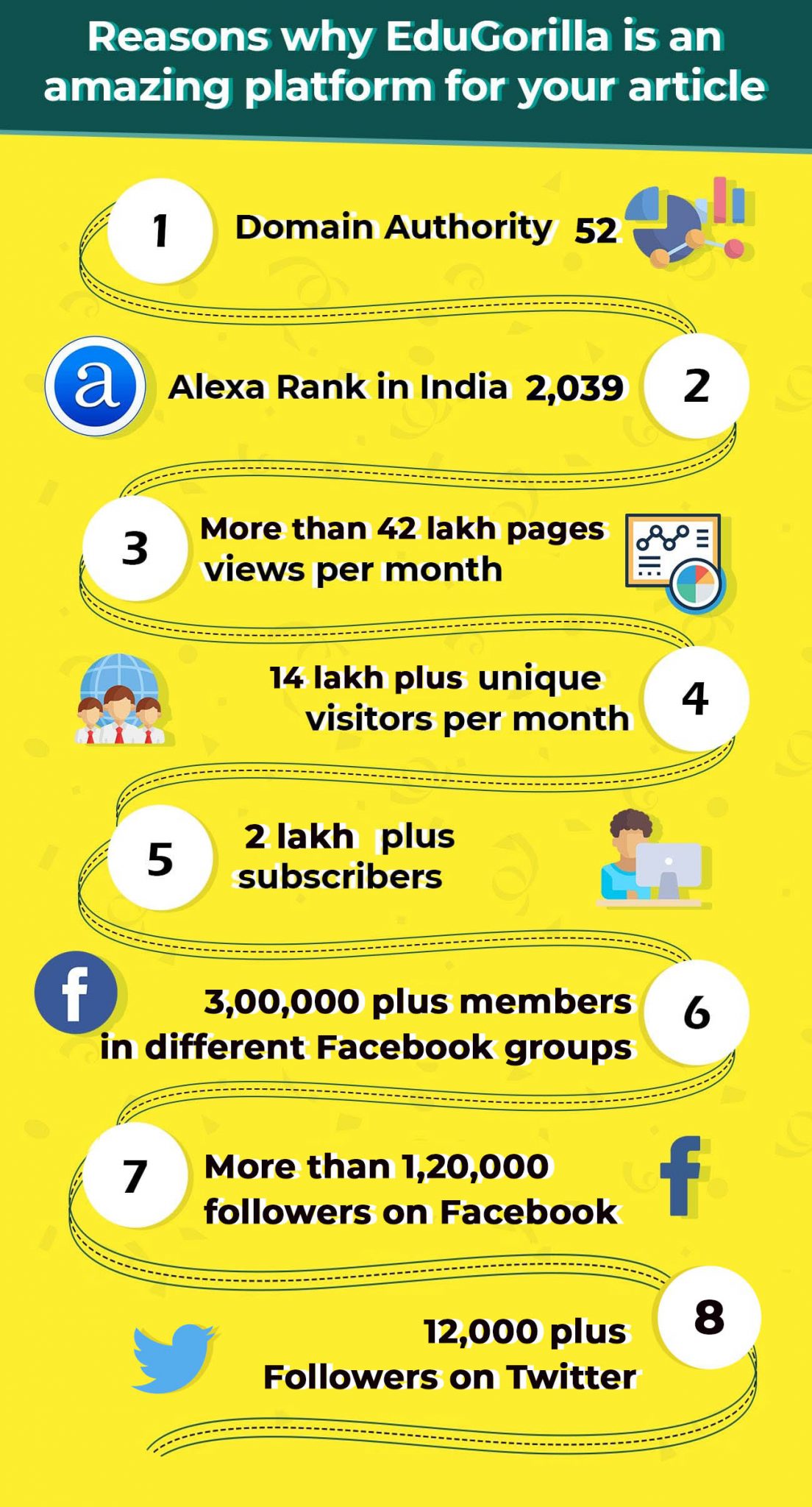 Guidelines for Writers Who Want to Write Quality Content for Education Niche
Are you an established writer or an aspiring one or writing is just your hobby? Whatever might be the case, if you are genuinely interested in writing quality articles on different aspects of education, we give you a chance to publish it on our website. Once the payment is made and the article is approved, the article will be published with your name.
Following the below guidelines will minimize the probability of your article being rejected.
The article should be related to education niche and be plagiarism free.
The number of words should be more than 600.
The article should pass the Flesch and Readability score. In other words, the articles shouldn't have long sentences and should be easy to read.
Relevant Images make any article attractive. Hence, it must have at least 3 interesting and relevant images (kindly visit https://www.orbitmedia.com/blog/blog-image-best-practices/ for help & guidance) approved by the Designing team. Moreover, please ensure that the image(s) strictly conform to the following standards:
Dimensions for the Featured Image: 992 x 471
Dimensions for the Infographics: 774 x Height*
Also, make sure that the names/titles of the images should be relevant to the topic (most likely the biggest heading in the image). Similarly, the name(s) of the file(s) should be the same.
Note: The height for the infographics can be flexible and different for each one of it. Moreover, in case of your opting for the designs framed by our designers, let it be clear that he/she will create a JPEG/PNG file that will be automatically converted into a WEBP format and you'll get a WEBP view. But, in case your browser doesn't support the WEBP format, our program will display the image(s) in the previous JPEG/PNG format to you.
Please update relevant tags
The article shouldn't have any grammatical error.
Use Heading 1, Heading 2, etc. tags for headings.
Update your description and image in the author's profile (Updated profiles attract a better viewership).
Featured or image inside the article shouldn't have any publicity.
What We Don't Accept Exclusively on our site:
Posts that's been covered on our website before. Please look at our website article section before submitting your articles.
Posts that may be construed as a link-building scheme and explicitly used for personal gains of contributors/Bloggers.
Posts that are too promotional for our community target audience.
We suggest you to desist from looking for the chances to find any opportunity regarding articles related to Gambling or Casino. We strictly don't approve such articles.
Posts that are objectionable, derogatory, offensive or erroneous.
Posts that are overly condemnatory and judgemental of individuals or companies – We do not like to be a platform to air your grievances.
Submissions must meet the EduGorilla creative writing/publishing team's quality standards to get published.
We do not allow you to republish your guest post to your blog, LinkedIn, Medium, or Inbound.org afterward. We publish the articles exclusive to our site.
The process of submitting your post
We have an easy and automated procedure of guest posting.
Login (Register if not already registered) on our website at https://edugorilla.com
Post your article at https://edugorilla.com/guest-post-form/. You have four options:

Article
Infographic
Open List
Poll

Make the payment on the pop-up page which appears.
Though not mandatory, we highly recommend our Authors to complete their profile. It will help you in gaining visibility and improve the odds of getting your article published
If your article aligns with our content strategy and meets editorial standards, your article will be published. This process generally takes at most two days.
Please note:
The EduGorilla creative writing/publishing team reserves the right to edit and adapt your guest blog/article content as we see fit, and update it in the future for accuracy and comprehensiveness.
EduGorilla reserves the right to include calls-to-action to EduGorilla content, including but not limited to email newsletters, eBooks, and other downloadable content and media.
In case of any queries, please email us at [email protected]