How often have you got stunned or tickled by an awe-inspiring photo in a newspaper, magazine, or on a billboard? If you have, which is very quite possible, chances are the reason behind that experience could be none other than the creativity of the photographer. His talent catches the specific moment which attracts our eyes. Do such attractions draw you to try hands at various courses of photography that different colleges in India offer on their platter? We have compiled a list including top 5 photography courses & colleges in Pune for you.
For students who aspire to become that visionary photographer, getting enrolled in top photography courses become a need. Hence, here we list before you some of the notable and prestigious photography colleges providing photography courses in Pune, India for getting trained into the vocation of photography.
There are several certificates and diploma courses available at polytechnics, universities, Industrial Training Institutes (ITIs), and many private institutes set up by established professionals. Photography may also form part of the course in mass communication (journalism and electronic media training). Some art colleges also offer it as a specialization in BFA (Bachelor of Fine Arts) programs.
A number of institutes and colleges specify minimum eligibility, for the courses related to photography while others offer classes that give admissions to interested and motivated individuals who have an aptitude for it. A training in photography can sharpen their photographic instincts. The training courses in these photography colleges provide familiarization with all technicalities, like the right exposure, angles, filters, lenses, types of techniques to be used for various types of photographs plus, the ins and outs of developing and printing process.
Hence, a course in one of the various fields of photography can be a promising career for passionate students. By the way, you may not be knowing that Pune,  the second largest city in the state of Maharashtra, has become the hub of the colleges and institutes offering courses in this trade. One of the reasons can be the city's proximity to the biggest hub of the Indian film industry – Mumbai. Another, among others, is the populace inhabiting the city that meets the needs of this industry. Hence, to avail and provide the benefits, some notable colleges for photography courses in Pune have stood up in the recent decade or so, that provide courses in a variety of specializations.
Best 5 Colleges Providing Photography Courses in Pune:
The Symbiosis School of Photography, situated at the picturesque Lavale hilltop in Pune, provides a 3-year Degree program (Bachelor of Arts) in Visual Arts and Photography. The photography course is designed with a holistic approach instead of just technical skills. It offers a three-year Degree program – Bachelor of Arts (Visual Arts and Photography) which covers the basics of design, liberal arts, advance photography, and industry internship. It boasts of putting up a strong portfolio that can become a passport to step into the professional world of photography.
Courses
Bachelor of Arts (Visual Arts and Photography)
Admission procedure
Minimum Qualification – The student should have passed 12th standard or equivalent from a recognized university/board.
Final selection of students by Creative Visualization & Personal Interaction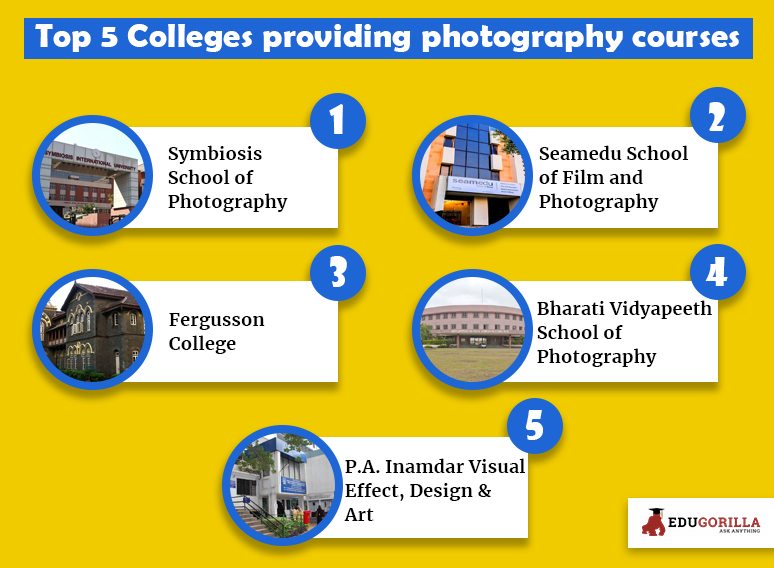 Seamedu is a full-fledged media school based in Pune, founded in 2008 to produce world-class talent in Media & Entertainment (M & E) fields of Digital Filmmaking, Animation, Game Design, Visual Effects, Sound Design, Broadcast Media, and Broadcast Journalism. It offers a full-time 1-year Diploma in Photography. The course provides specialization in Fashion and Product Photography. It includes:
Photojournalism, Editorial, and Landscape Photography
People & Portrait Photography and Food Photography
Wedding, Fashion and Advertising Photography
Industrial, Interior and Architecture Photography
Courses
Students will be awarded a Bachelors of Arts in Journalism & Mass Communication (Photography) degree from a UGC recognized University located in Pune.
Prerequisites/Eligibility
12th/High School/ Equivalent
D-SLR Camera with Basic Lens Kit
A diploma with Specialization (Fashion Photography/Product Photography)
Prerequisites/Eligibility
12th/ High School / Equivalent
DSLR Camera with Basic Lens Kit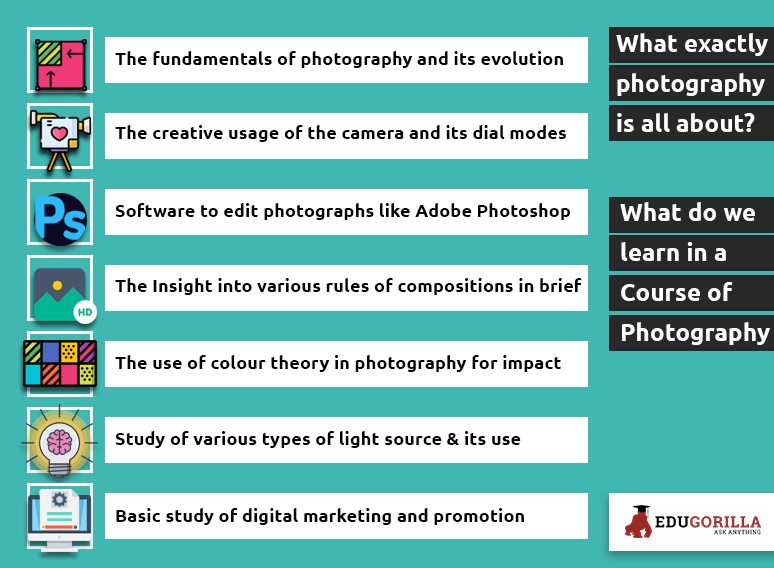 Fergusson College, another of the jewels among the photography providing training institutes situated in Pune, was established in the year 1885 by the Deccan Education Society. It offers a certificate course in Digital Still Photography and a basic course in color Photography. The minimum qualification for both the programs is 10+2 or equivalent. The college is affiliated with Savitribai Phule Pune University and is accredited to NAAC with 'A' grade. It offers BA, B.Sc., MA, M.Sc., MCA, M.Tech., B.Voc and other certificate courses. The Institute is also known for its courses in Bachelor of Arts with specialization in Economics, English, French, Geography, German, Hindi, History, Logic, Marathi, Mathematics, Philosophy, Politics, Psychology, Sanskrit, Sociology, Statistics, and Music. The prominent courses it offers in Photography are mentioned below:
A 12-month Basic Course in Colour Photography
A 12-month Certificate Course in Digital Photography
A 12-month Certificate Course in Digital Photography
The Bharati Vidyapeeth school of photography is located in Dhankawadi, Pune.  It was founded in 2011. The College's vision is to build a world-class institution that will develop, train & equip photographers in India to win the world and beyond through its well crafted courses. Hence, through its courses the institute offers 2-year Diploma in Photography & Digital Imaging aiming to develop professional photographers who embody the roles of both artist and communicator. It also offers Certification and Weekend Courses as well as a Wildlife Masterclass course. A 2-year diploma in photojournalism includes lessons from some of India's most respected and award-winning photojournalists.
Courses
A 2-year full-time Diploma In Photography & Digital Imaging
A 2-year full-time Diploma In Photojournalism
A 1-year full-time Diploma In Photo & Video Documentation, Digital Restoration And Archiving (Specialisations, Fashion Photography and Advertising & Commercial Photography)
P.A. Inamdar Visual Effect, Design & Art, Pune is also known as VEDA. It is one of the premier institutes of Animation in Pune. VEDA College is managed by Maharashtra Cosmopolitan Education (MCE). This 32 hours programme offers a certificate program in photography. This programme takes the students very close to being a professional photographer. The college also offers an advanced diploma, degree and certificate programmes in Visual Effect, Design & Art.
Courses Offered
Certificate Programme in Photography
Eligibility:
10th or above and any camera
Duration:
32 hours and Practical
Course Fees: 
RS 8,000
Skills That Photographers Should Possess
Photography course is the vocational course that not only involves taking pictures of events, people and places but it is also about reflecting the mood. Some of the areas of specializations that the aspiring photographers need to have to pursue the course of photography include:
News photography
Travel photography
Food photography
Commercial photography
Scientific photography
Wildlife photography
Wedding photography and fashion photography
Apart from working on originality, a professional photographer must possess
Business skills
Communication skills
Marketing skills
Technology skills
Visual skills
What is taught in a Photography course?
The students of Photography, in the detailed course are taught
The fundamentals of photography and its evolution
The creative usage of the camera and its dial modes
Editing software to enhance photographs such as Adobe Photoshop/Light-Room/Nik Software
The Insight into various rules of compositions in brief
The use of color theory in photography for optimum impact of images
The detailed study of various types of light source and its implementation, such as the use of light in studio and the natural light
The various genres of photography
The in-depth knowledge of commercial and Advertisement Photography, such as Fashion, Table Top, Event, Wedding, Industrial, and Architecture etc.
Develop concepts and ideas for selected specialization genres in photography
On-field experience and building a strong portfolio
Basic study of digital marketing and promotion
The need for electronic images for the internet and multimedia has enhanced the demand for photographers. Photographers with digital skills and trained through the above mentioned courses in photography are more likely to work in digital imaging, electronic prepress, web page design, multimedia and digital post-production for video and motion picture production.
To be successful as a professional photographer, one requires aptitude, interest, and self-confidence along with the technical training. You may also like to check out Best Mass Communication Institutes in India as photography can be a specialization in mass communication courses.
You Might Want To Read:
Home Science Question Paper 4 2009, Upsc Ifs Geology Paper I Sample Paper 2007, Nios Question Paper Class 12Th 2016 26, Delhi University Certificate Diploma Pgdca Mock Test Paper 1, Land Laws General Laws Mock Test Paper 3 2009, Clat Possible, Ugc Net Education Question Paper 1 2007, Gate Mathematics Question Paper 5 2000, Internship, Ugc Net Sample Question Paper 5 2013
Leave your vote
This post was created with our nice and easy submission form. Create your post!