Step 1: Registration Form
Candidate should fill in all the required information in the registration form like Candidate full name, Father Name, Mother name, DOB, Category, OPH Status and Nationality etc. and Read the Declaration of Eligibility carefully and give consent on it before submitting the form.
On clicking the "Proceed" button Next page shown will be the New Candidate Registration Form. (All fields are mandatory except # marked fields).

After filling the required information then click on "Save & Proceed" button.  After clicking the button a message will appear on the screen containing 'Candidate ID' and 'Password'. An Email and SMS will also be sent to registered E-mail Id and the mobile number having Login Credentials i.e. Candidate ID and password.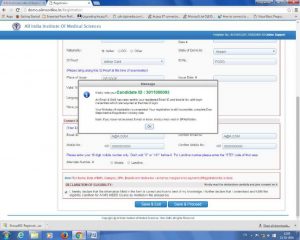 Login with the credentials provided and change password on First time login. Password length should be between 6-10 characters. Please remember your password and do not share it with others.
After completion of 1st step of the Registration process, My Page will be generated for each applicant bearing his/her entire information as filled by him/her. My Page will provide information regarding Due Steps; those should be completed before the closing date, Admit Card & Result.
a) Change Password
Login with the provided login Credentials i.e. Candidate Id and Password and correct Captcha. On first time login, the candidate has to change the password through Change Password page Re-login with the new changed password to complete due steps of Registration Process.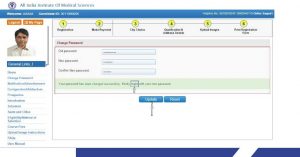 The color of the Number of the Step in Navigation Bar will change from RED to YELLOW as the steps get completed and the candidate can jump/go to any steps among the completed steps at any time.
b)  Edit Information Page
Candidate should re-check the filled in the information, in case there is some error in the information filled in the form Candidate can edit some information by clicking on EDIT button. It will redirect candidate to the Registration page where some information can be edited. After clicking Save & Proceed button, Candidate will be navigated to Candidate Information (Dashboard) Page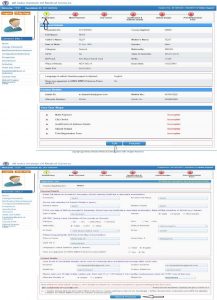 Step 2. Fee Payment
Payment of Registration Fee can be done online through Debit card/Credit card
After successful payment of registration fee, take the printout of payment receipt bearing Unique Registration Number which can be used for future correspondence.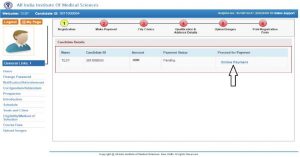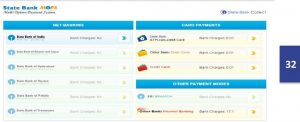 Step 3. City Choice
Select Examination City from available City list carefully. City availability list shows the real-time status of seats in a City. City once seleded cannot be changed later.  The city once chosen cannot be changed, so pay at most care while opting city.Step4. Qualification & Address details:
Step 4. Qualification & Address details
Fill correct academic details like Qualifying Examination Name, Status etc. and also fill Address details.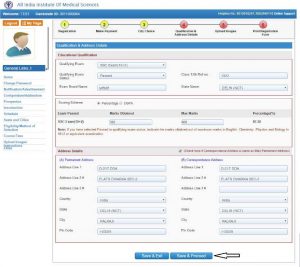 Step 5. Upload Images
An applicant is required to upload a recently taken digital/scanned Photograph, Signatura, and Thumb Impression in JPG/ JPEG format. The digital size of the Photograph file must be between 10 KB-100 KB and digital size of Signature and Left Thumb Impression file must be between 10 KB-50 KB.failingwhich applicant will not be able to upload images and complete the registration process. The photograph to be uploaded must be taken within 6 months from on-line registration opening date.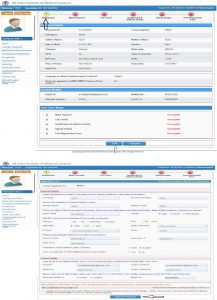 Step 6. Print Registration Form
Applicant must take print of registration form and must check all information filled in the registration form carefully before final submission of registration form. After submission of Registration form, no request for correction/changes will be entertained. Taking print of Registration Slip is essential.
Applicant need not to send hard copy of registration Form or any other document to AIIMS (Controller of Examination). Always keep Registration Slip and payment receipt with you for future references.
No written acknowledgment will be issued for the receipt of the application. However, the applicant can verify Registration completion status on aiimsexams.org after submission by the login.
For study related material visit EduGorilla
You Might Want To Read:
Ba, Delhi University Certificate Diplomapolish Mock Test Paper 2, Ugc Net Physical Education Question Paper 3 2008, M P Board Class 12 Home Science Question Paper 2 2014, Industrial Pharmacy Question Paper 1 2012, B Pharm Elementary Remedial Mathematics, Careers In Hospitality And Hotel Management After 12Th, Delhi University Concurrent Course For Honours Programs Mock Test Paper 21, Institute Of Actuaries Of India Investment Mock Test Paper 148, Hindi