Don't you get annoyed when you hear the word assignment?
I guess you do. And so does a majority of the students in Australia. And why won't they? It puts additional pressure on them and whether they like it or not, students don't really have the choice to ignore it. Besides, the academic pressure has surged significantly in the past few years, and as the academic field is getting more and more competitive for the students, the pressure of writing numerous assignments is becoming quite unbearable as well.
If you're a student, you must agree that there are plenty of challenges faced by students while writing assignments. All these challenges make assignment writing a nightmare in every single step. Here, we have tried to explain some of those common challenges, so that you can manage them effectively in the near future.
Problem #1. The Fear of Plagiarism
As you may already know, plagiarism has become a serious issue in the academic sector, and most of the institutes have strict rules against the practice of plagiarism. Even though the majority of the students don't copy things directly from the internet or other resources, there are high chances of finding some traces of plagiarism on the paper, which can put the students in trouble.
The solution:
You should always conduct thorough research and draft your paper from scratch. This will help you build original content. Also, run several plagiarism checks on the paper, just to be sure. And most importantly, cite the sources of borrowed information in the assignment.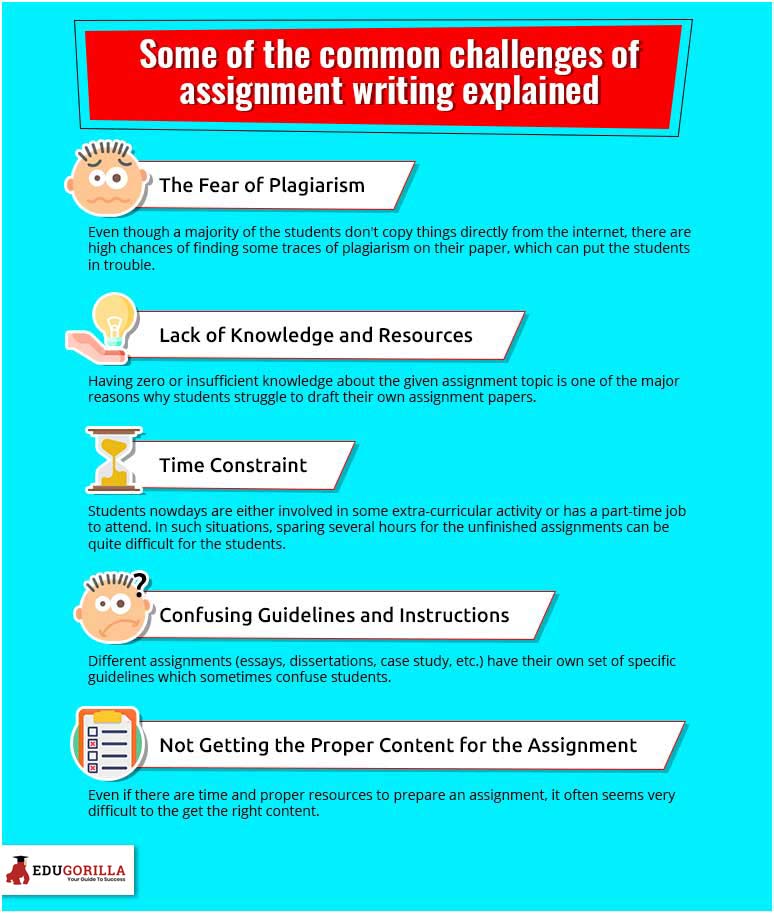 Problem #2. Lack of Knowledge and Resources
Having zero or insufficient knowledge about the given assignment topic is one of the major reasons why students struggle to draft their own assignment papers. Due to a busy routine, most of the students these days don't get the time to go through the lessons that are taught in the class. This is why their knowledge of a particular topic stays limited until some pressure is put on them.
The solution:
You need to spare at least one hour every day to go through the lessons that are taught in the class. Usually, the assignments are based on the lectures that are provided in the class. Also, refer to multiple books to have a better knowledge about the topic, so that you can solve the assignment even if the requirements are complex.
Problem #3. Time Constraint
For students, free time has become a luxury. Take any college student in Australia for instance. He is either involved in some extra-curricular activity or has a part-time job to attend. In such situations, sparing several hours for the unfinished assignments can be quite difficult for the students.
The Solution:
The key to proper time management is starting early. When you start working early on the assigned task, whether it's a dissertation or an essay, you get enough time to research, draft, proofread and edit the paper before making the submission.
Problem #4. Confusing Guidelines and Instructions
Another major issue that troubles the student is the list of guideline and instructions. You may have noticed that there are already a number of assignments (essays, dissertations, case study, etc.) that have their own set of guidelines. Now, on top of that, if a student is provided with several other instructions, it becomes quite confusing for average students.
The Solution:
There are several formatting styles that are currently in practice in the academic field. You should know which one is preferred in your college/university. Study the guidelines properly and memorize the techniques. Also, when you are receiving an assignment from the professor, note down the instructions he/she is sharing, so that you can refer to the notes while drafting the assignment. In case of any concern, you can discuss with your professor that you need some help to make the things clear about your assignment.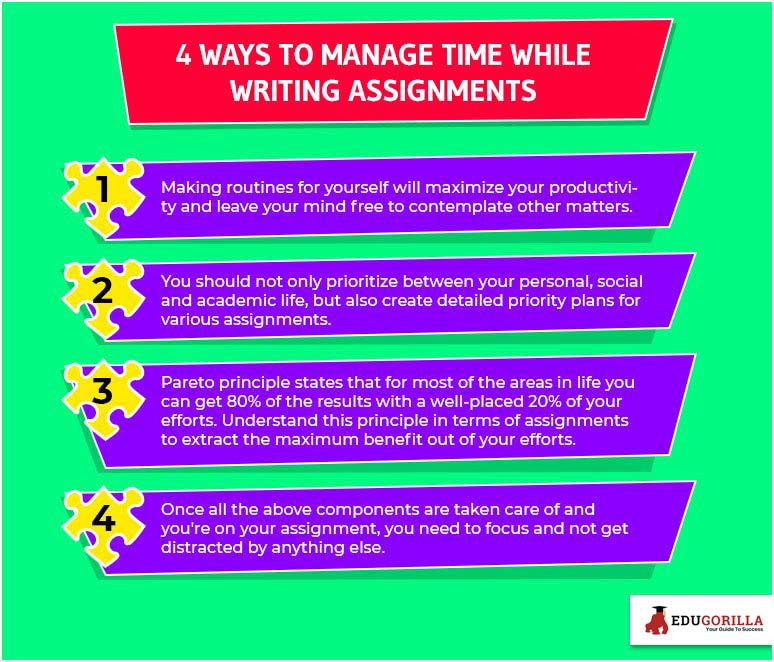 Problem #5. Not Getting the Proper Content for the Assignment
This is something that almost every student has faced in their career. Even if there are time and proper resources to prepare an assignment, it often seems very difficult to the get the right content for that pending assignment. It can be due to one's insufficient writing skills. But there are instances where students with good writing skills were unable to draft proper assignments.
The Solution:
The best way to deal with "writer's block" is rigorous practice. Practice makes one perfect. And if you want to get better in your academics and submit impeccable assignments, you need to sharpen your skills. You can sharpen your skills by practicing the art of assignment by writing quite regularly and be cautious enough not to make these mistakes while starting an assignment.
Conclusion
Hopefully, the aforementioned points have been able to discuss and solve some of the common challenges that students face while drafting assignments. If you are facing these challenges quite often, start implementing these suggestions and see if they can provide the necessary assistance to your academics.
You Might Want To Read:
Delhi University Certificate Diploma Mock Test Paper 38, C Language Online Test, Cgpsc Solved Paper 2017 8, Delhi Forest Guard Sample Test, Ugc Net Dance Drama Theater Question Paper 2 2004, Nautical Science Question Paper 2, Learn How To Find, World History, Chemistry Question Paper 2014, M A Post Diploma
Leave your vote
This post was created with our nice and easy submission form. Create your post!