The demand for a career in photography has garnered immense popularity in the last decade. Until some years ago, it was only regarded as a hobby, just more than a profession among youth with creative talents. Now it can be an excellent career choice for anybody who wants to earn via his or her creative talents. Here is where photography courses come into the picture. Photography courses can sharpen the skills of a self-made photographer. Hence, there are a number of emerging Photography Colleges in India that offer various options in photography ranging from commercial, advertising to portraiture, journalism and many more. Hence we can't stop ourselves to prepare a list of top 10 colleges offering photography courses in India. With the proliferation of computers, software, and digital devices, many new forms of photography have emerged. It has also accelerated the need for more creative and innovative pictures.
List of Top Photography Colleges in India:
As mentioned above, the proliferation of computers, software, and digital devices has resulted in many new forms of photography and has also accelerated the need for more creative and innovative pictures. This has led to the kickoffs to a plethora of photography colleges in India to initiate traditional and new photography courses. Below, we mention top photography colleges in India, that have a reputation for carving a niche in this field.
Established in December 2007, Creative Hut Institute of Photography provides the aspirants with a quality education in Photography and Cinematography. Creative Hut has grown gradually in terms of creative education, historic tradition, and lush eco-friendly campus. Managed by National Education And Research Foundation, the institute is located in the natural picturesque place Mattakkara, in Kottayam Kerala. Institute offers education in the traditional Indian Gurukul way of learning. Institute holds to its credits of 150+ passed out Professional students, 40+ awards and an environment for creative skill development.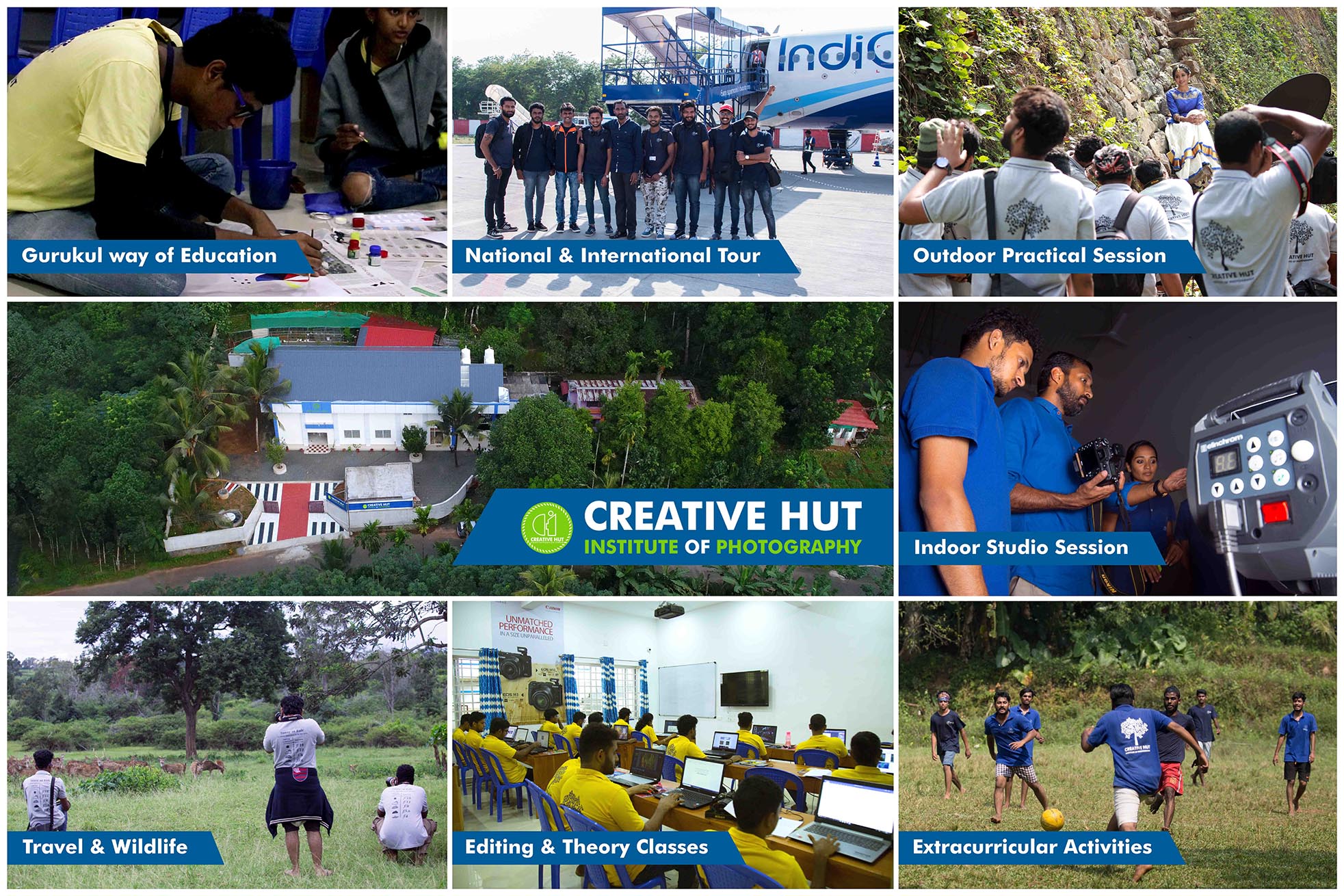 This institute of Photography offers many specializations. These range from the fundamentals of DSLR camera and photography to various photography specializations such as Wildlife, Wedding, Fashion, Architecture, Landscape, Product, Macro, Candid, Food, Portrait, Travel, Street photography, and Photojournalism. In addition to these, the course also covers DSLR cinematography as well as photo & video editing.
Notable Features of the Institute:
World's First and only Residential Photography College with Gurukul way of learning
Separate hostel and food facilities on the campus for all students and faculties
Experienced and efficient mentors and 24 hours of faculty guidance
Classes instructed in English, Hindi, and Malayalam
Innovative campus and class sessions, outdoor practical, field visits, live projects and assignments
National and International photography outdoor tours
40+ awards for the innovations, contributions, and records in photography ranging from the Limca Book of records, Asia Book of Records, India Book of records, National Book of records, Asian World Records, World Records India, Miracle World Records, Champions Book of World Records, Supreme World Records etc.
Provides internship and placement assistance for all students.
Exclusive Photography magazine called PhotomentorPro for Students work for worldwide reach
Courses Offered by the Institute:
One-year Photography course approved by the Kerala Government
Technical Examinations for Photography
Professional Diploma in Art of Photography (1 Year)
Professional Diploma in Nature and Wildlife Photography (1 Year)
Professional Diploma in Travel and Photojournalism (1 Year)
Professional Diploma in Wedding and Fashion Photography (1 Year)
Professional Diploma in Videography and Video Editing (1 Year)
AJ Kidwai Mass Communication Research Center (MCRC) is one of the most prestigious mass communication institutes and one of the renowned photography colleges in India that offers remarkable photography courses. It was founded in 1982 by Anwar Jamal Kidwai who was the former VC of Jamia Millia Islamia. It is renowned for its aesthetic and technical guidance from world-class instructors. AJ Kidwai established the MCRC in collaboration with York University. The CIDA provided the MCRC with a range of sophisticated production equipment while York University sent the first generation of teachers.
MCRC offers the below courses:
PG Diploma in Still Photography
Visual Communication programme
MA in Mass Communication
Postgraduate Diploma Programmes
MA in Visual Effect and Animation
PG Diploma in Acting
MA in Convergent Journalism
MA in Development Communication
PG Diploma in Broadcast Technology
Over the past years, Delhi College of Photography has become a mark of reputation among renowned photography colleges in India. It is one of the premier photography colleges in India that produce quality photographers. It offers a variety of long-term and short-term photography courses with specializations in the creative, organizational and commercial aspects. The courses are designed to cater to the demands of both the students beginning their education in photography and for those who want to brush up or enhance their skills to advance their careers.
The Photography courses taught at this college include:
Basic Photography Course
Advanced Photography Course
Photography Course in Foundation
Fashion Photography Course
Wildlife Photography Course
Candid Wedding Photography Course
Apart from photography, the college also offers courses in makeup and filmmaking.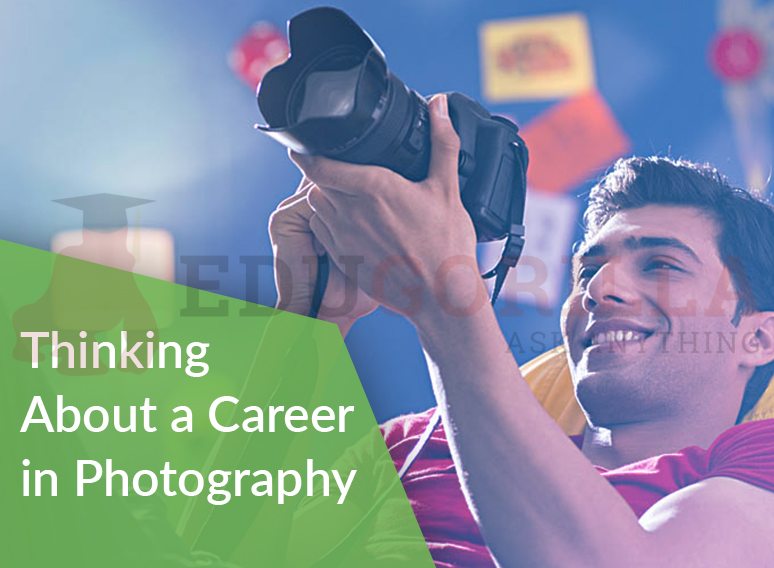 The Pixel Institute of Photography is the hub where top notch photographers, field experienced faculties and the aspirers of the art confluence together to make up a vibrant atmosphere. The Delhi based institute boasts of having an intelligent amalgamation of theory and practical classes that aims to equip its students, with an in-depth knowledge of the craft.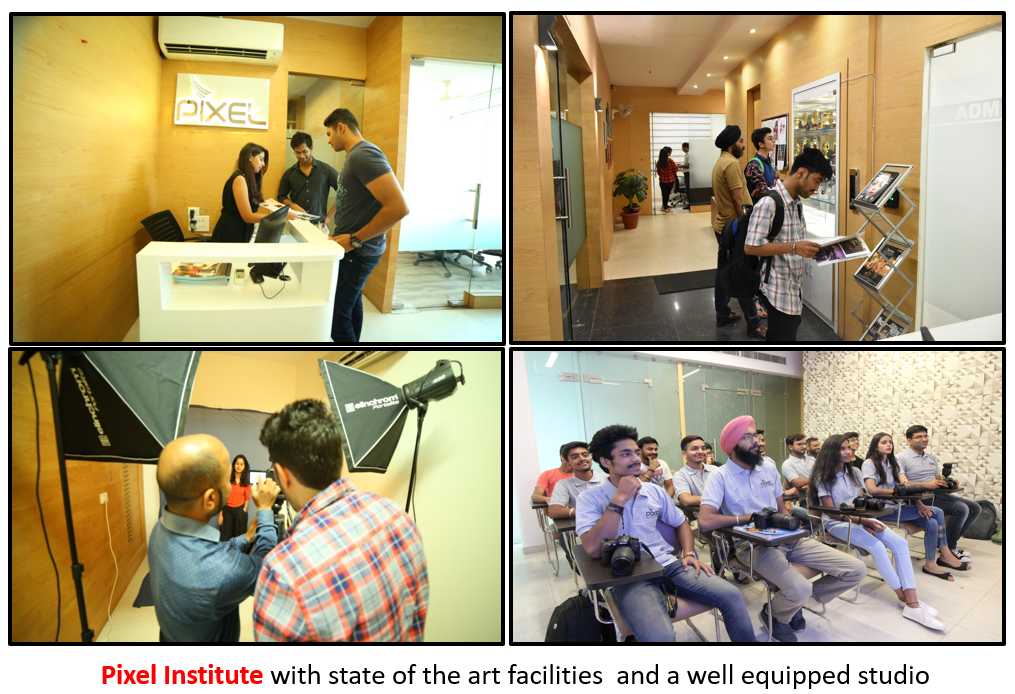 Pixel Institute of Photography is the fountain of knowledge content that has various genres of art in its reservoir. These genres of photography include a number of varieties like portrait photography, landscape photography, wildlife photography, macro photography, nature photography, sports photography, the extremely thrilling stream of photojournalism, to name a few. The institute has the following programs and courses in its bale of skills:
One month course for beginners
Two months' certificate course in Foundation Photography
A four-month diploma in Advanced Photography
A one-year course in Professional Photography
Sri Aurobindo Centre for Arts & Communication was founded in 2003 as an institute of media arts and mass communication in Delhi, with the desire to shape generations of media professionals who can think creatively, work consciously and communicate powerfully. A decade on, our belief in our vision is strengthened by our students, who have paved successful careers in fields as diverse as advertising, public relations, photography, film making, sound design, music production and digital marketing. Today, we have around fifteen hundred alumni working in the field of Art, Media and Communication. The collective alumni base for programs under 'Continuing Education' at SACAC is made up of more than three thousand people from varied backgrounds.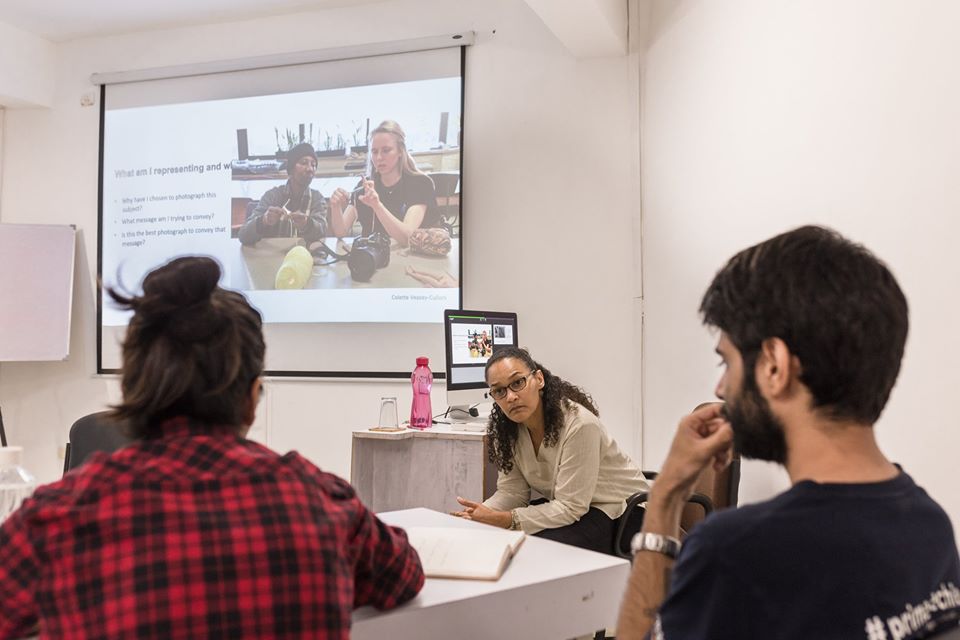 The Programmes offered at the SACAC include:
Advertising & Public Relations (IMC) Course
Audio Engineering & Music Production Course
Photography Diploma Course
Creative Documentary & Filmmaking Course
Live Sound Reinforcement
Creative Writing Course
Graphic Design Course
Music Production Course
Photography Foundation Course
Music Business Management Course
Painting & Sketching Course
National Institute of Photography is the famed photography college that was founded by the Late Prof Manohar Desai in 1983. It provides certificate and diploma level photography courses to interested candidates. The Programmes offer foundation training for various genres of photography. It includes bird photography, wildlife, macro photography, nature, press, sports, and similar other genres. The curriculum is divided between theory and practical classes that are designed to inculcate in-depth subject knowledge to candidates.
The Programmes offered at the college include:
Foundation course in Photography
A crash course in Photography
Basic Photography course
Advance course in Photography
Diploma in Fashion Photography
Videography
Diploma in Tabletop photography
Diploma in Wedding and Events Photography
Digital Photo-Editing Techniques
Workshop on Fashion Lightings
The College offers the following courses in Photography:
BFA Photography
MFA Photography
Bridge Course (Photography)
MFA Photography (PTPG)
Asian Academy of Film & Television (AAFT) was established in 1993 and gained significance as a remarkable institute offering photography courses. It is affiliated with International Film & Television Research Center as well as the Marwah Films & Video Studios. The aspirants are given admissions in the programs on the basis of their performance in an entrance exam. It is then followed by the personal interview round. AAFT offers a 3-month full-time program/course in Still Photography and Journalism, which is more specific to Photography.
Some other courses
Bachelor of Fine Arts,
Diploma in Camera and Lighting Techniques,
Bachelor in Performing Arts (Music Production),
Diploma in Acting for Film and TV,
Bachelor in Performing Arts (Dance), BSc Cinema,
Diploma in Post Production,
Diploma in Visual Communication,
PGD in Film and TV Production Direction, MSc Cinema,
Production Direction & TV Journalism,
Video Editing & Sound Recording,
Camera & Lighting Techniques,
Acting & Presentation,
Screenplay Writing,
Master of Fine Arts,
Mater in Performing Arts (Music Production),
Master in Performing Arts (Dance)

Light and life Academy was established by a famous advertising photographer named Iqbal Mohammed. The institute is equipped with all the modern techniques of teaching the art of Photography. Besides, it has a well-structured curriculum with a good student to teacher ratio. As per its official website, Light & Life Academy is a not-for-profit education trust. It was set up with the initial support of Kodak India & Eastman Kodak, USA.
Courses offered by the college include:
A PG Diploma course in Professional Photography
A Diploma course in Professional Photojournalism
Short duration workshop courses
Osmania University was founded under the patronage of Nizam of Hyderabad, Nawab Osman Ali Khan in 1918. It is one of the premier institutes in Hyderabad. Osmania University is said to be the seventh oldest University in India, the third oldest in south India and the first to be established in the erstwhile princely state of Hyderabad. The University offers undergraduate Programmes with 158 combinations. It also offers Postgraduate programs, PG Diploma, and Research Programs at MPhil and Ph.D. levels. It has about 1,000 affiliated colleges under its ambit.
Osmania University offers:
3- year BFA (Photography) course
Aspirants can secure admission in this course on the basis of their performance in Aptitude Test conducted by the college.
Before getting the status of an independent institute to run its prestigious photography courses in the year 1961, Sir JJ Institute of Applied Art was running operations at Sir JJ School of Art premises. It has been affiliated with the University of Mumbai since 1981. It offers a B.F.A  in Applied Art which is approved by All India Council for Technical Education, New Delhi. It, being among the noted photography colleges of the nation, also offers an MFA in Applied Art approved by the University of Mumbai.
The Photography courses/programmes it provides are:
Post Graduate Course in Master of Fine Arts in Photography
Apprentice Training Course in Photography
Founded in 1961,  the National Institute of Design also offers some esteemed photography courses. NID Ahmedabad offers MDes in Photography Design course at its PG campus. The course has limited seats numbering to 15. A candidate can apply for the programme if he has a degree in any discipline or possesses a diploma in design (under 10+2+4 year duration). It is one of the premier institutes in designing,
NID Ahmedabad provides:
B.Des. programs to aspirants in eight disciplines
M.Des. programs in 19 disciplines.
The Indian Institute of Digital Art & Animation is a unit of IIDAA Educational Trust. It was established in 2008. The institute is affiliated with different universities for different courses it offers. Its diploma programmes are affiliated to the West Bengal State Council of Technical Education, Government of West Bengal. However, the full-time courses are affiliated to the Gulbarga University and KSO University, Government of Karnataka. The college is also known for its courses in animation and gaming.
IIDAA provides the following courses in Photography:
BSc Film & Photography
PG Diploma Photography
Diploma in Photography & Videography
Popular forms of Photography
Press Photography
Press Photography demands quick photography, as photographers come out to meet a sharp deadline every day. Sometimes the work becomes very tough and vigorous. But at times, even a single photo can earn a photographer a name. The clicking has to be without planning and thinking, or the crucial moment may pass. So press photographers have to be on the move all the time to cover a variety of events. They have to cultivate versatility in shooting all sorts of subjects and happenings. The hours of work are irregular and they have to choose the best shots of an event or subject.
Photojournalism
Photojournalism is essentially story-telling via pictures. The work requires journalistic ability combined with technical skills. The variety of subjects and locations is wider and the timings may be irregular. Photojournalists may cover subjects such as the life of prison inmates or drought conditions in a place full of pain and suffering. It could also be a school at work in different places and so on.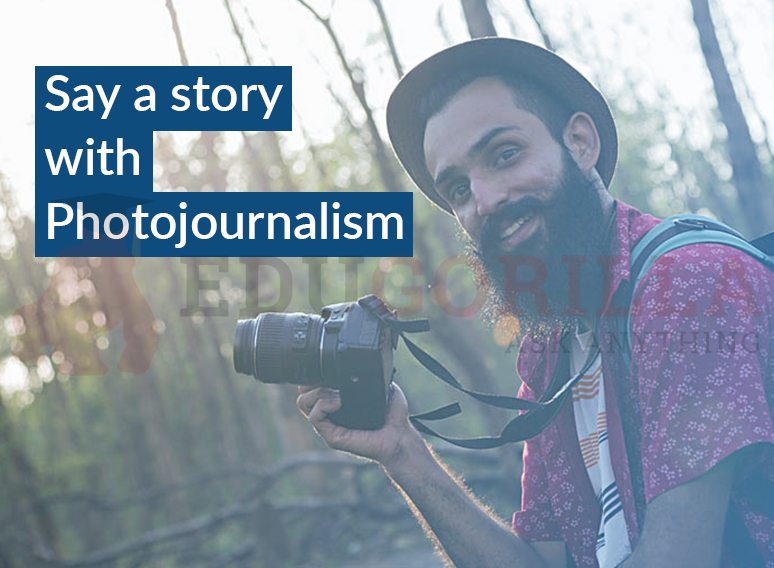 Advertising or fashion shoots, which require good technique and sophistication, can be very different from industrial or scientific photography. Wildlife photography is for those photographers who may like to work as freelancers with a specific interest in wildlife, nature, and environment. Their photographs are published by specialized wildlife forests departments, and also by some magazines and publishing houses. Wildlife photographers should possess sufficient knowledge and understanding of nature and wildlife. They should be prepared for long stretches of waiting for the right shot.
However, gone are the days when you had to learn the technicalities and peculiarities of photography by working as an assistant to a professional photographer There are several media colleges that impart necessary skills one needs to master the art. Some of the most well-known colleges offering photography courses are covered below:
You may also like to read Best Mass Communication Institutes in India.
Placements and Prospects
Nowadays photographers have many options, such as freelancing, working in studios, or for the advertising agencies. Many government organizations, research institutes, industries, fashion houses and other specialists also have openings for a photographer. Then there are hundreds of newspaper and magazine agencies, news bureaus, news agencies, publicity departments, and tourist development corporations that look for photographers.
Salary
The Salary varies with the nature of employment and the type of organization one clicks for. But the most competitive and lucrative branches are advertising and press photography. Other fields of photography have good but limited prospects and are mostly taken up as a freelancer with some other full-time occupation.
To become a successful photographer, one requires aptitude, interest, dedication, and self-confidence along with the required technical skills. View these 100 Free and Online Photography Courses to learn photography and photo editing at home.
You Might Want To Read:
Gujarat Board Class 10 Maths Question Paper 8 2014, Jee Main Advanced Mathematics Limit Of Function Notes Part 2, N S E T Solved Question Paper 2 2013, How To Overcome A Fitness Rut, Gre How To Use Ratio Rates Video, Ugc Net Human Right Question Paper 4 2010, Upsc Csmains Gujrati Literature Paper I Ii Question Paper 2009, Dynamic Gk Practice Test, Mock Test Paper 9, Ugc Net Library Science Question Paper 2 2009
Leave your vote
This post was created with our nice and easy submission form. Create your post!