Many students dream of studying in a foreign university mainly because the degree of a foreign university is considered of high value in their country. Another motivating factor may be the multicultural and attractive environment that the foreign universities provide. While some bright and intelligent students are provided scholarships by the schools, colleges or universities for their higher studies, others are encouraged by their parents and peers. Some students may even get scholarships and invitation from a foreign university to study and live there. International students are often given scholarships and rewards on the basis of merit to encourage the admission of international students. A student has to apply on his own to foreign universities and follow all the procedures even if he is exceptional in studies.
Every year many colleges and universities accept thousands of international students from all of over the world. Most of these students take admission in OCED countries, mainly in Australia, Canada, the US and the UK. But, applications of all the students that apply in foreign universities are not accepted. The main reason is the ignorance related to admission procedures and other underlying requirements for getting admission in a foreign university.
There are four important things that you need to take care of to get admission in a foreign university explained in detail below:
Choosing Your Destination
First thing first, you need to choose the institute first and if you prefer country over the institute, then select the country and look for an institute or university that you want to enter. The government or the university may provide you with the scholarship, but it is up to you where you decide to go for higher studies. In any case, a careful and comparative search of different institutes and colleges in a country should be done. See what services and educational opportunities are provided, what the ranking of the university is and the fees and expenditures over there.
You should take the help of the internet to search and compare. The ranking of the universities is published online every year. You can google the search term, 'QS ranking of the universities' and get to know the ranking in a relevant website. Sometimes, the ranking may not be your main concern, then you should at least make sure that the university or the institute that you have chosen is not a black-listed one or a fake institute.
Documentation and Applications
Mostly, the required documents are mentioned on the website of the university where you have applied or applying. The requirement of documents is different for the different courses and studies. The professional or vocational courses may demand experience certificates while for other academic subjects, academic degrees, diplomas or qualifications certificates are required. A few things are very common, i.e. they will always be there and you can arrange them in advance.
Scanned copies of Degree(s) and Transcript
Get all of your education certificates scanned and copied. The print of the photocopies should be clear and the scanned pdf should be saved in your email so that you can access them from anywhere and whenever you want. Also, the scanner should be of high-resolution as you need to send those pdf copies to your institute. They will be printed and kept by your university. Avoid using a mobile phone camera to scan certificates as a number of applications get rejected because of copies of certificates being unclear.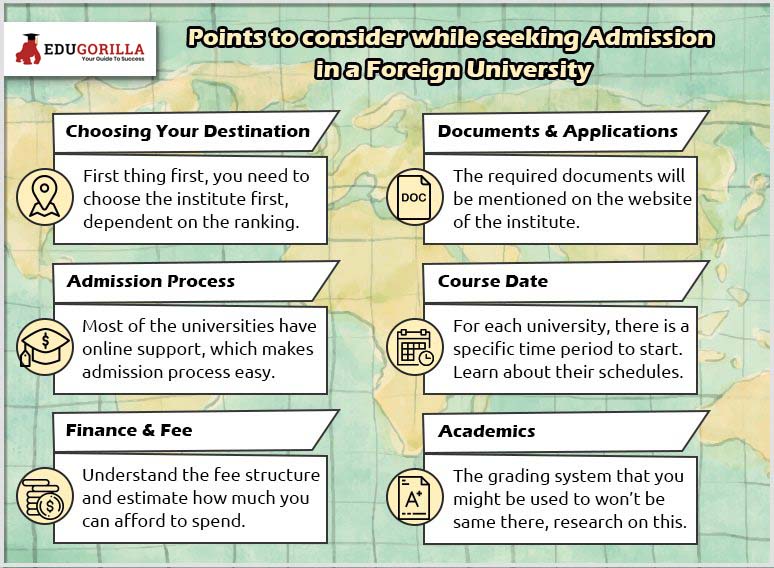 Passport, Identity Proof
The scanned copies of passport and identity proof should be attached to your application. Many of the universities give you time to get your visa and passport ready before they accept or reject your application. But, it is always better to get these things in advance so that you remain prepared in case you are given less time by the university or institute.
English Proficiency Tests (IELTS, GRE, PTE & TOEFL)
If you are applying in one of the English speaking countries, you have to clear one of the various English proficiency tests. These are there to make sure that you can speak, write, listen and read in the language. The score or band requirements are different for different courses and different countries. The UK and Australia require you to get 5.5 to 7.5 bands in IELTS or an equivalent score in PTE, and the US universities require you to get a certain minimum score in TOEFL or GRE. The required scores are often mentioned on the website of the universities. Most of them do not process your application if you do not have the required score in the language proficiency test.
Statement of Purpose
A statement of purpose is a written account of education, family status, the purpose of your getting certain education and the reason why you chose a certain country and a certain institute in that country. It is always written in the first person and need you to write authentic and factual data in it. Do not write any stories. Do not download any sample from the internet and edit it. Just know the questions that you need to address in your SOP. Then, answer those questions one by one. Check for your language and spelling. Try not to use too simple or too bombastic words. Use impressive but popular vocabulary. You can get help from an expert such as your IELTS trainer to be sure about or for getting feedback on your written document for SOP. It is not an assignment though, for which you need to seek any assignment help service.
Reference Letters
The importance of reference letters is usually ignored. Academic reference letters are generally written to help students get into graduate school or get internships or jobs. When writing an academic reference letter, a teacher should focus on the skills, qualities, or experiences the person has, that make them a good fit for the specific school or academic program. A two-three sentence reference letter does no good. So, it should not be too short.
You can remind your teacher of things that you used to do in the school or class that you want them to include in your reference letter. Try to get at least two reference letters.
Research Proposal
It is required only in advanced research-based degree and diploma courses such as a degree program in Applied Linguistics. Other Bachelor or Masters programs do not require any research proposal.
A research proposal is a document proposing a research project. It is generally in the sciences or academia, and generally constitutes a request for sponsorship of that research. Proposals are evaluated on the cost and potential impact of the proposed research, and on the soundness of the proposed plan for carrying it out. For those who aren't quite sure what their focus will be, the research proposal can be a space to explore options. Research proposals can be effective starting places to discuss projects with your professors, too. It comprises a Research Title, Problem Statement, Justification/Importance of the project, Hypothesis and/or Research Question, Sources of Literature review etc. The length of the document varies from 4 to 10 pages.
Admission Process
Most of the universities publish guidelines and have online support. This makes the process of admission simple and easy for the students. The universities provide them with a step by step guide. Generally, there are student advisors in schools too that can tell you what you should do. In the beginning, the documents are uploaded with the application form.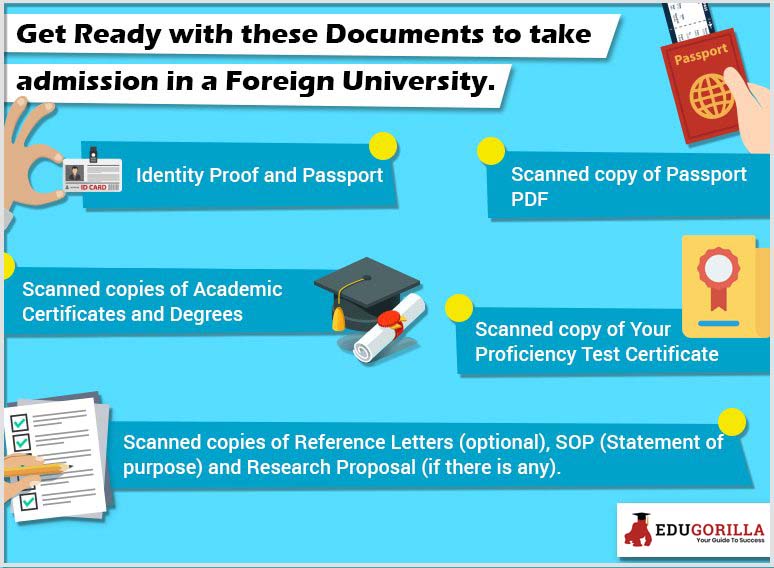 Usually, these documents include:
Your identity proof and passport number
Scanned copies of academic certificates and degrees
Scanned copy of passport
PDF or Scanned copy of your proficiency test certificate (IELTS, PTE, GRE etc.)
Scanned copies of reference letters (optional)
SOP (Statement of purpose)
Research Proposal (if there is any)
The following steps should be taken if you have already completed what is mentioned above.
Visit the university website.
Go to 'Online Application' portal.
Make an account or sign in using your email account.
If you are using your mail address to sign in, use the same email address in the form.
The email address you use for 'logging in' should be yours. This is because the university uses it to send information regarding your application.
Once the account is made, you will be redirected to the application page.
There are many sections on the application page (for eg. personal details, family details, address, qualification, proficiency test scores, course you intend to get admission in etc.).
Carefully fill the credentials in the spaces provided in the application form. Make sure that they are correct and are filled in the correct boxes.
You should pre-scan all the documents. This is because you need to upload the documents in the boxes and then click on save or open to upload them.
If the form is in sections, then save the section before moving on to the next one. There are buttons to 'Save and Continue' or simply 'next'. Check the options over there and make sure that you save the documents.
You need not complete the application in one go. You may save it and fill the information (that is not available) later on.
The completed application form prompts a confirmation letter from the university. Check your mail after successfully completing your application form.
Course Date
The applications are invited on different dates and times as per the starting of the courses during the year. Some courses start at the beginning of the year while others in the middle of the year. For each university, there is a specific time period to start the programs such as the academic year in universities in Australia begins in early March and runs through late November. Most schools offer two semesters each year, but some schools use a trimester system and other schools offer summer courses from December to February. So, the students should apply well in time (at least two to three months before the commencement of the exam).
Though some applications such as the master programs do not take this long to process, it is good to apply two-three months in advance. The applications in research programs take more time to process, though the applications can be submitted throughout the year.
You may also like to read A Beginner's Guide to Apply to Foreign Universities on their own.
You Might Want To Read:
Notification, Cbse Xii Mathematics Question Paper 2005, Delhi University Concurrent Course For Honours Programs Mock Test Paper 3, Cbse Question Paper 2017 Solution 5, Comparison Between Icse And Cbse Boards, General Studies Solved Question Paper 2 2012, Resonance Bhubaneswar, I C S E Board Home Science Question Paper 1 2012, Statement Of Purpose, Scholastic Aptitude Test Sat Chemistry Sample Paper 14
Leave your vote
This post was created with our nice and easy submission form. Create your post!